The Lookup feature is a powerful tool that provides quick access to any enhanced Bible dictionaries* you have downloaded. We have many Bible dictionaries available for purchase on the Olive Tree website here. In this article, we will explore the two different types of Lookup you will encounter in the app.
Lookup in the Bible Text
When reading Scripture, you can highlight and right click a word in the Bible text and a menu will appear with various options. Select the 'Lookup X' option to get articles from your downloaded dictionaries on that specific word. To see the results of the Lookup, make sure you have the Study Center open by clicking the green 'Open Study Center' bar at the bottom of your screen.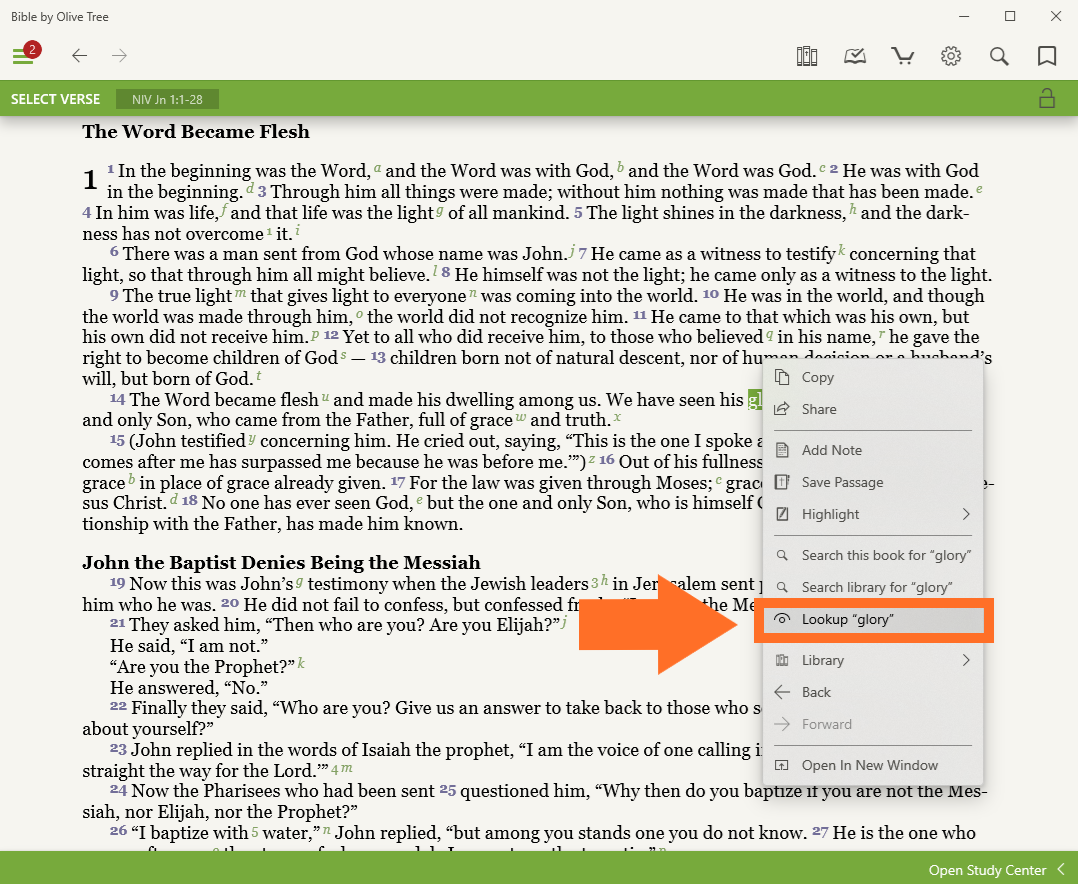 Relevant dictionary articles will display in the Study Center as you can see below. When you click on an entry, you can read that specific article: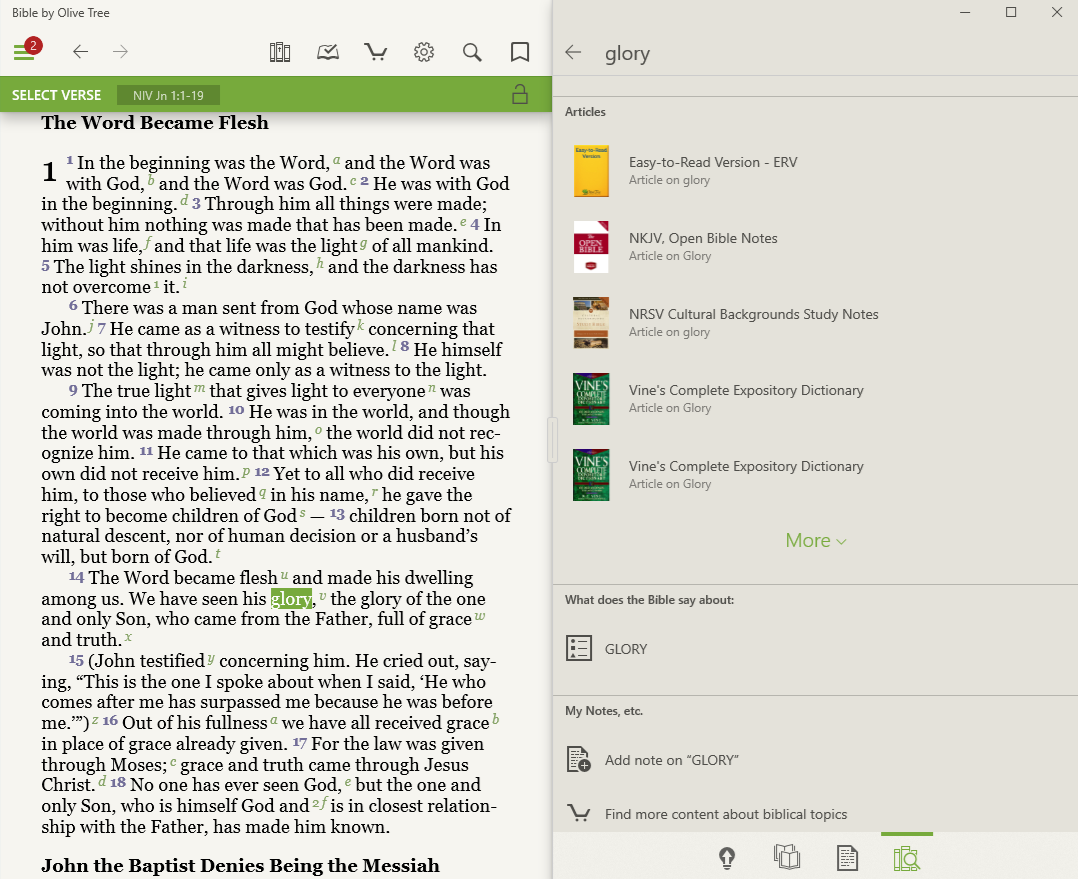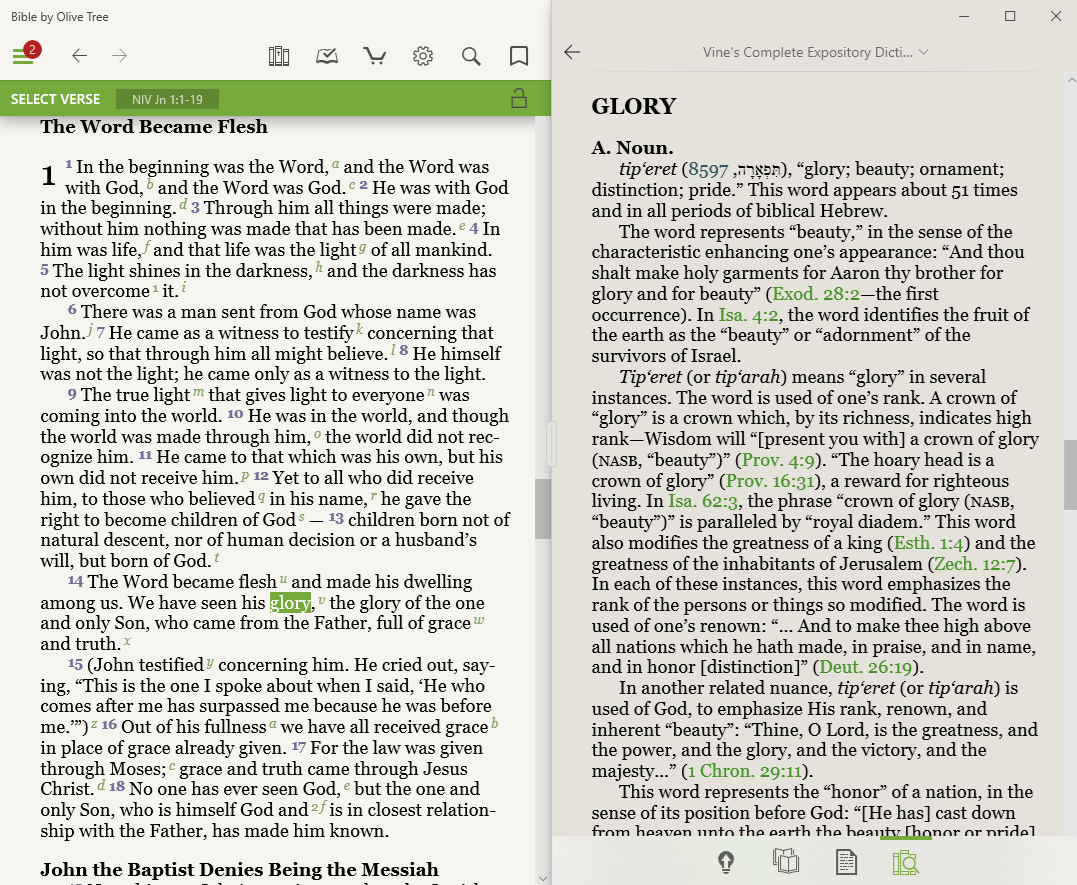 To return to the other results, click on the back arrow in the upper left corner.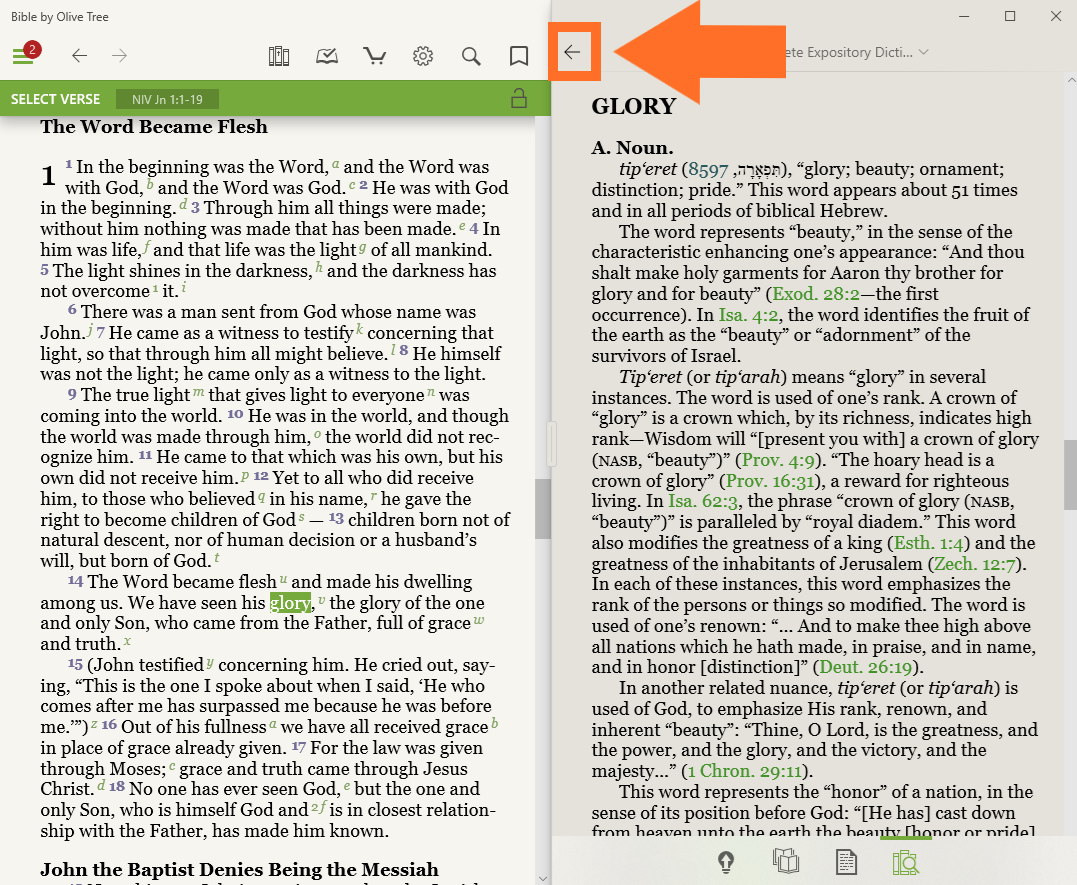 To see more results in your Lookup, you may purchase additional dictionaries here!
Lookup in the Study Center
Within the Study Center, the Lookup tab allows you to see all of the information in your Library that relates to a particular subject.
You can open the Study Center by selecting the green bar at the bottom of the screen that says 'Open Study Center'. If this bar is not showing, click anywhere on the screen to bring up the toolbar.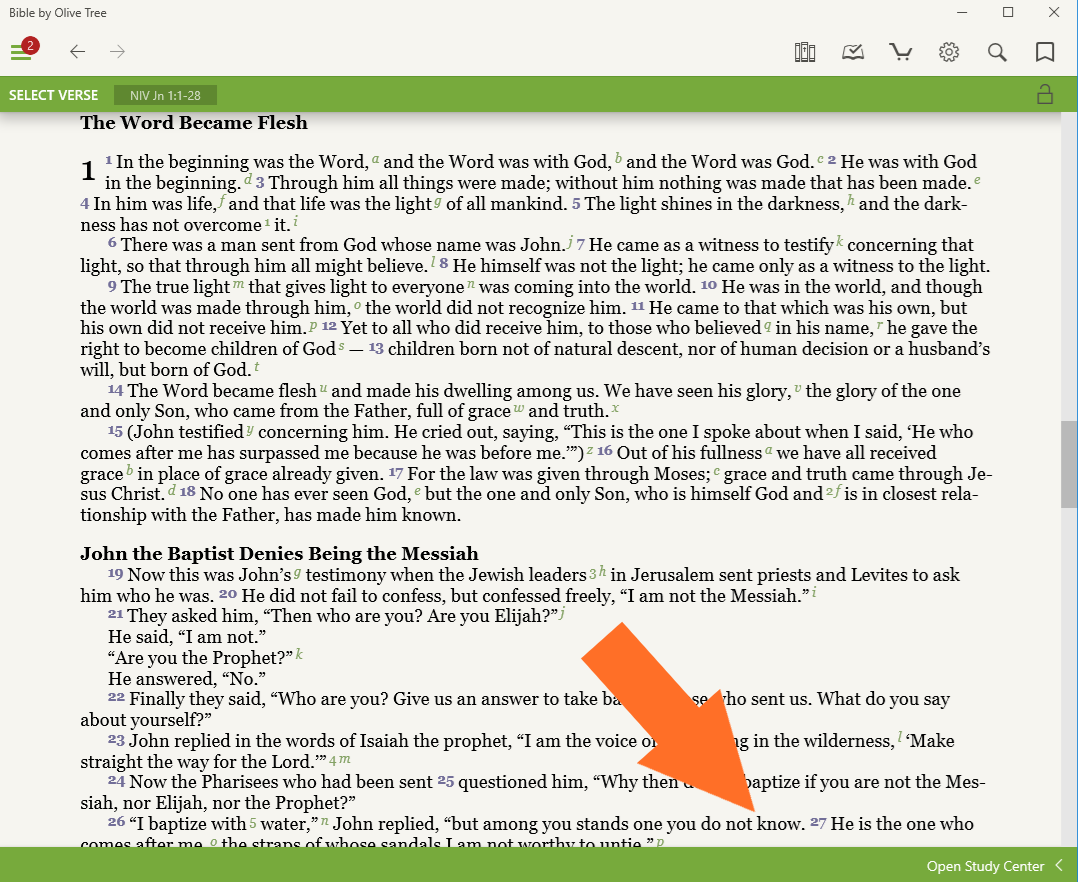 Now, you can choose the Lookup tab by clicking on it.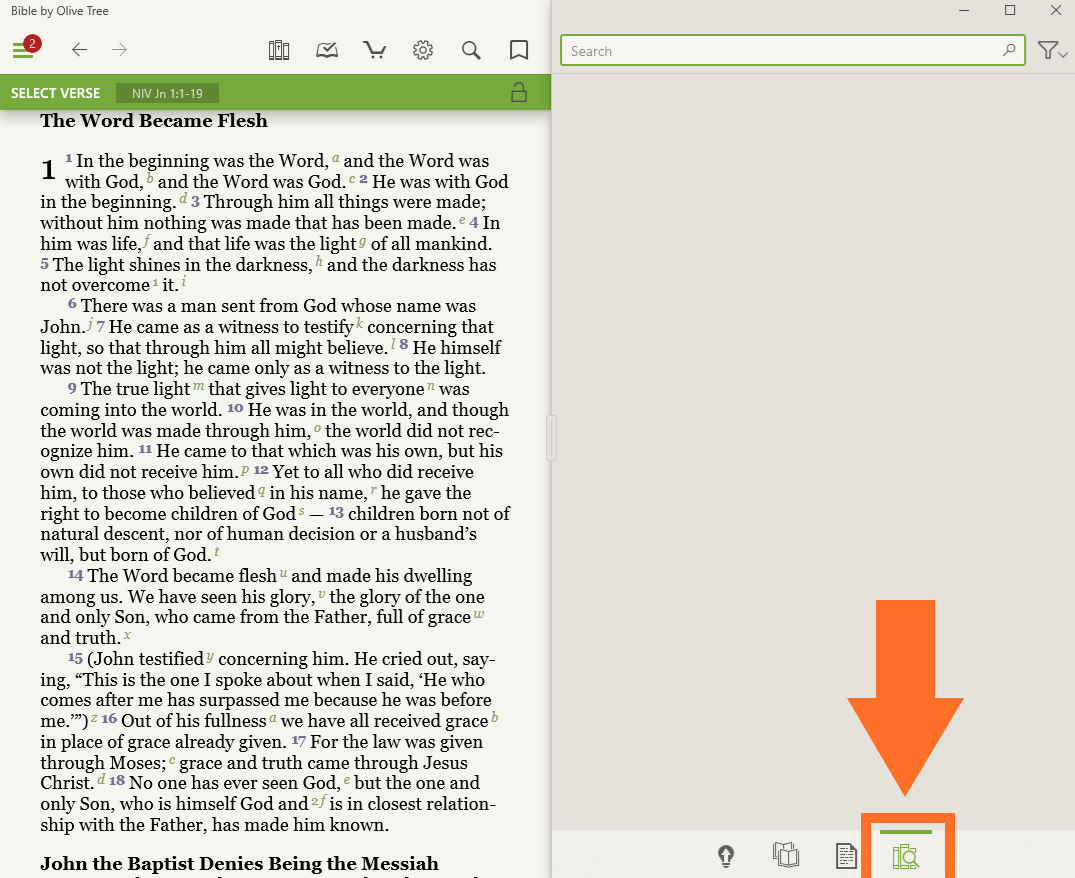 Using the search option here allows you to locate a topic quickly. In my example, I performed a search for Jesus.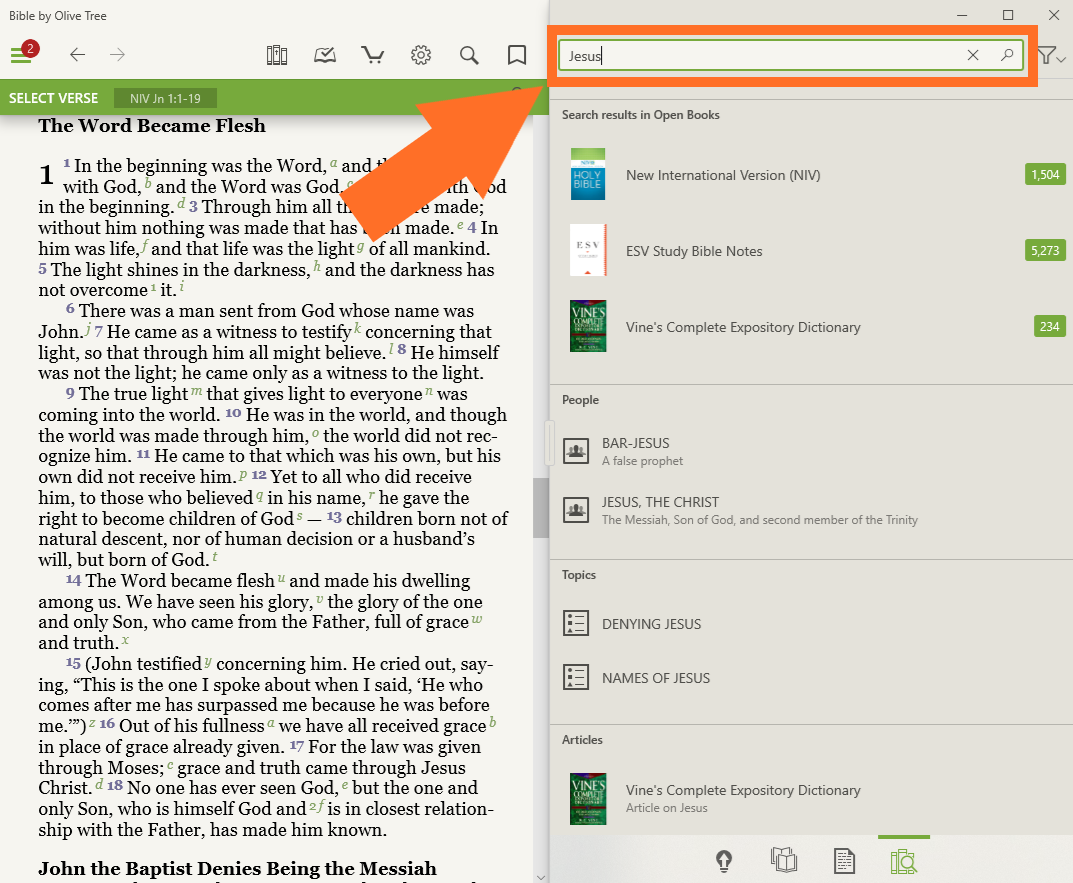 In the list of results, you will see any related references in books and Bibles, dictionary results in 'People', 'Places', 'Topics', and 'Articles' as well as personal notes and highlights you have within the app that are related to your search term. You will likely need to scroll down to view all the content.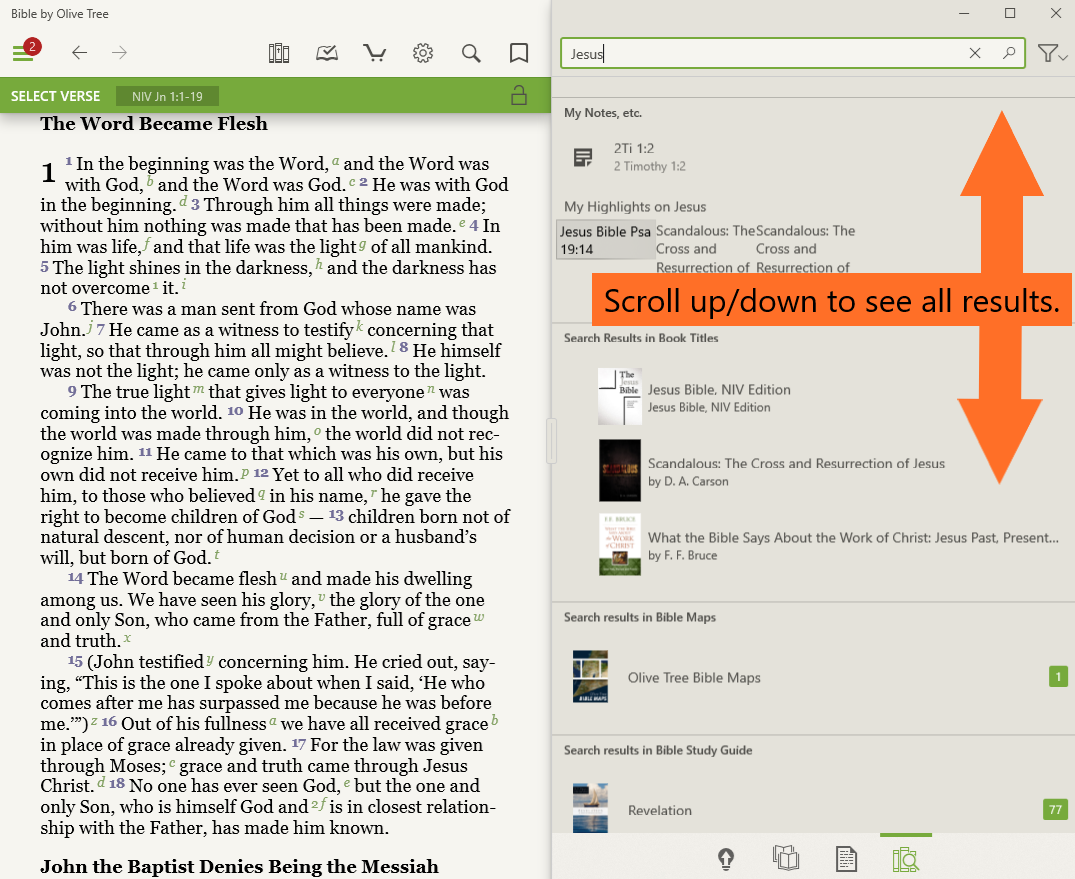 To learn more about the Study Center tabs, check out this article: Windows - Study Center
Worth Noting
In regard to dictionaries specifically, the Lookup feature requires the dictionary entry to match the word you are looking up exactly. Therefore, a lookup for the word "baptized" will not show an entry if the dictionary term is "Baptism".
*Is My Dictionary Enhanced?
Most dictionaries you purchase for use within our app are enhanced for the Lookup tools.
In order to see if your dictionary is one of them, you can check the product page on our website and look in the 'Features' section as seen in the example below. If 'Dictionary' is listed as it is here, it is enhanced!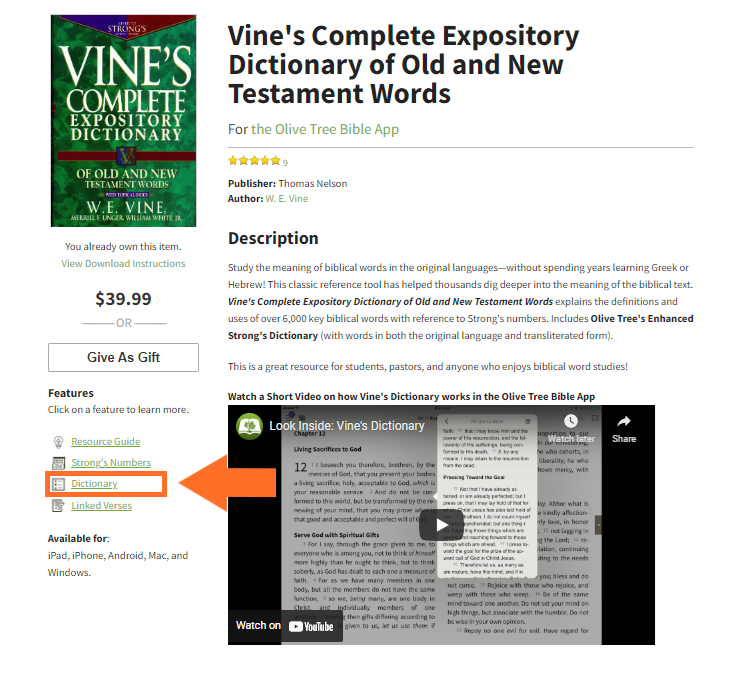 We hope this article has been helpful for you. If you have any further questions please submit a ticket. We'll be happy to help you!