Settings for the app can be found by tapping the Settings icon on the toolbar.

Quick Settings Menu
When you click on this icon, you will bring up the Quick Settings menu. Here are the options available in the Quick Settings Menu.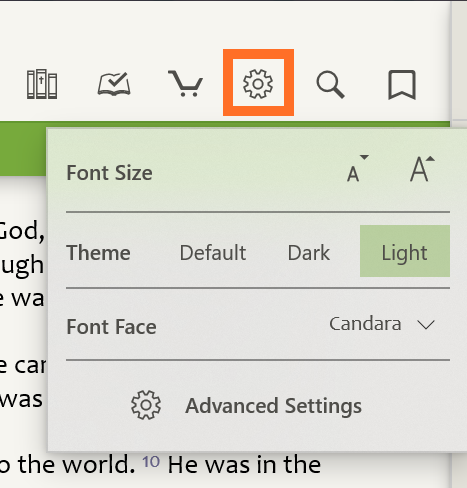 Font Size- A quick way to change the font in the main window.
Select Theme- Choose between the default theme, a dark theme, and a light theme.
Font Face- A quick way to change the font face.
Advanced Settings- Access additional settings that are described below.
Advanced Settings
Tap the Settings icon and choose Advanced Settings to open these options.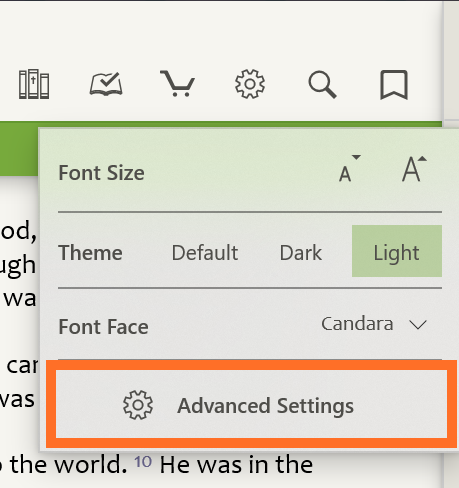 When the Advanced Settings menu opens, you will see four icons in the upper left corner that lead to different pages of settings options.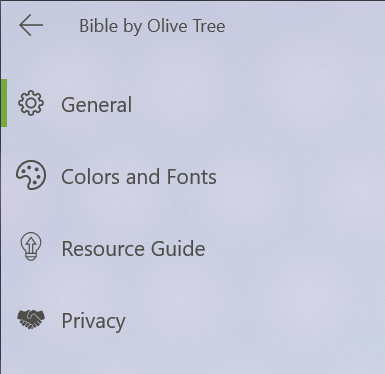 General
In the 'General' tab of the Settings menu, you will find these options: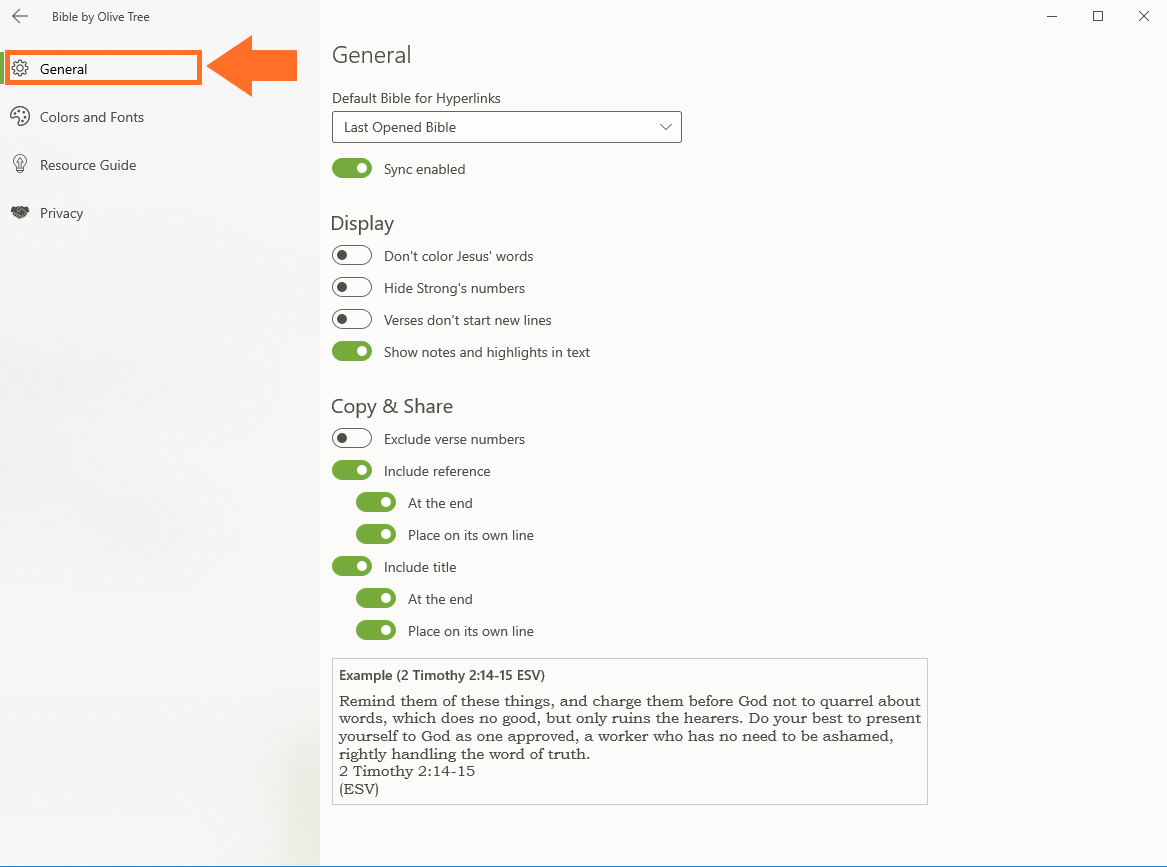 Default Bible for Hyperlinks: Choose your default Bible for hyperlinks.
Sync Enabled/Disabled: Choose to enable or disable automatic sync in the app.
Display:

Don't color Jesus' Words OR Color Jesus' Words
Hide Strong's Numbers OR Show Strong's Numbers
Verses don't start new lines OR Verses start on a new line
Hide notes and highlights in text OR Show notes and highlights in text

Copy & Share: See this article for more specific details about this feature.

Include/exclude verse numbers
Include/exclude reference

At the end
Place on its own line

Include/exclude title

At the end
Place on its own line
Colors and Fonts
In the second icon, you will find the Colors and Fonts options in the app.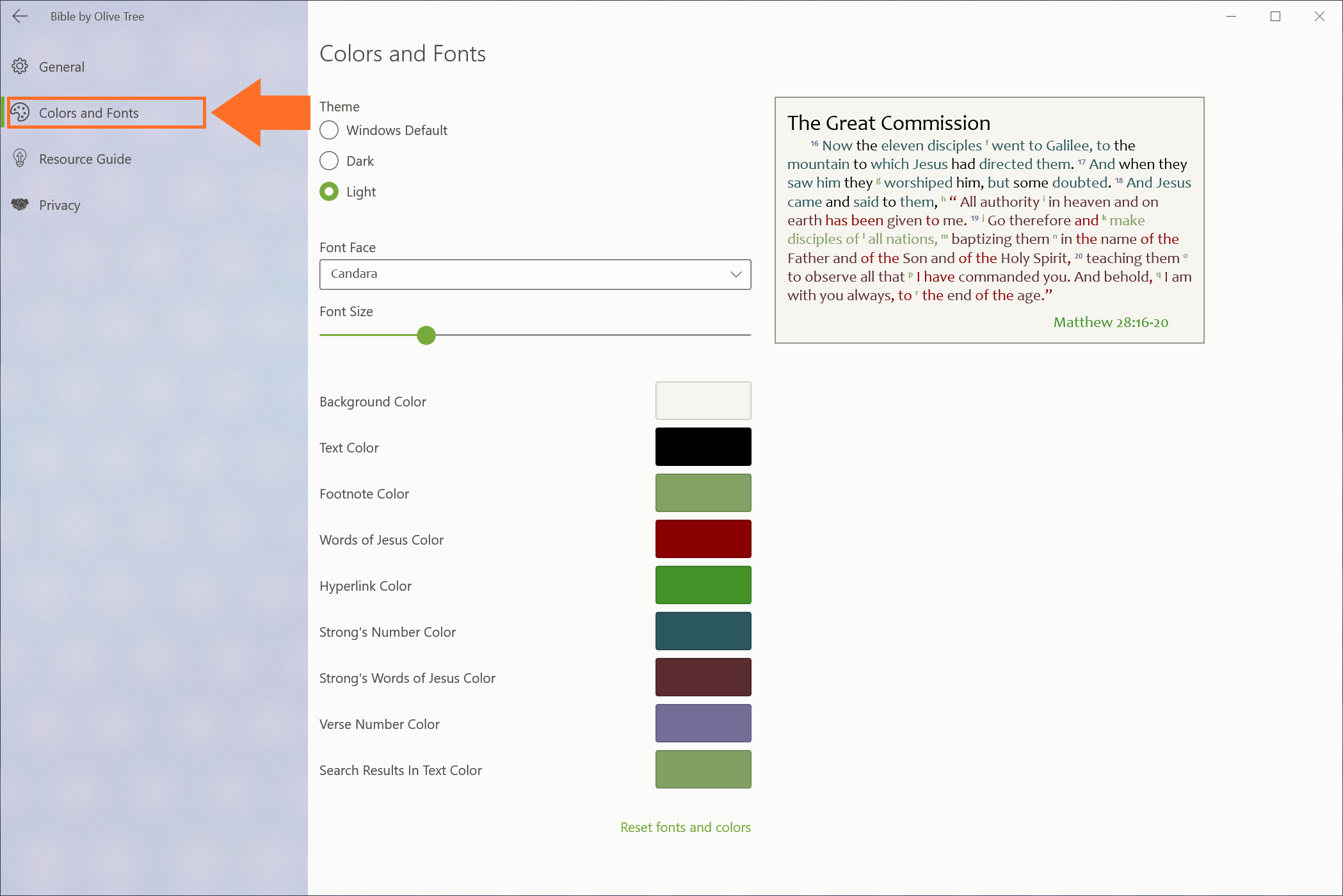 Theme:

Windows Default
Dark
Light

Font Face
Font Size
Colors:

Background Color
Text Color
Footnote Color
Words of Jesus Color
Hyperlink Color
Strong's Number Color
Strong's Word of Jesus Color
Verse Number Color
Search Results in Text Color
Reset fonts and colors
Resource Guide
In this section, you can choose which categories appear in the Resource Guide by clicking the toggle on (green) or off (white) next to each category in the list.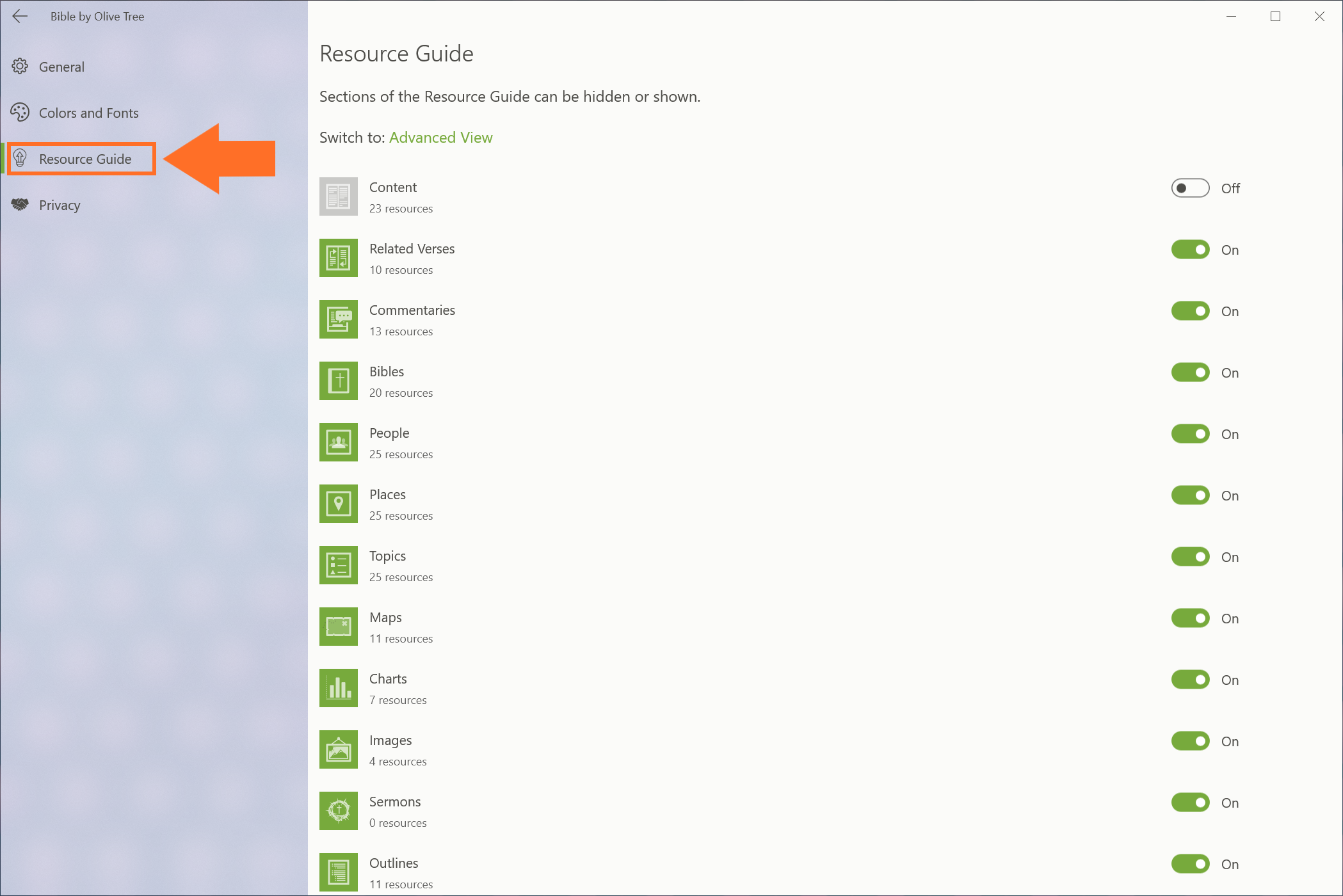 You can also switch to the Advanced View to customize the Resource Guide even further.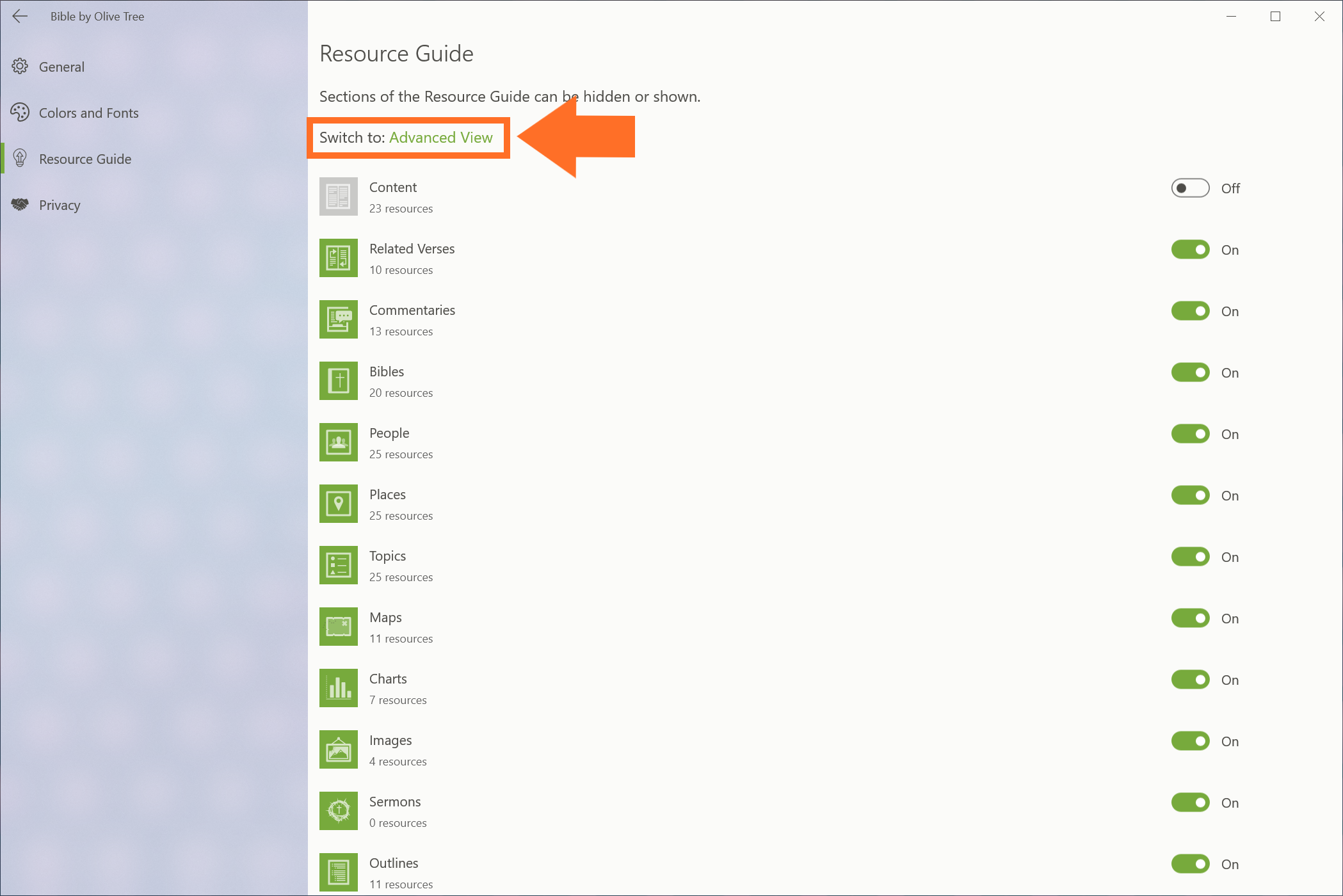 Once you click on Advanced View, you will see an icon for each section of the Resource Guide to the left side. Click on an icon here. When the page for that section opens, you will see another place to enable or disable the section using the toggle. You will also see a way to enable and disable each downloaded resource below Resource List by using the toggle to the right of each resource. This enables you to control the content you see in each section of the Resource Guide.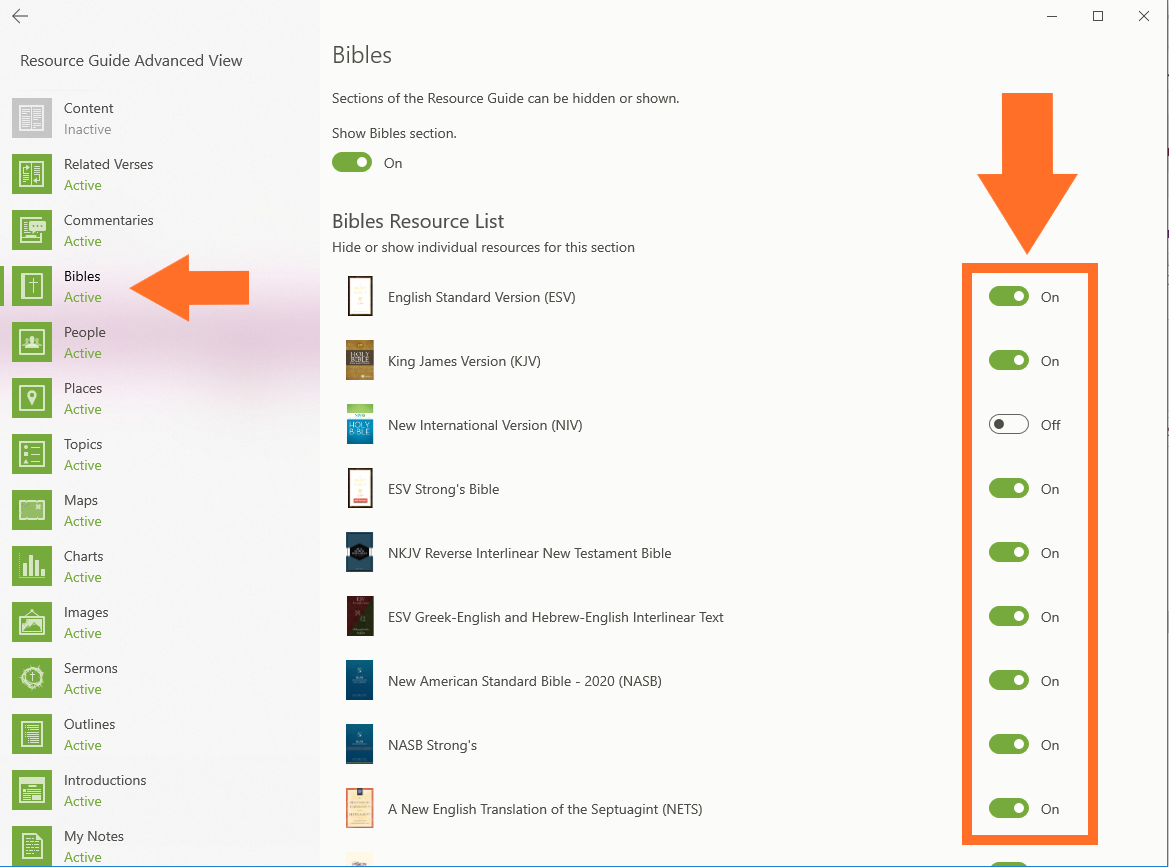 You can also click on any resource in the list and drag it up or down into a new order. The order here will be reflected in the Resource Guide so you can see your most used resources first.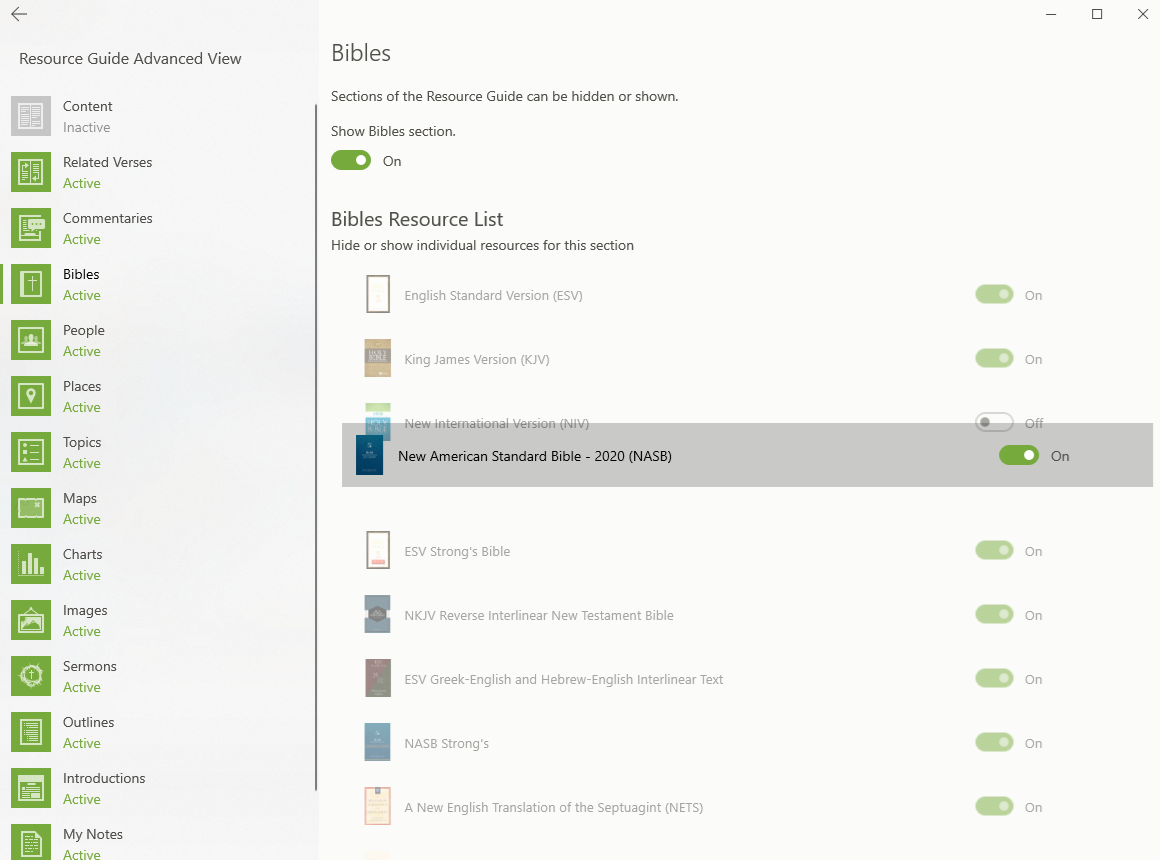 Click the arrow in the upper left corner to get back to the Settings page.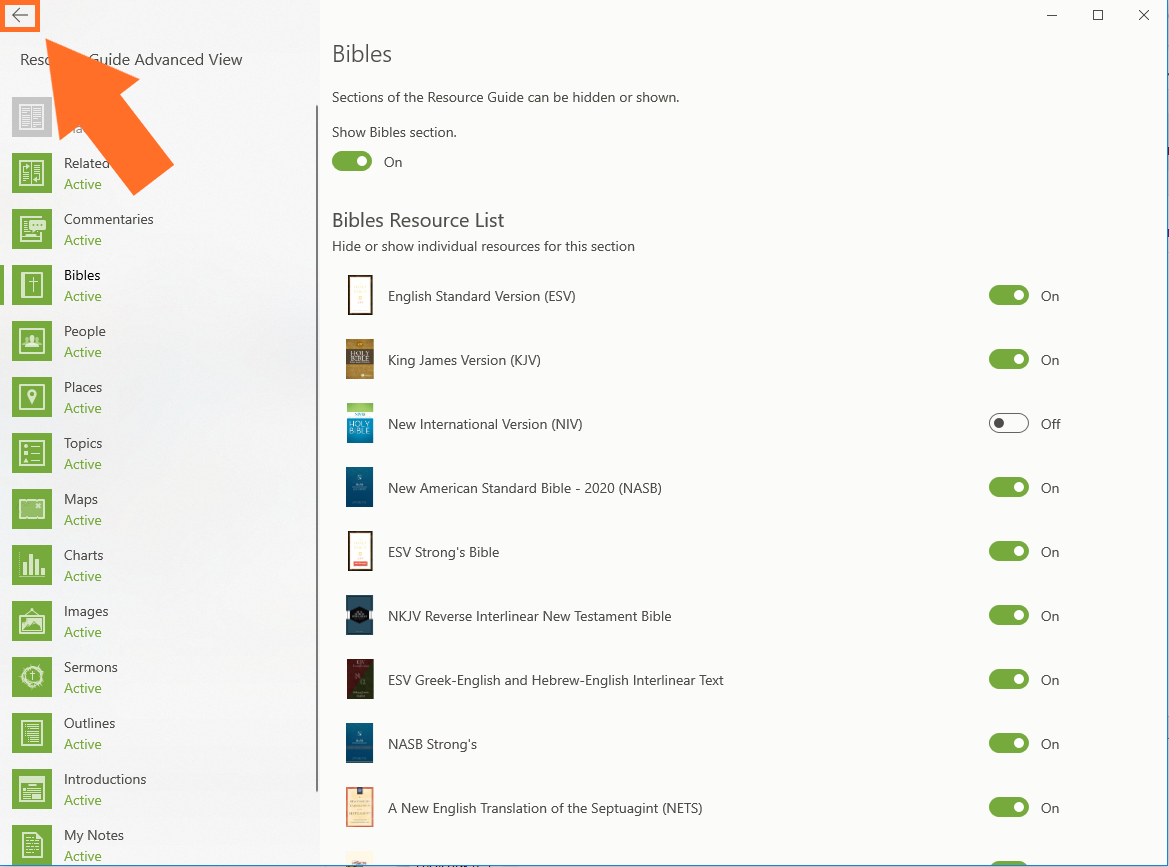 Privacy
This final option in the Advanced Settings menu gives you privacy options to enable or disable for the app. By default, these options are all enabled.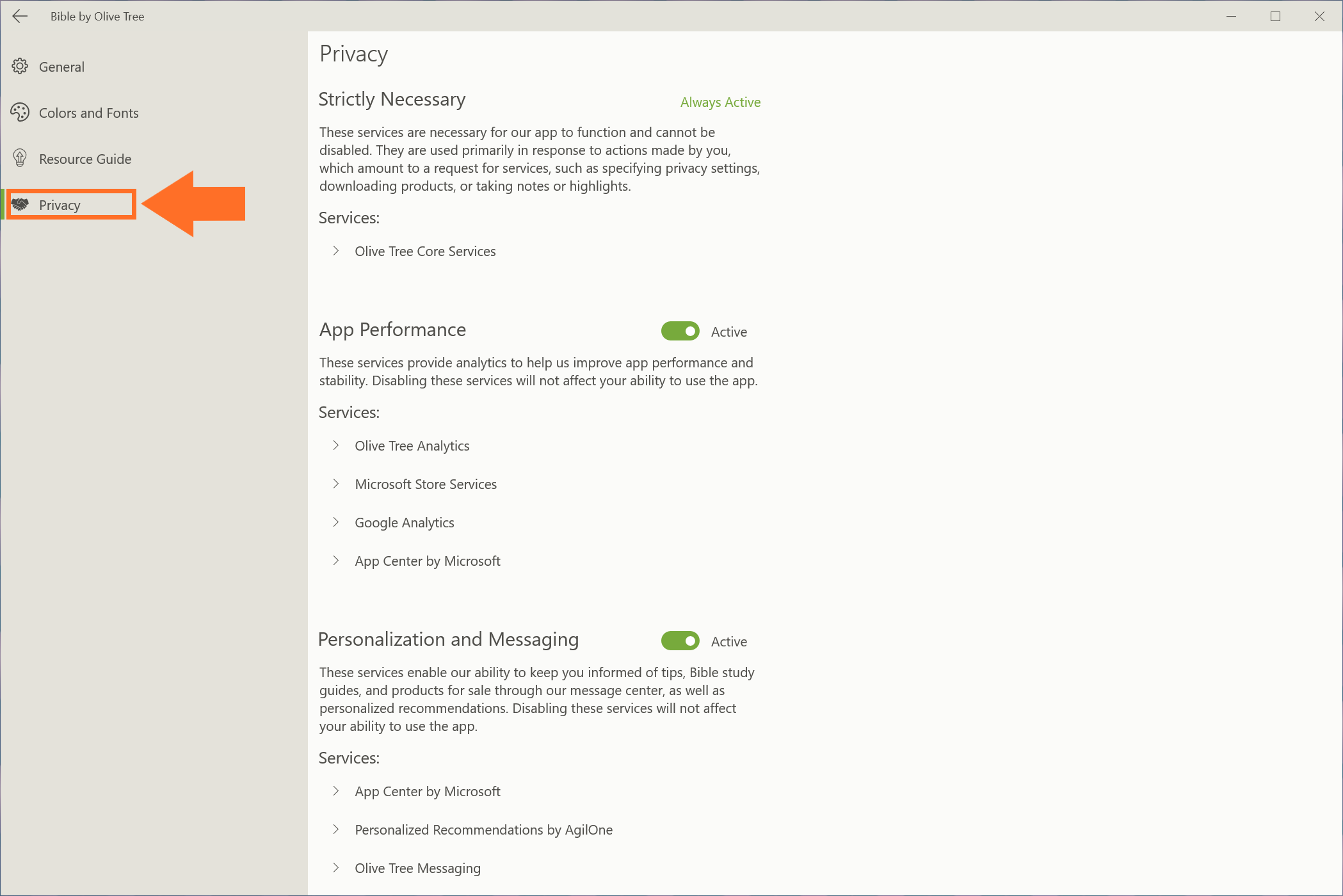 Strictly Necessary

Olive Tree Core Services

App Performance

Olive Tree Analytics
Microsoft Store Services
Google Analytics
App Center by Microsoft

Personalization and Messaging

App Center by Microsoft
Personalized Recommendations by AgilOne
Olive Tree Messaging
Click on each of the 'Services' listed to see a description of what each one does. Use the toggle to turn App Performance or Personalization and Messaging to 'Active' or 'Inactive' depending on your preference.
We hope this article has been helpful for you. If you have more questions, submit a request to our Customer Support team here. They are happy to help!