A commentary ranges in size from one volume to multiple volumes and offers in-depth notes on the Bible text to help you study the rich meaning of Scripture.
If you haven't downloaded your commentary yet, you will find the download steps for your device(s) in this Help article. In these examples, we are using an iPad, though the functionality will be similar in all of our app variations.
In this Help article, you will learn several ways to use the commentary or commentary set you purchased in your app to access its content for your Bible study.
Open in the Main Window
The first way to view the commentary is on its own in the main window. This option will allow you to navigate into the commentary's Table of Contents. First, tap on the Library icon and choose your commentary from the list of downloaded resources.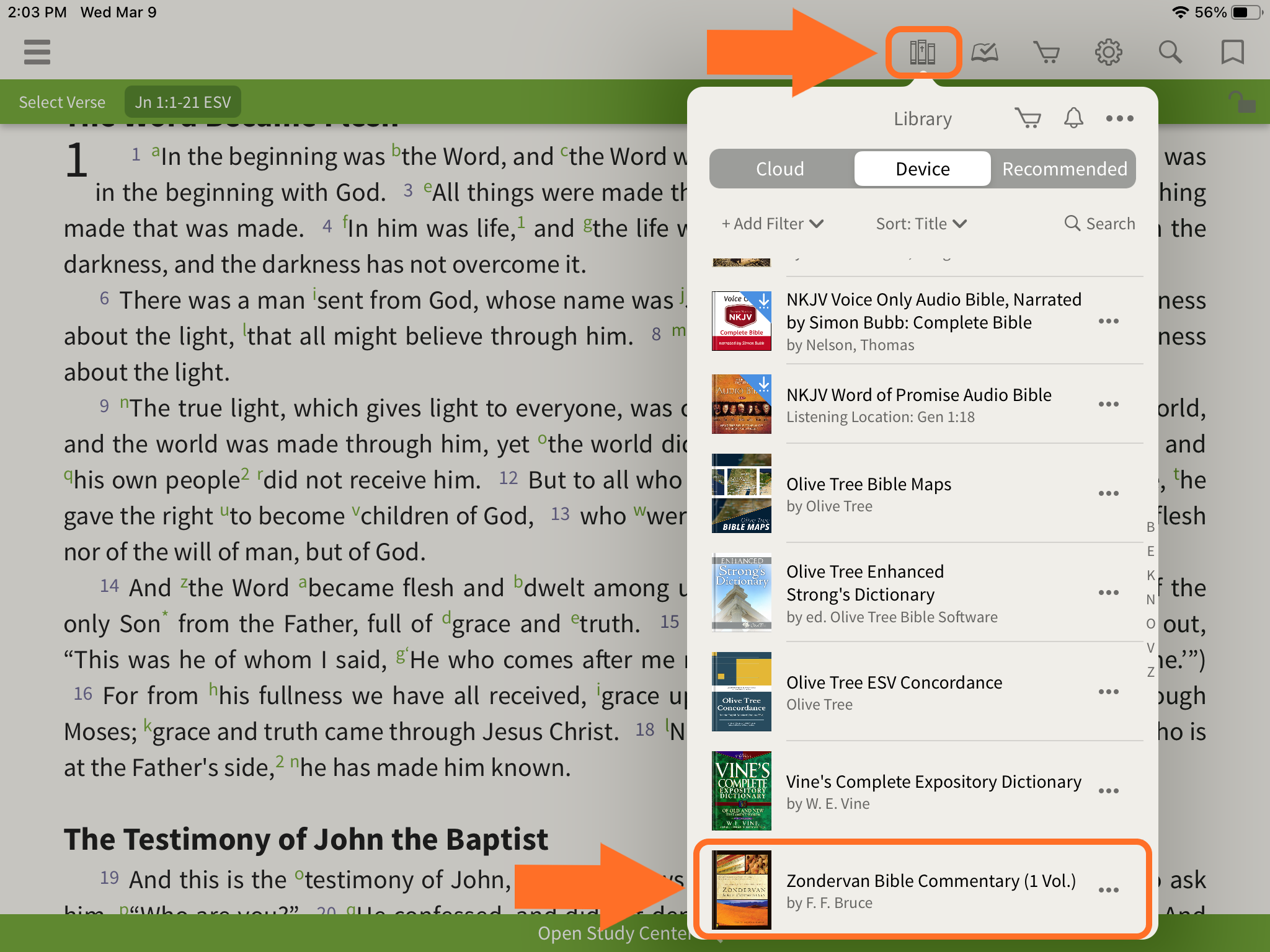 Once the commentary is open in the main window, tap on the navigation menu to access the Table of Contents.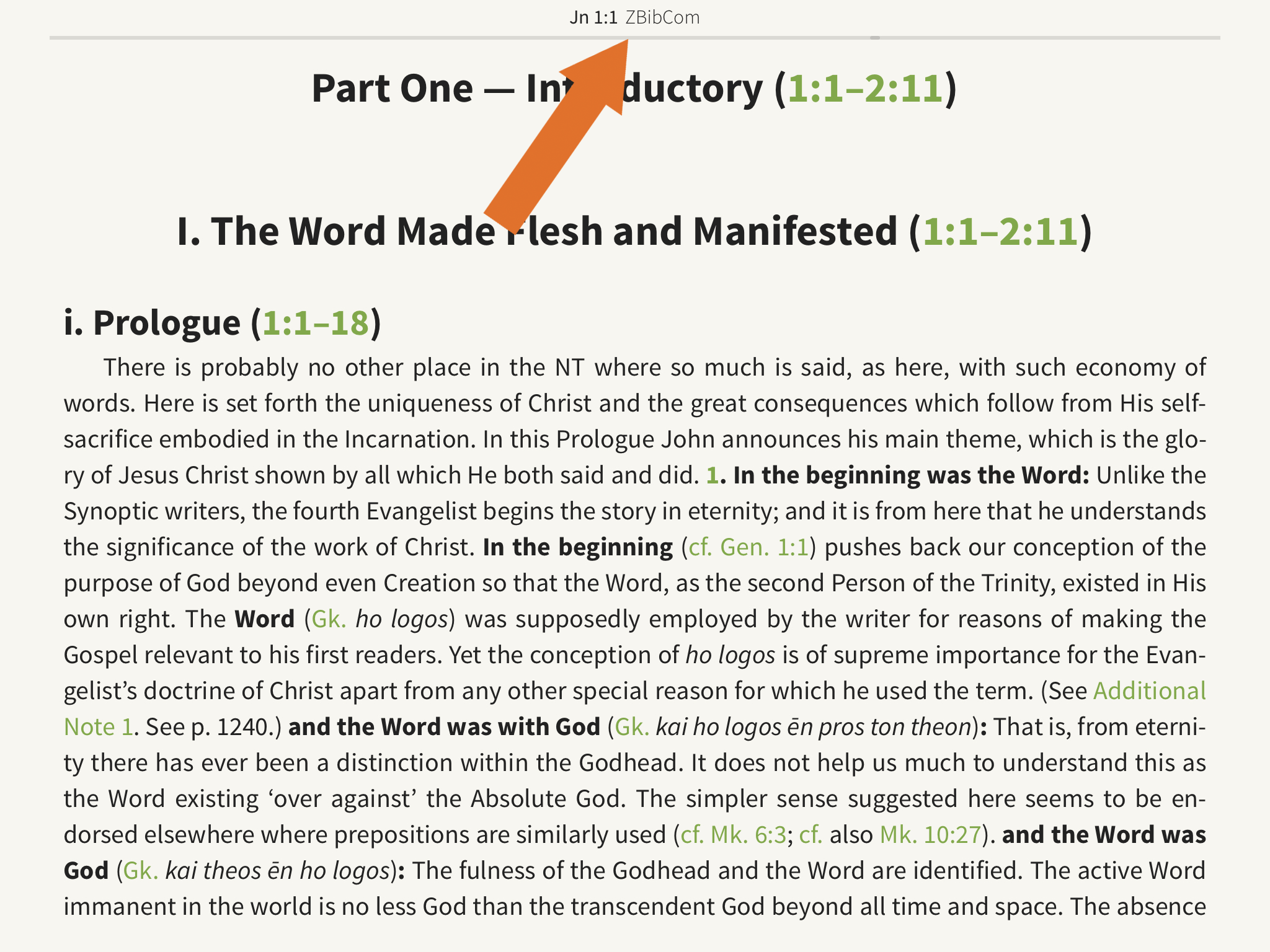 Select the three-dot Options icon.
Select 'Use List Layout'.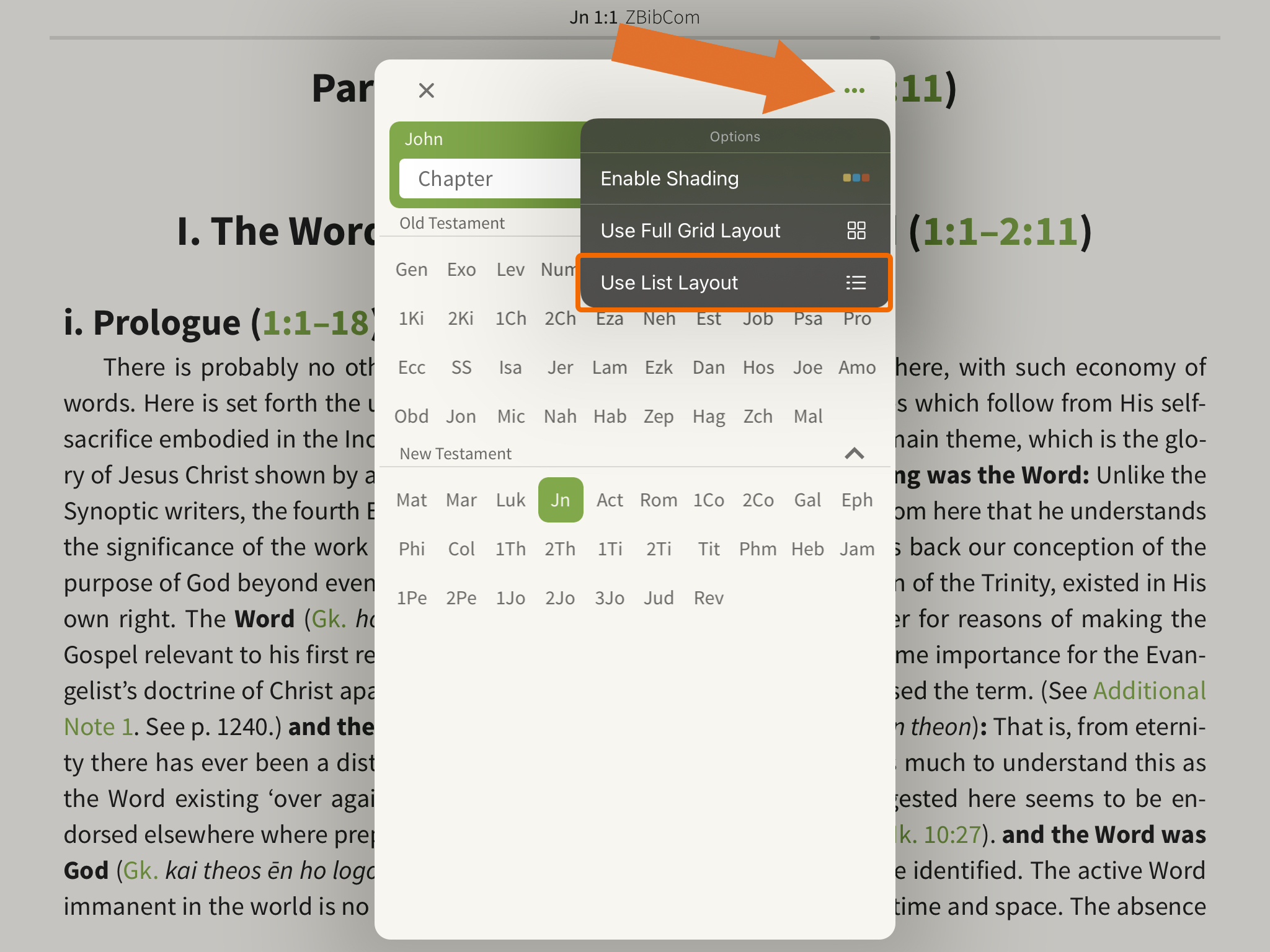 This will reveal the Table of Contents, so you can navigate anywhere in the resource.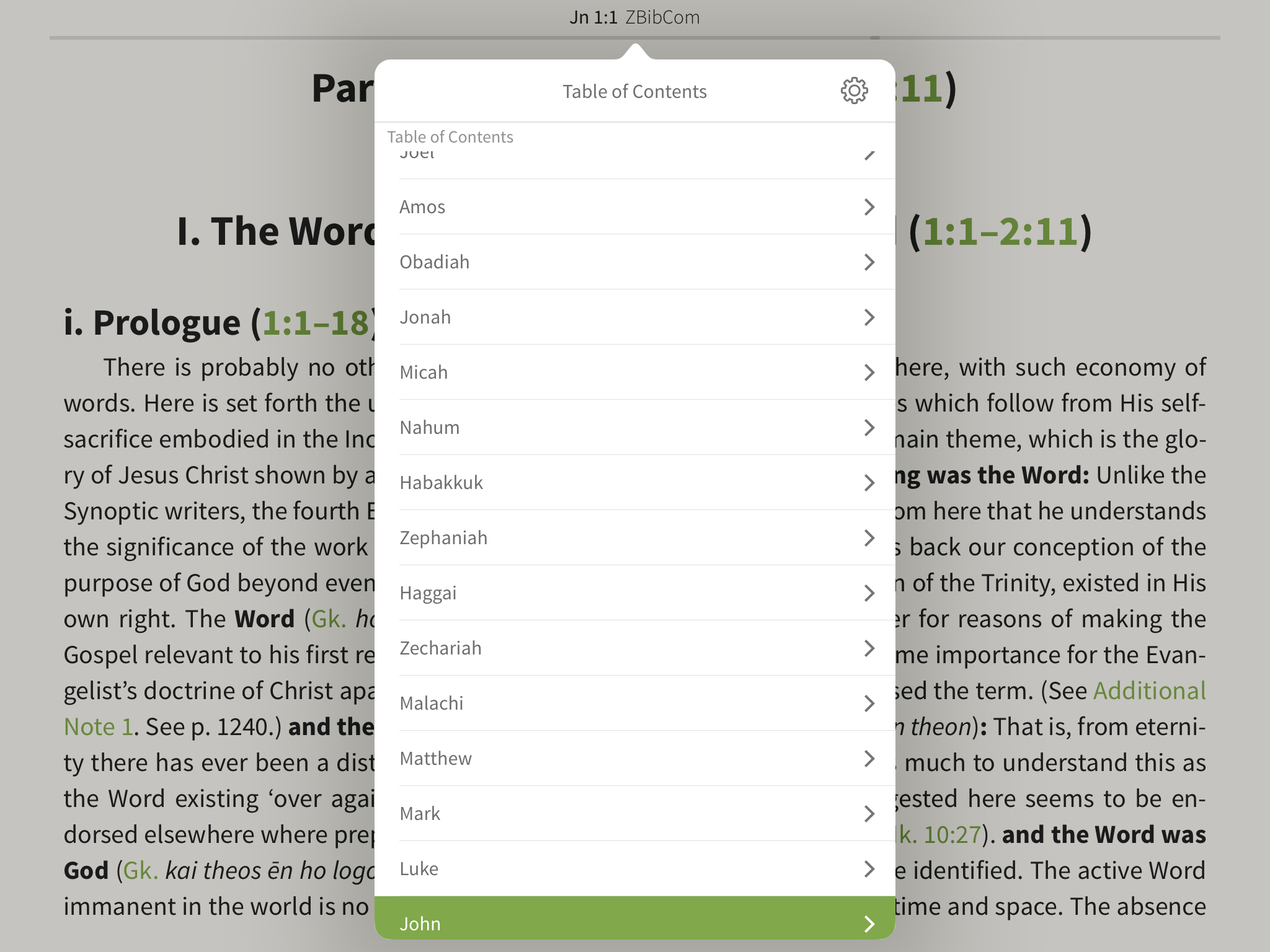 Open in the Parallel Window
Another way to view the commentary is in the Parallel window in the Study Center alongside the Bible text in the main window. Use the Library to open a Bible.
Next, tap the green bar at the bottom of the window to open the Study Center.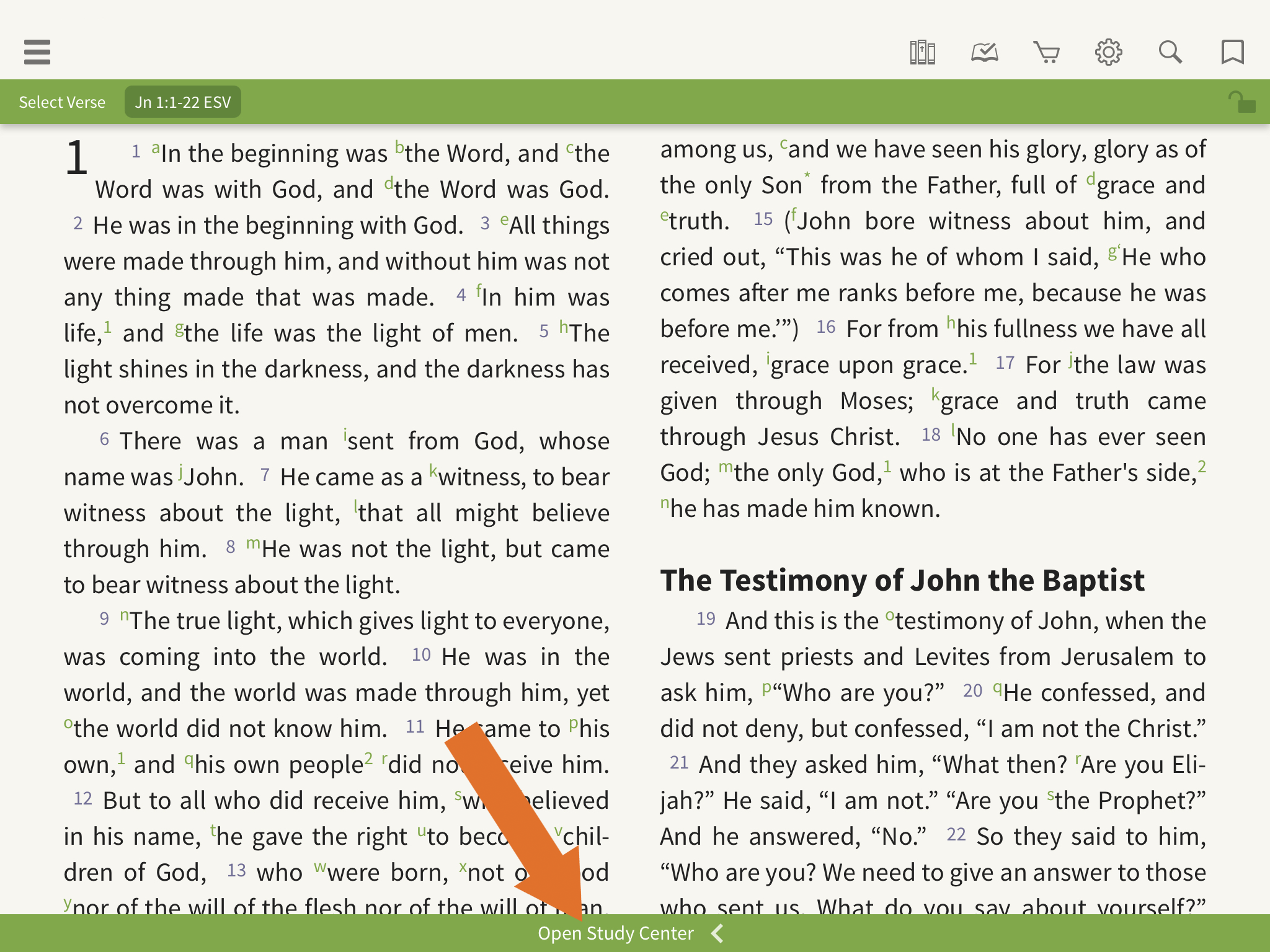 Tap Parallel and use the 'Sort' filter at the top of the screen to sort the Library list by Title, Author, or Recent to locate the commentary in the list of your resources. Tap on the commentary to open it and use it alongside the Bible text.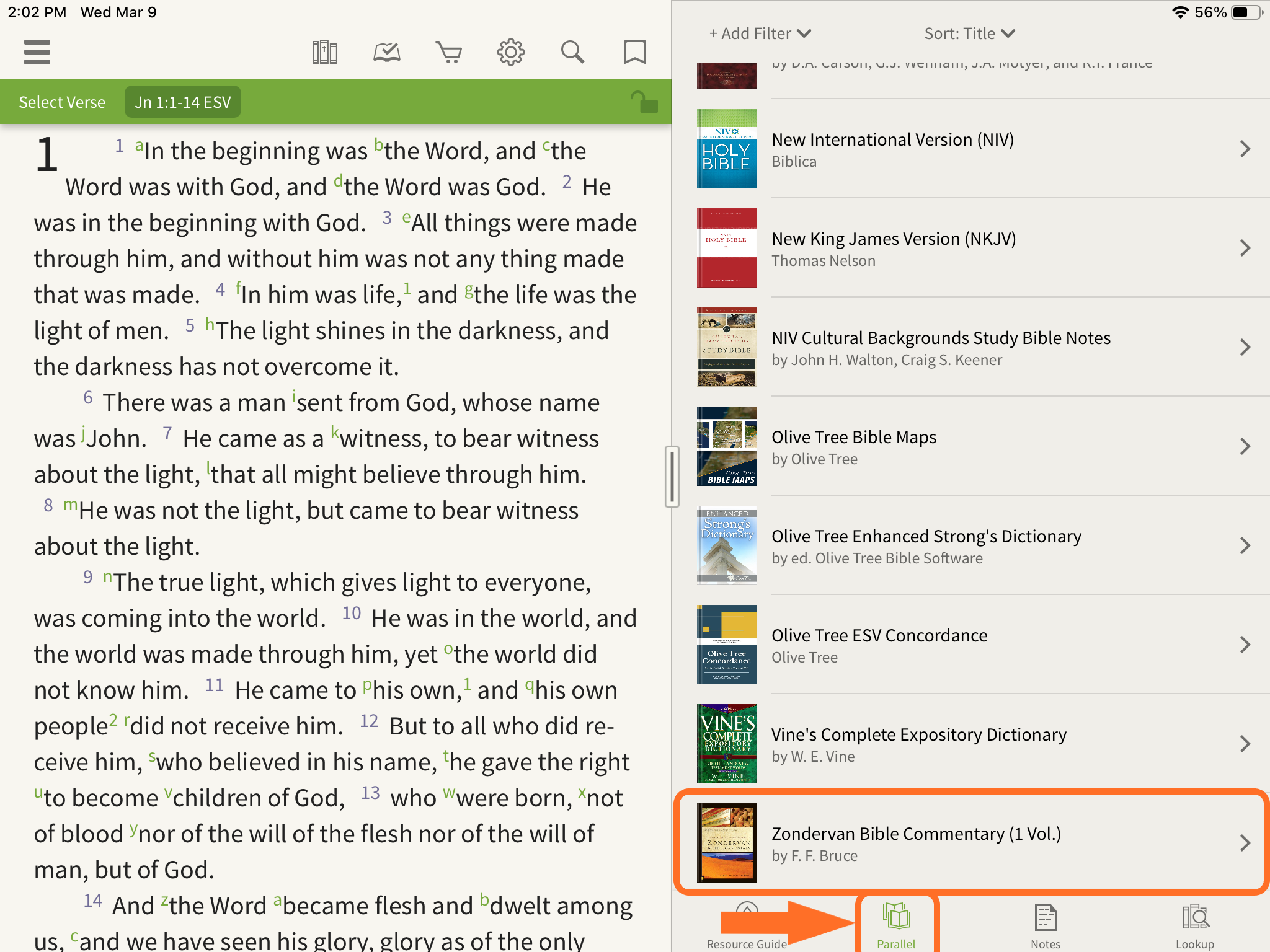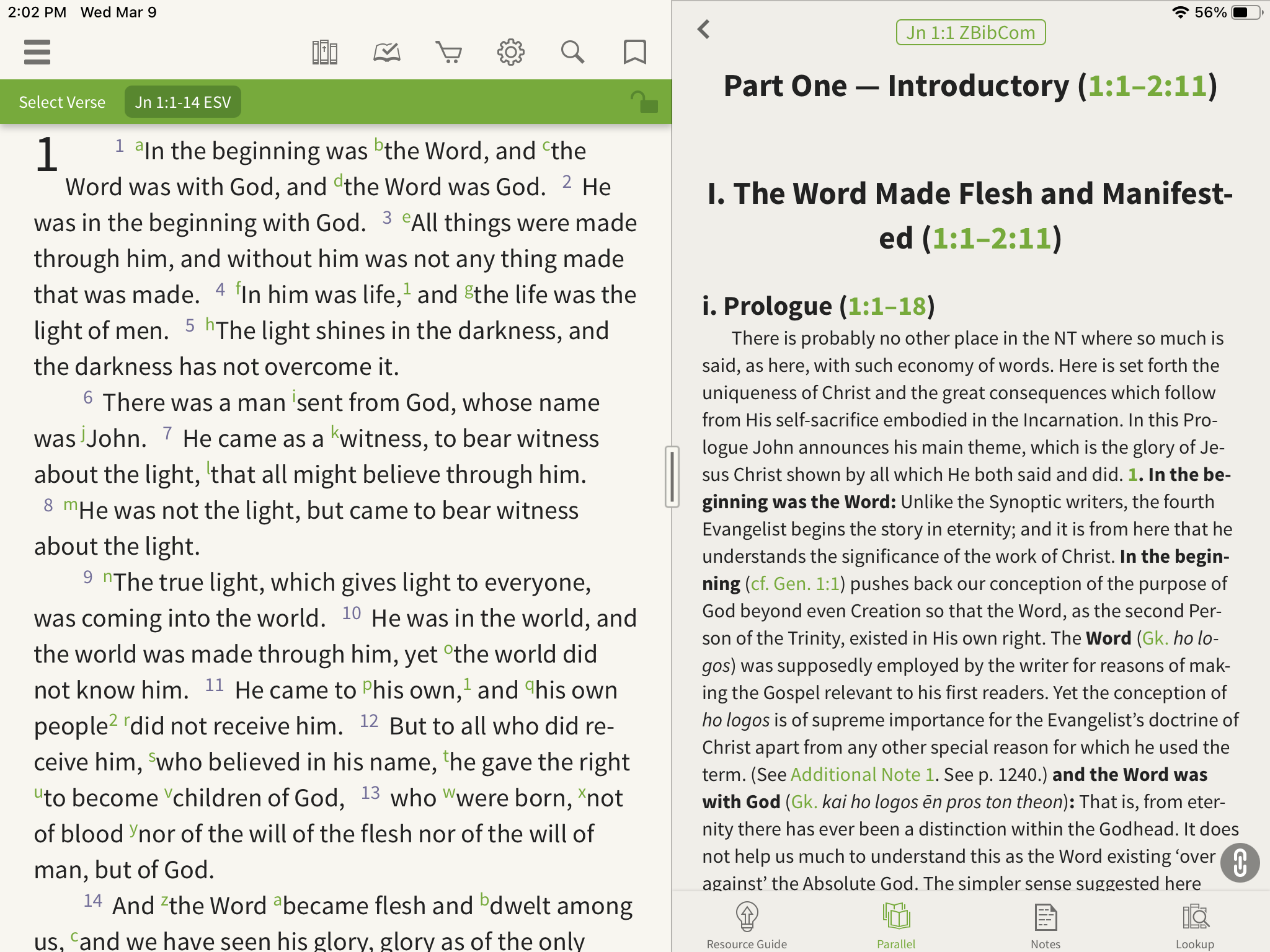 Open in the Resource Guide
You can also open your preferred Bible translation in the main window and have the Resource Guide open in the Study Center. First, open the Study Center: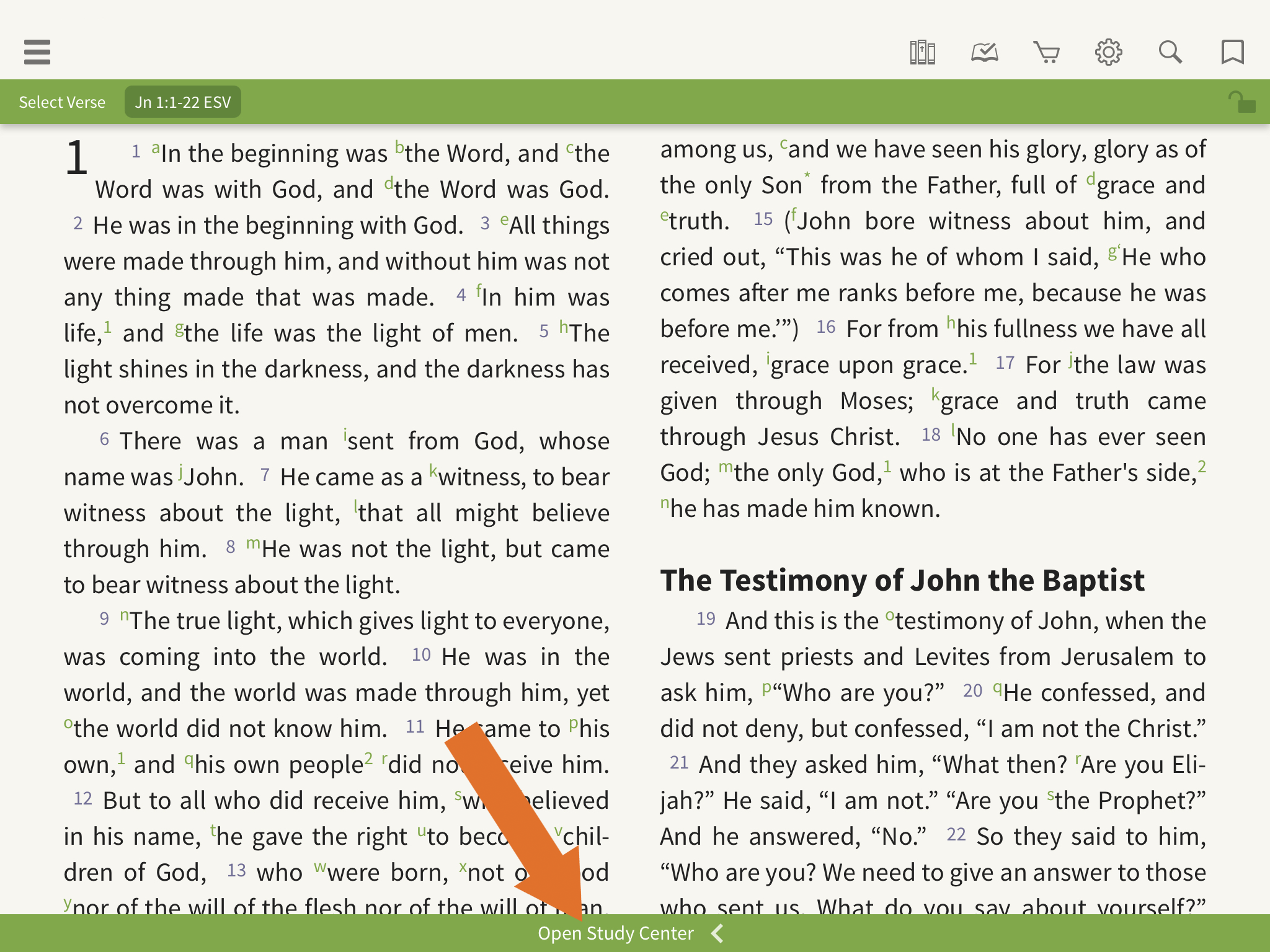 Next, select the 'Resource Guide' tab (lightbulb icon) to make sure you have the Resource Guide open.
With the Resource Guide open, you'll see relevant commentary "hits" in the Commentaries section in the split window. Select a specific commentary to view the entries in it that are related to the Bible text you are viewing in the main window.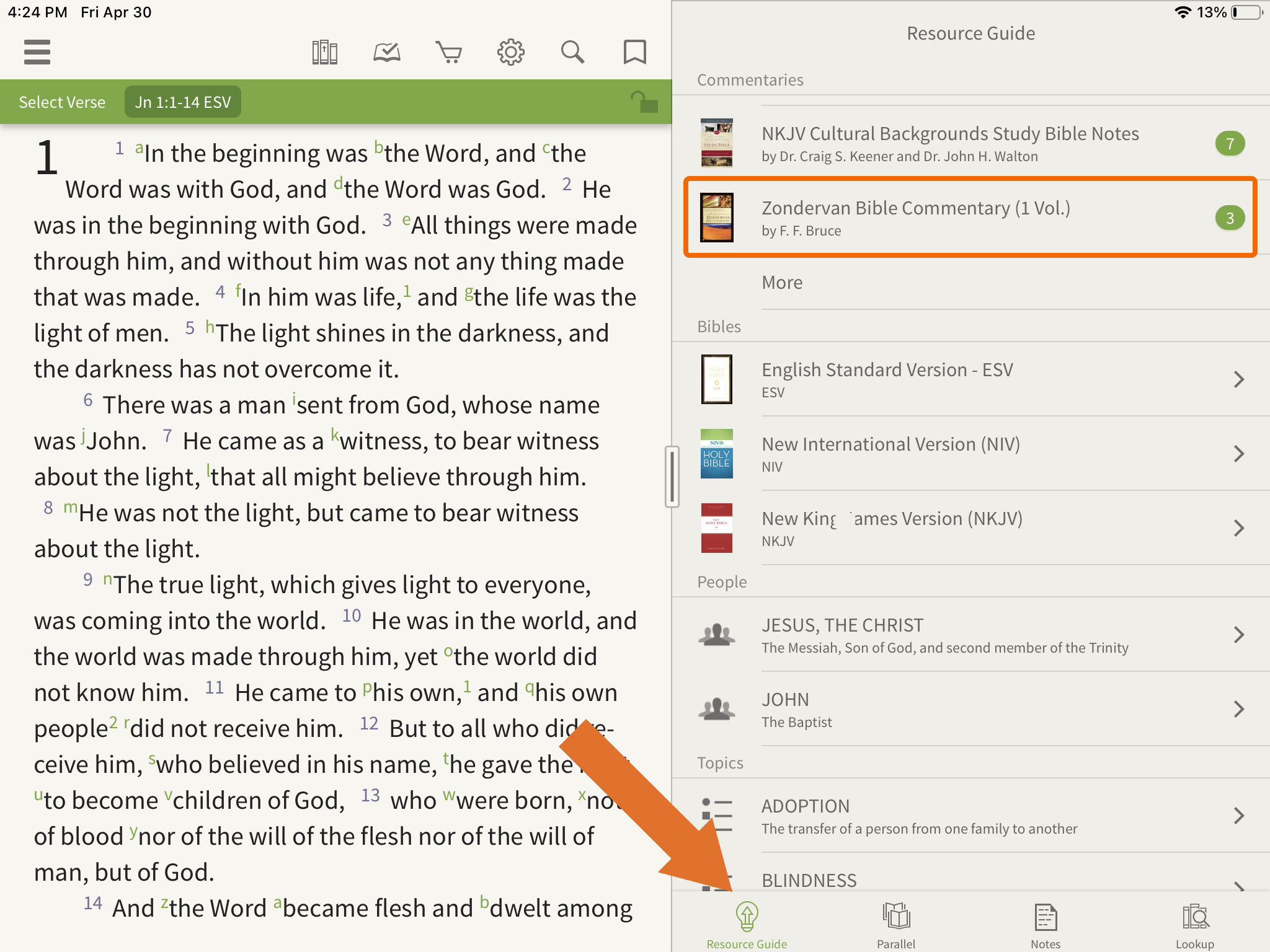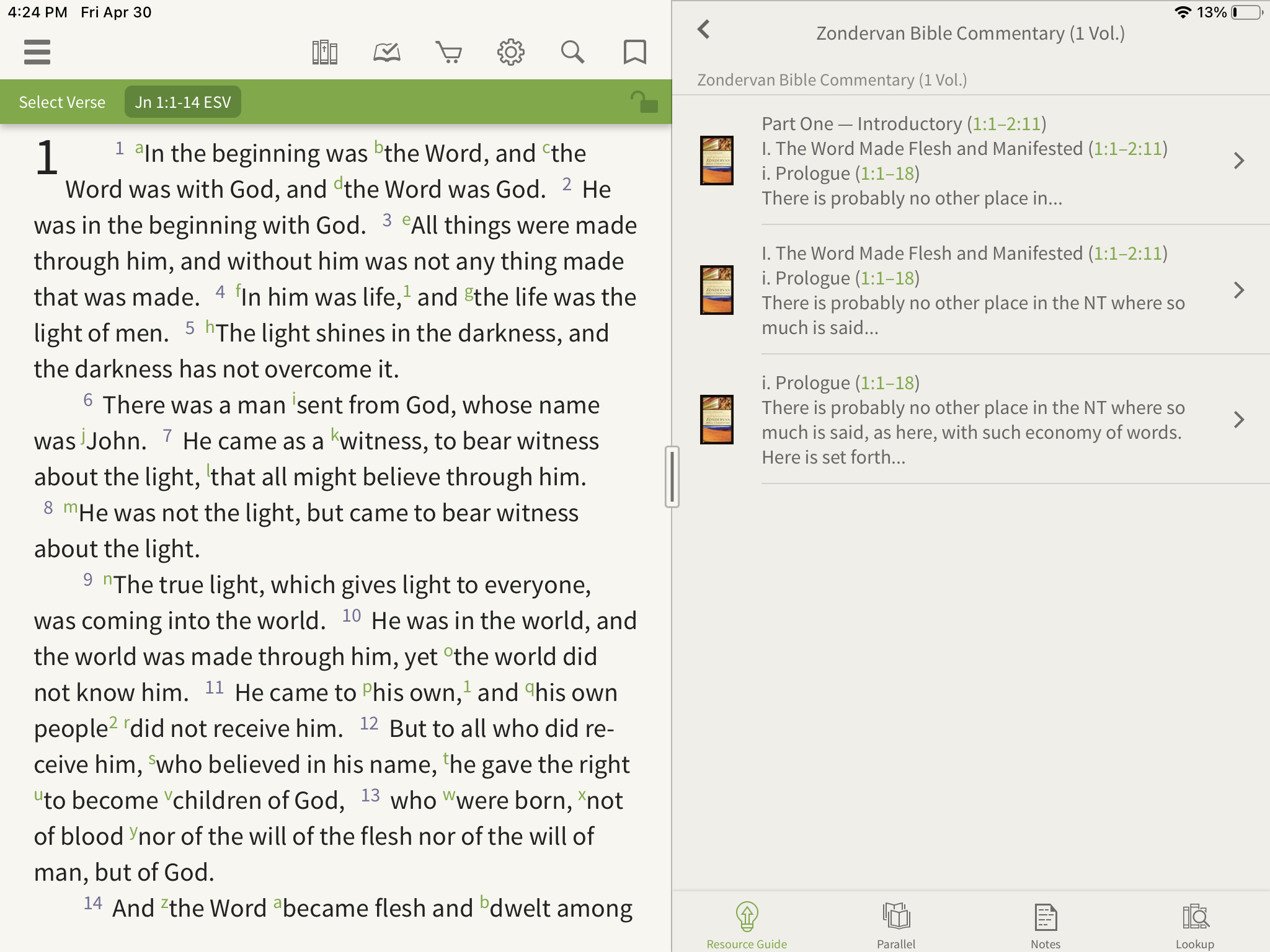 The Olive Tree Bible App also keeps up with the Scripture passage you're reading in the main window with sync scrolling. This means that as you move along in the Bible text, the commentary syncs to where you are in your study.
Conclusion
We hope that this introduction to using commentaries in the Olive Tree Bible App has been helpful for you. You can find all of our commentaries on our website!
If you have any more questions, please submit a request to our Customer Support team here. They are happy to help!