Thank you for your interest in the Olive Tree NIV Concordance!
A concordance offers precise lookups on specific words and shows you where those words appear throughout Scripture. It is a great way to find cross references and the different meanings of the Hebrew, Aramaic, and Greek words in which the Bible was written.
In this Help article, we will help you learn how to use the Olive Tree NIV Concordance for your Bible study.
Option 1: Lookup
Open a Bible through the Library in the main window. Tap and hold a word and select 'Lookup' to perform a Lookup.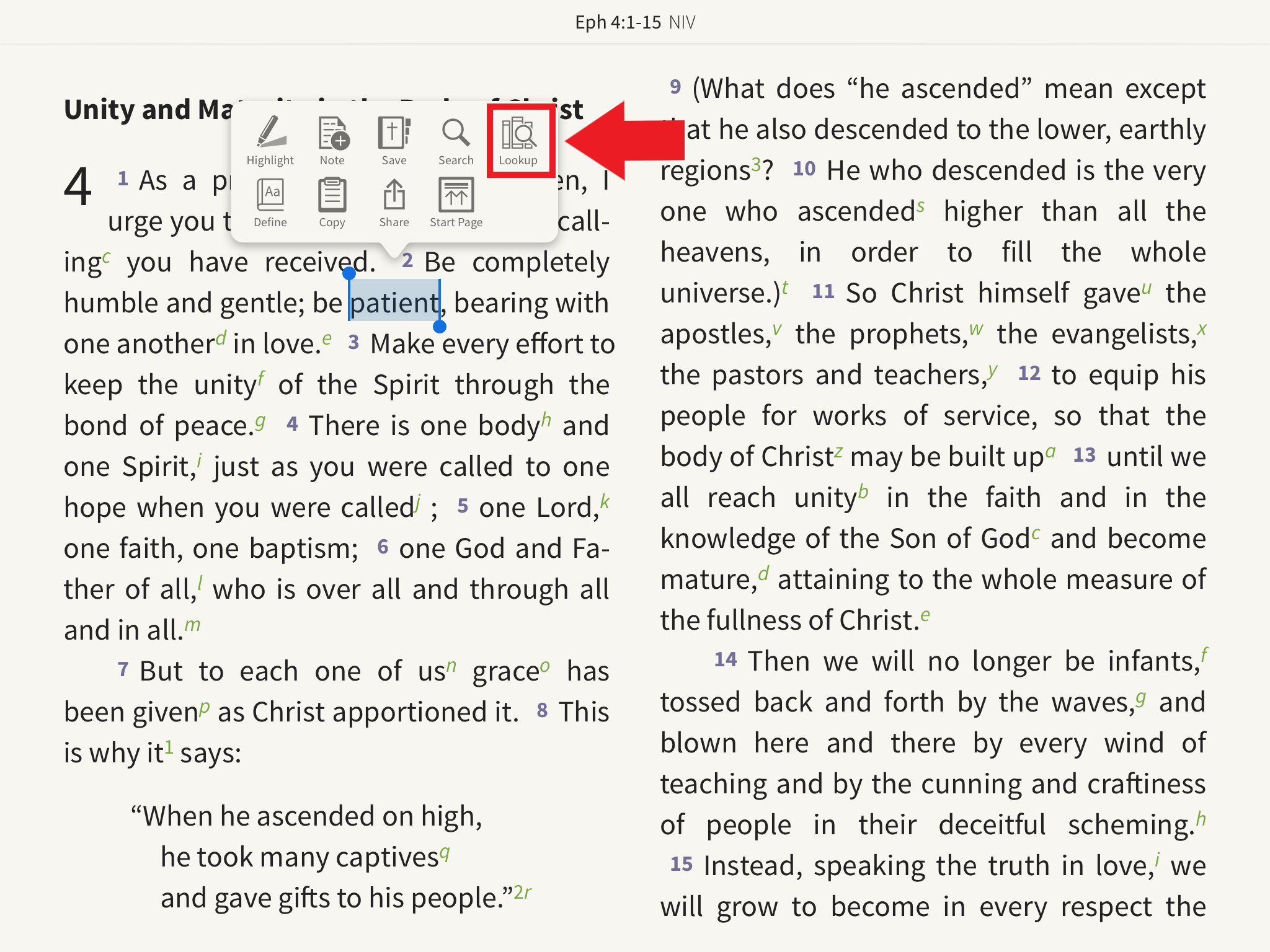 If there is an article within the Olive Tree NIV Concordance on that word, it will be listed in the pop-up window that appears after you tap 'Lookup'.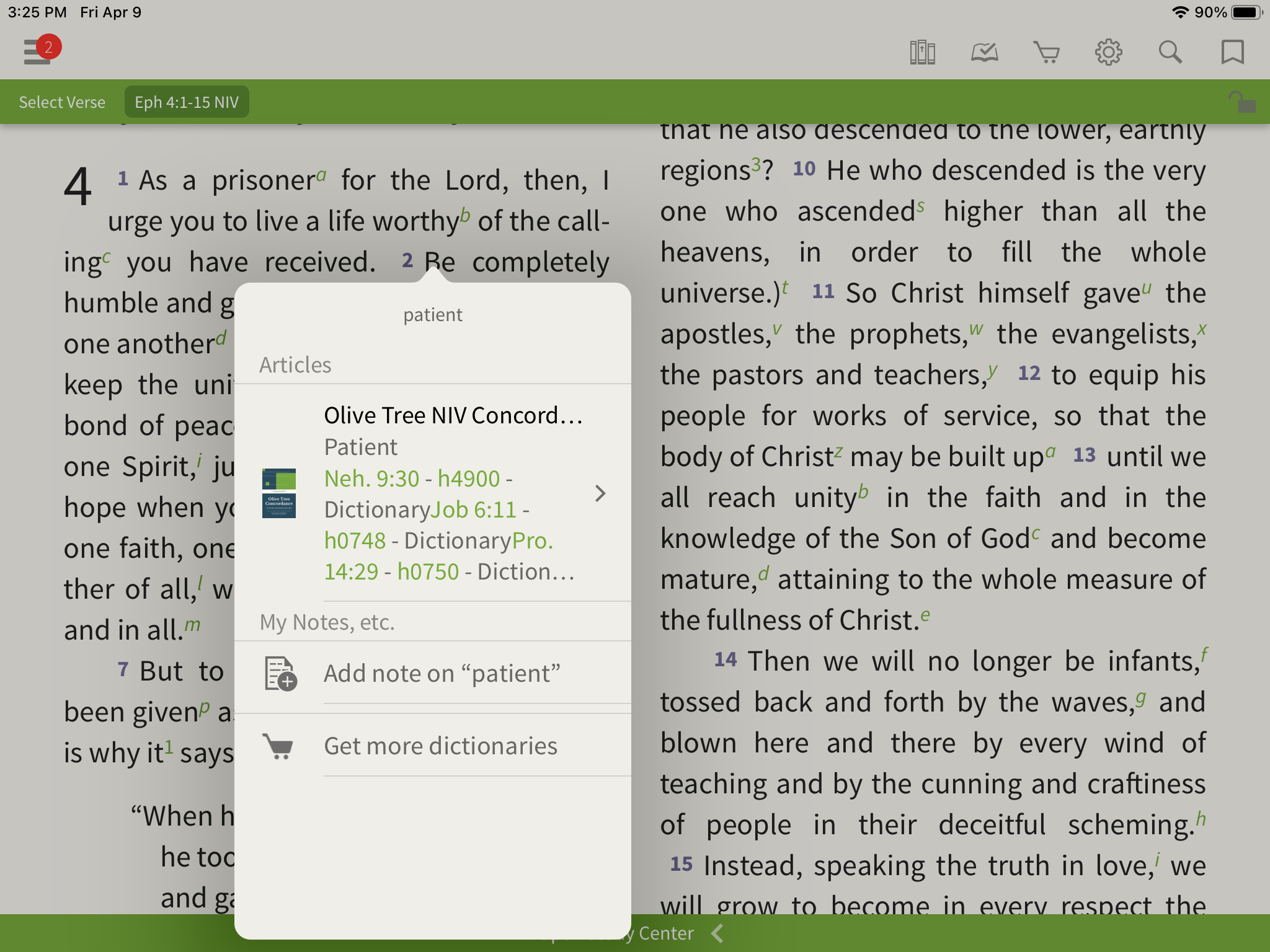 After selecting the Olive Tree NIV Concordance entry from the pop-up Lookup window, you will see a list of the locations where this word appears throughout the Bible.
You'll notice that the Olive Tree NIV Concordance has three options:
The verse references list where the English word

shows up throughout the Bible.
The Strong's numbers show where the Hebrew and Greek words that are translated as this word appear throughout the text.
The dictionary opens an explanation of the Hebrew or Greek word.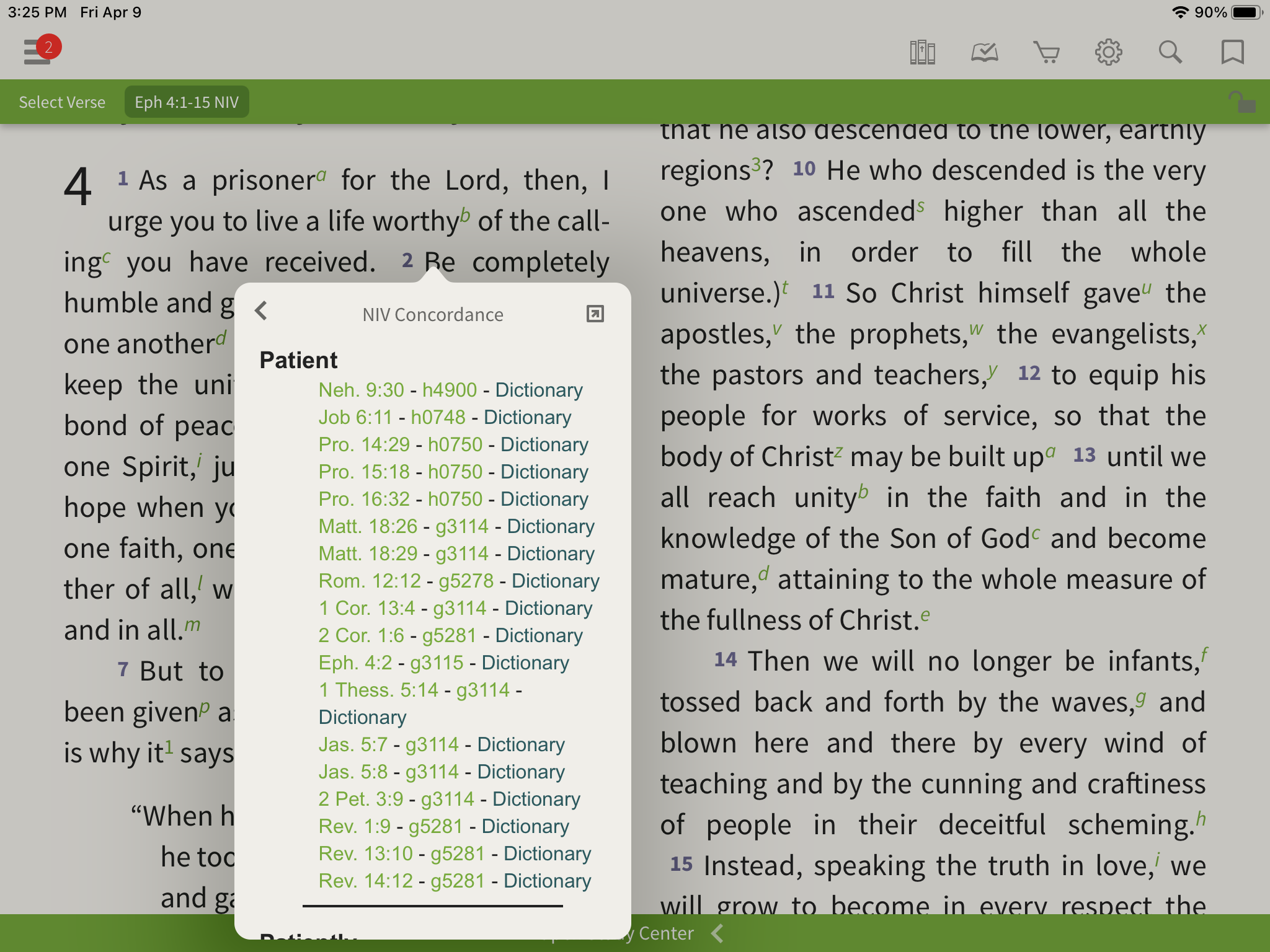 Option 2: Resource Guide
In the Resource Guide, the 'Topics', 'People', and 'Places' categories will also allow you to access some of the entries in the Olive Tree NIV Concordance. With your preferred Bible translation open in the main window, select the green 'Open Study Center' tab.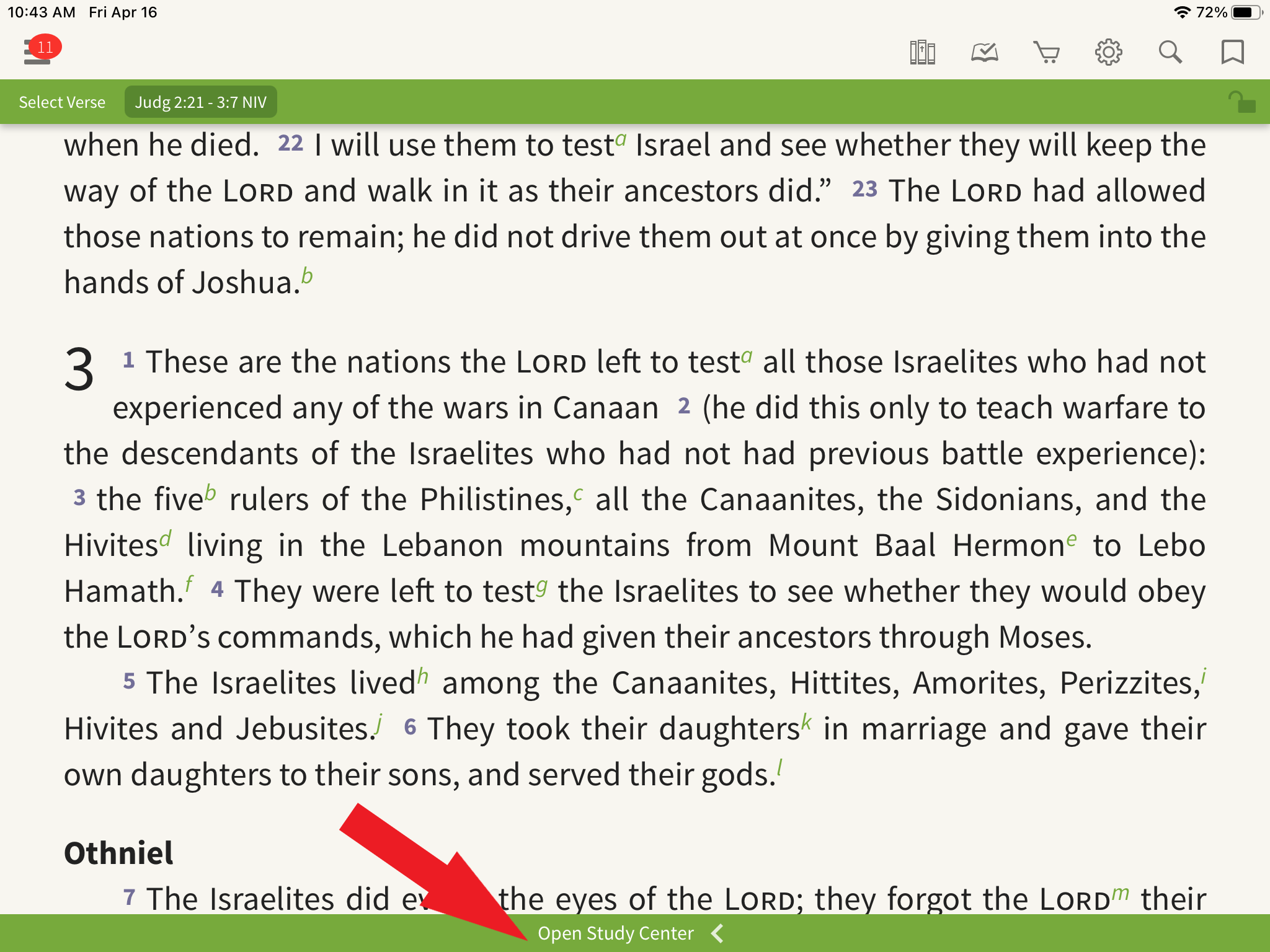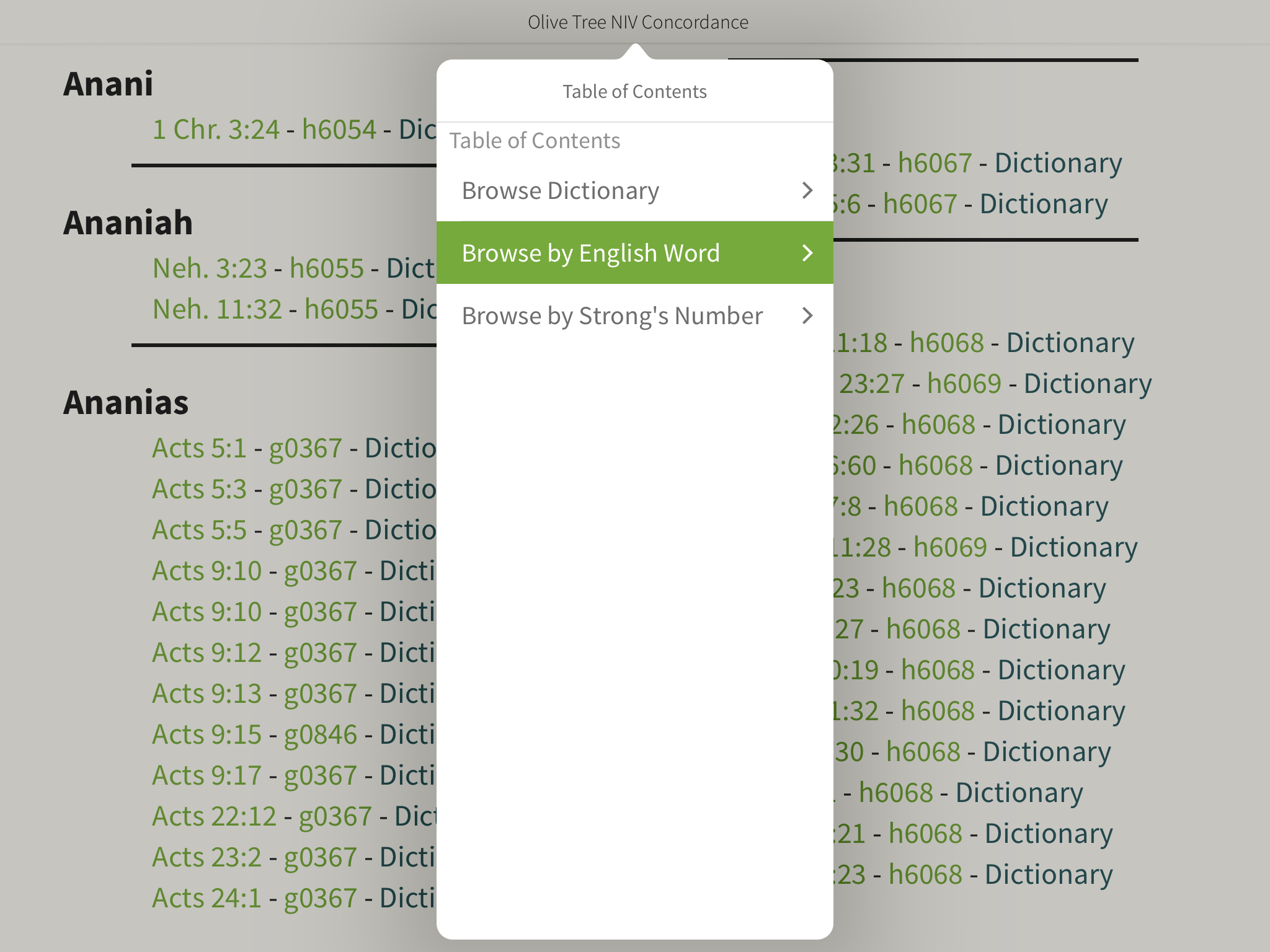 If you select 'Browse Dictionary', there will be a search bar in the navigation that allows you to search for an entry by English word.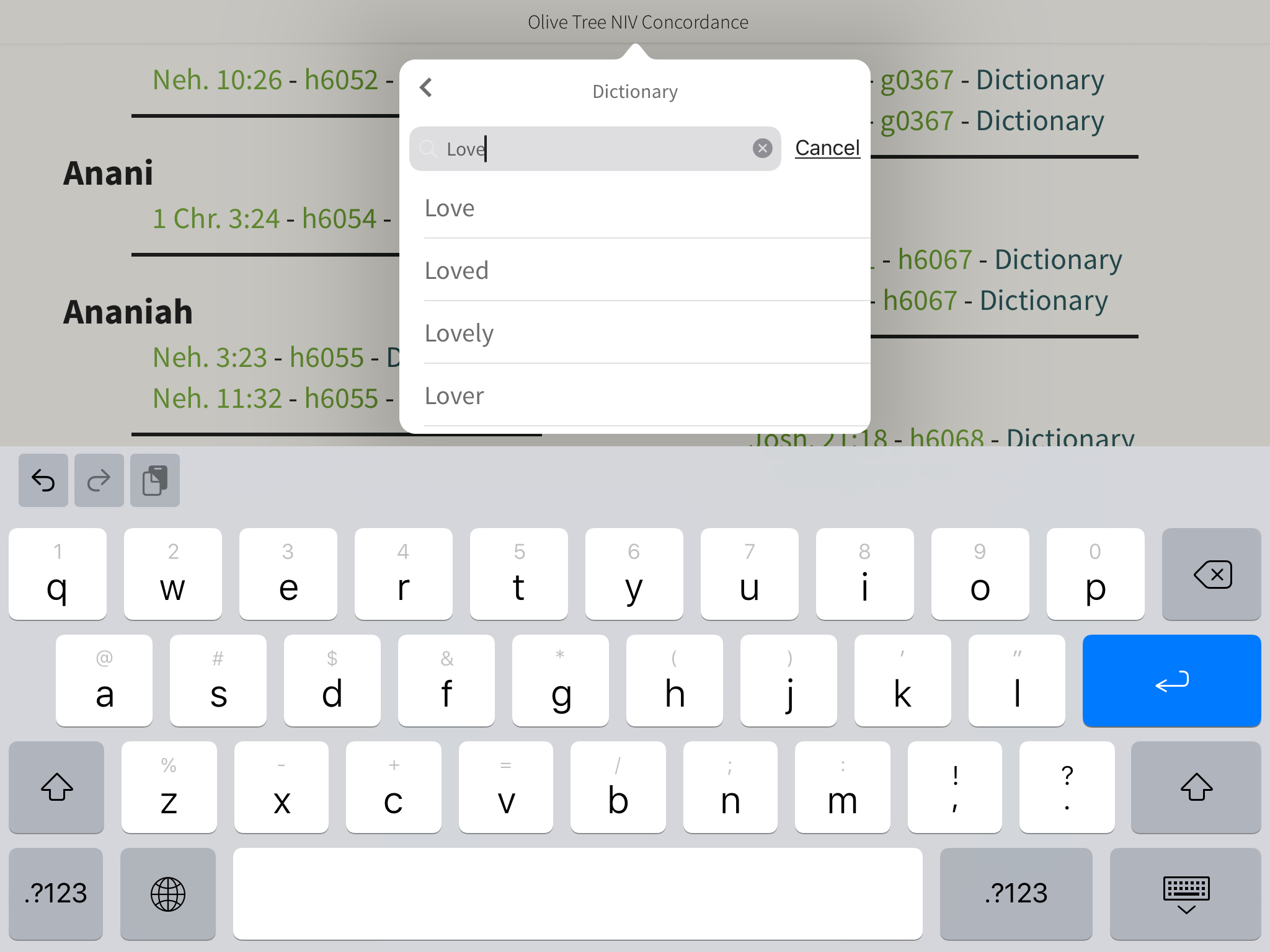 Ways to Purchase or Subscribe:
You can purchase the Olive Tree NIV Concordance resource on our website here.
The Olive Tree NIV Concordance is also included in our NIV Bible Study Pack! With a variety of resources, including maps, commentary and more, Study Packs are a great value for just $5.99/month. You can learn more and sign up on our website to start your 14-day free trial.
We hope this article has been helpful for you. If you have any further questions about using concordance in the app, please submit a ticket. We'll be happy to help you!