There are two ways to purchase resources for use in our app. First, you can make purchases on our website, www.OliveTree.com. Second, you can make purchases within our iOS, Mac, or Android apps using the in-app store.
There are several benefits to purchasing a resource on our website rather than in the app.
We are able to guarantee the best prices on our website. In-app prices may be affected by fees or tiered pricing structures.
We want our users to have the best experience possible with Olive Tree products, so we offer refunds within 30 days of the purchase date on

OliveTree.com.
Resources purchased on our website are automatically registered to your account and are available on all of your devices.
Our website provides the option to purchase an item as a gift and apply coupons to purchases.
In some cases, special upgrade pricing may be offered on our website.
Purchasing on Website
To make a purchase on our website, follow these steps:
In your browser, navigate to

OliveTree.com.
Select 'Account' in the upper right corner.
Enter in your log-in information and tap/click 'Login'.

Browse our store or use the search bar to locate a particular product.
Once you locate a resource you would like, select 'Add to Cart'.

Continue shopping or select 'Proceed to Checkout'

On the Checkout page Enter your billing address. If it is already filled in, check that it is correct.


Enter any discount codes you may have in the 'Discount Coupon' box and select 'Apply'. Choose a way to pay, and enter your payment information.



Click Place Order to complete the purchase.

Purchasing In-App
You can also purchase resources through the in-app store. Please note that we are not able to guarantee refunds of in-app purchases because they are processed through a third party. We recommend purchasing resources on our website, OliveTree.com.
To make a purchase within the app, follow these steps:
In the top toolbar, select 'Store' > 'Book Store'. Alternatively, select 'Book Store' in the left sidebar.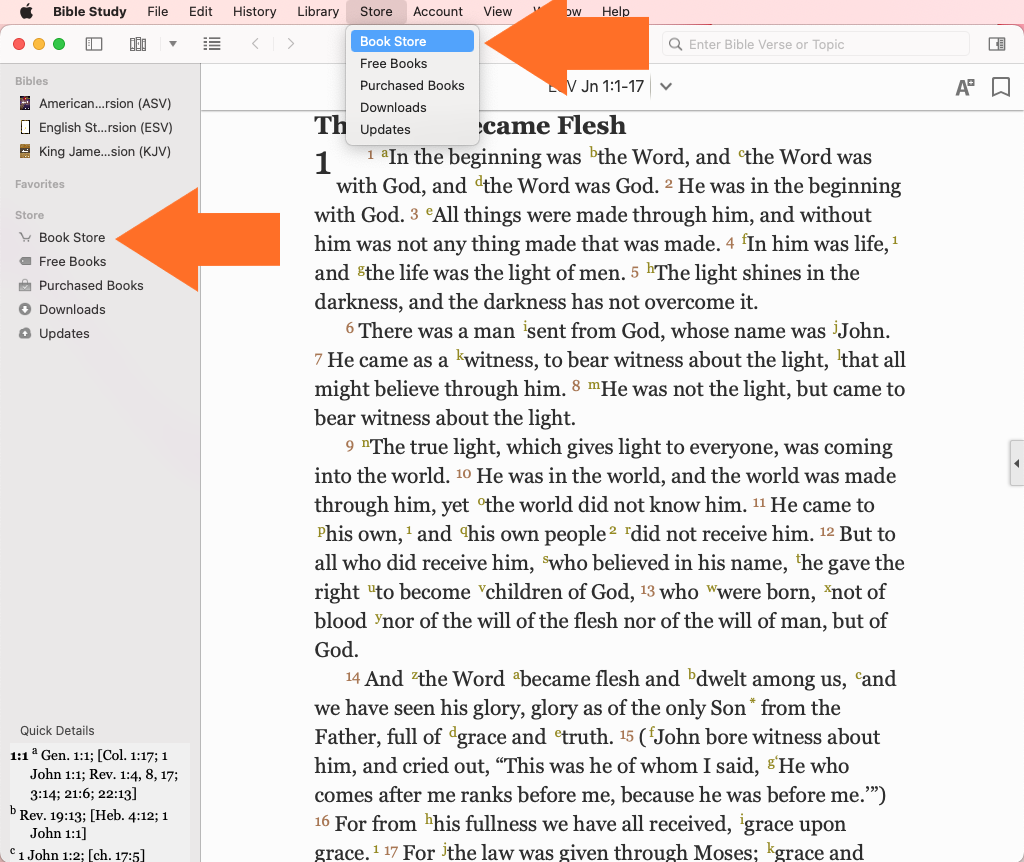 One you find the title you'd like to purchase, select the green button displaying the price to begin the purchase process.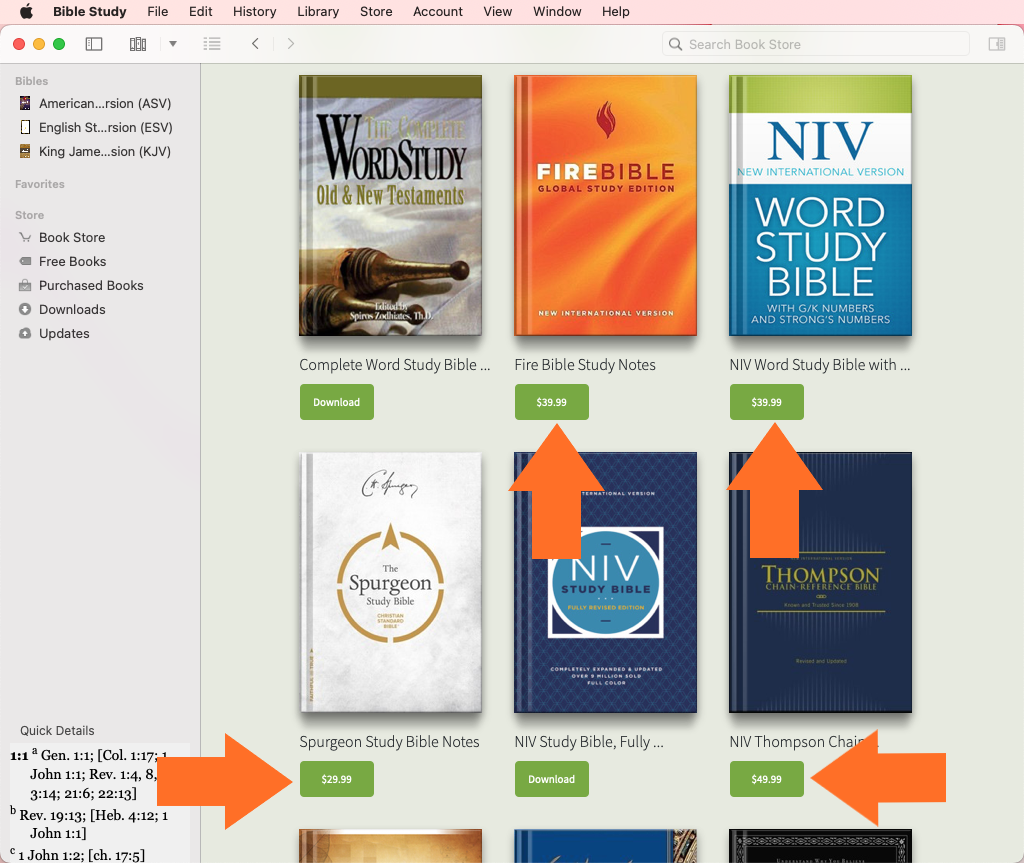 Follow the prompts to complete your purchase through Apple.
Register in-app purchases
Resources purchased within the app may not register to your account automatically after you purchase them. It is also possible that you purchased them before creating an account. If you lose access to a purchased resource and do not see it available for download in the Store, these steps will register your in-app purchases to your account:
Login to your Olive Tree account by selecting 'Account,' then 'Login' to enter your username and password, ensuring that the login is accepted.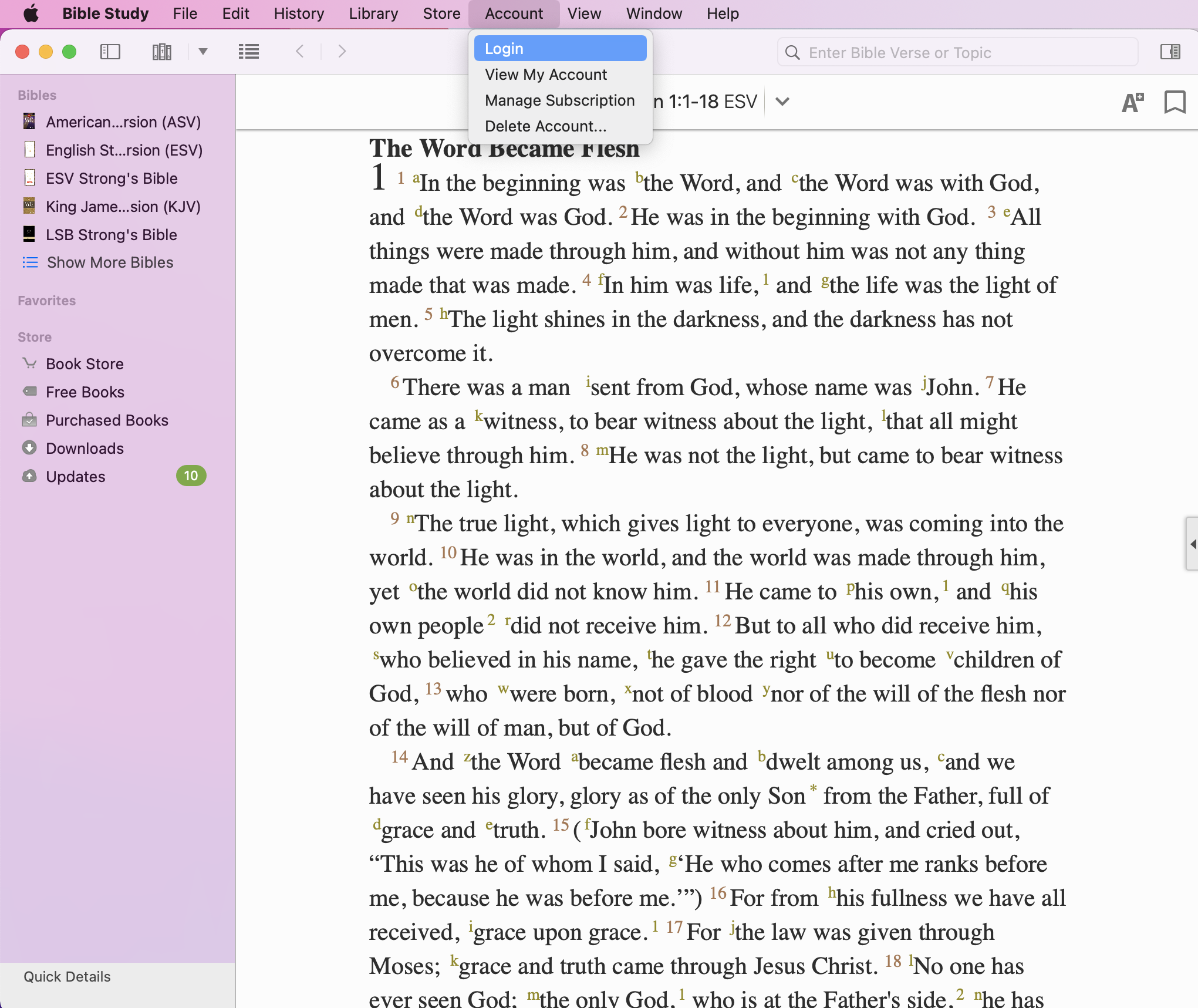 Select 'Purchased Books' from the left sidebar. If your left sidebar is hidden, you can also access your books by selecting 'Store' in the bar across the very top of the screen, then 'Purchased Books'.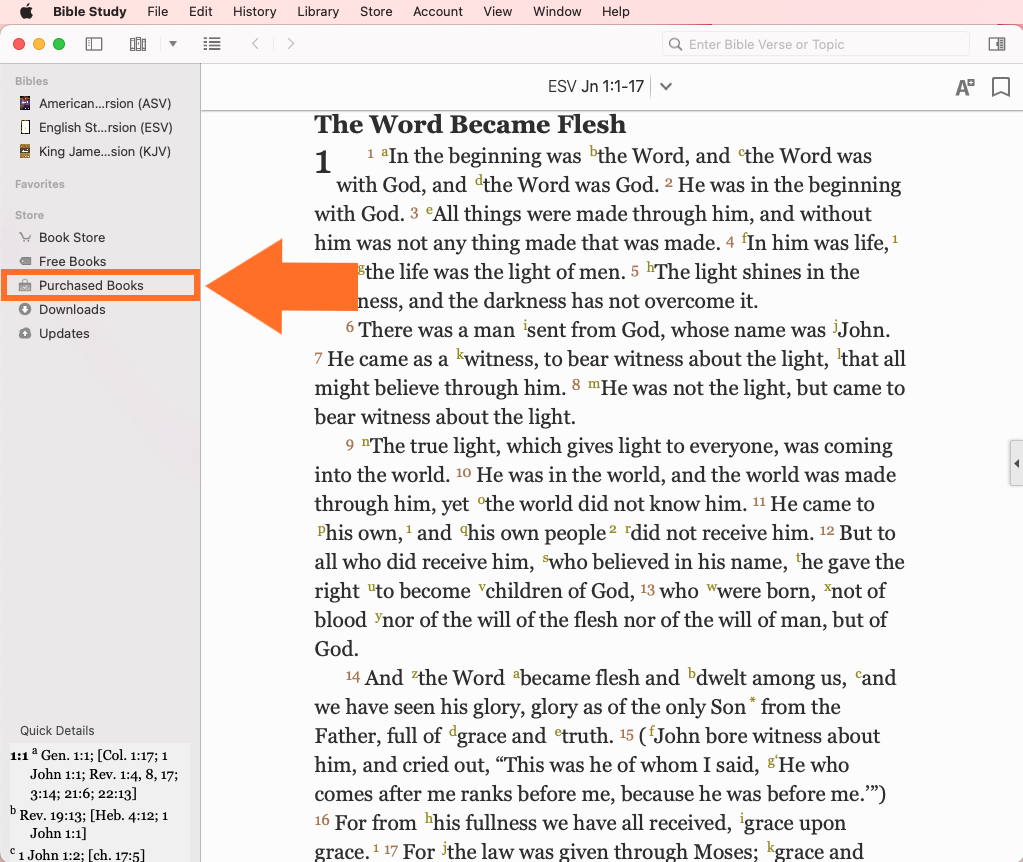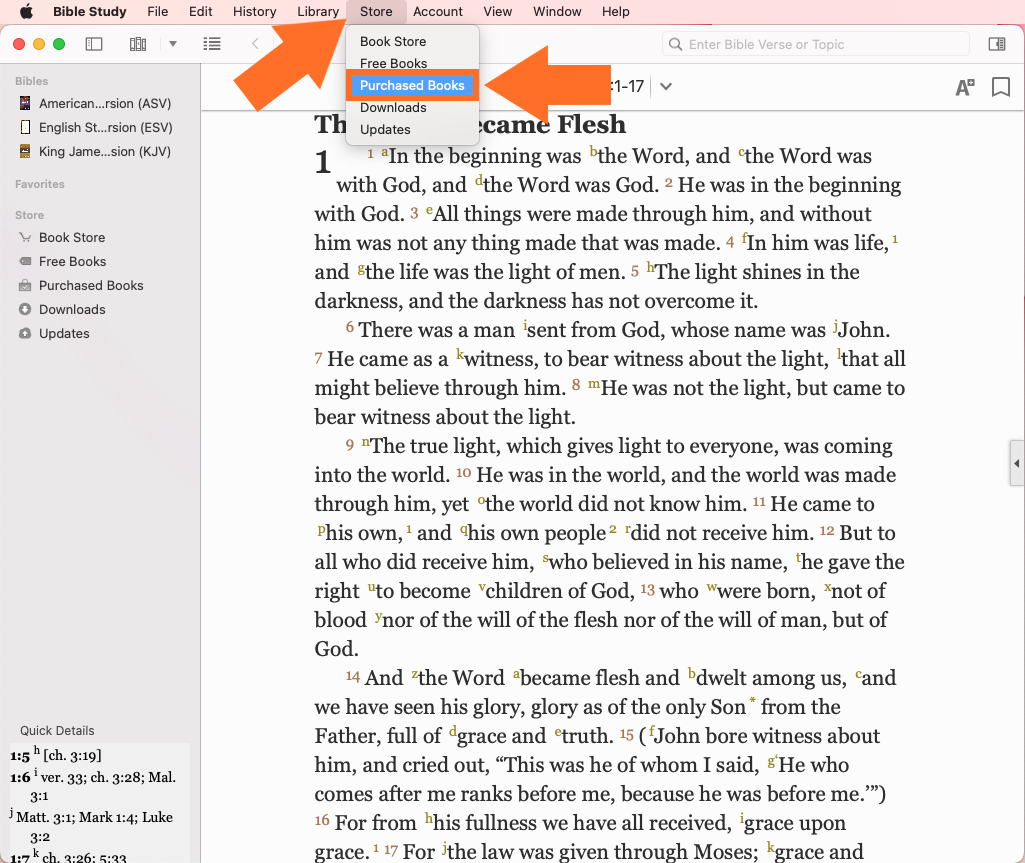 You should now see the books populate below 'My Account.'
If these steps do not help, please contact our support team and include a proof of purchase (screenshot of order history or receipt) for the missing resource. We will be happy to manually register the item to your account.