We know that you may be concerned about how much space our app takes on your device. With the release of audio books this becomes even more of a concern. We decided to help by adding a way to easily manage storage within the app.
Follow these steps to locate the Manage Storage menu:
Select the Options icon in the lower right corner of the Library (three dots).

Select Manage storage.

On this first screen you will see two graphs:
The first graph shows the storage on your device. You can see how much space the Bible App uses, as well as how much is used by other apps on your device.

Second, you can see how much space each resource uses within the app's storage. The five resources that use the most space are shown below the graph.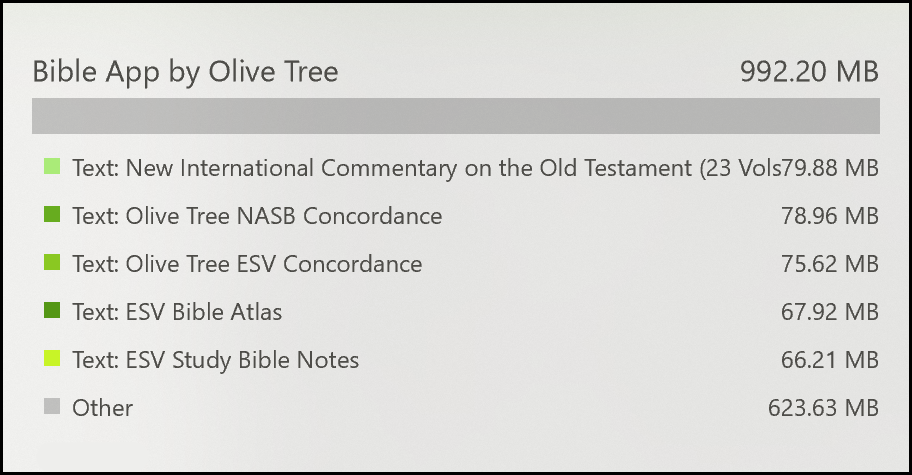 You will then see a button labeled "Offload Resources". Selecting this button will bring you to a menu where you can remove resources from your device.

A full list of resources will appear in this menu along with the space each resource uses.
Selecting a book will allow you to offload (remove) the resource from your device. Selecting an audio Bible allows you to offload the full Bible or choose which books of the Bible to keep on your device.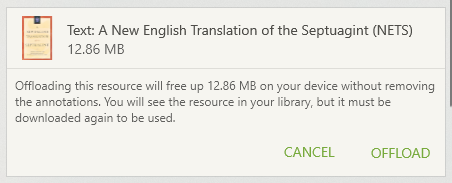 If you want to use the offloaded resource again in the future, you will need to download it from the Purchased/Account tab again. For steps on downloading your resources, see Windows - Downloading your Purchases.