Accessing Reading Plans
There is a reading plan icon on the top toolbar. Select this icon provides easy access to your reading plans. 

Start a Reading Plan
Follow these steps to start a reading plan:
Select the reading plan icon. Here you can browse the available reading plans. Your reading plans will appear at the top once started.

Locate and choose the reading plan you would like to use. Select 'Start Reading' to create the plan.

You will be asked if you want to set a goal. Choose "No, I would rather take my time." to skip this step and begin reading, or "Yes, help me set a goal to complete this reading plan." to see the options to choose a goal.

Once you have chosen your goal, click continue.
You can then add reminders. You can add multiple reminders through out the day to read multiple assignments, or make sure you don't forget. Select "+Add Reminder" and choose the days and time you would like to receive a reminder notification.

Select continue to begin reading the first assignment. 
Devotional Reading Plans
We also offer devotional reading plans, which allow you to read supported devotionals in our reading plan infrastructure. When you download a devotional that supports this feature, a 'My Devotionals' option will appear at the top of the list of available reading plans, just below your current plans. (You may need to restart the app to refresh the page if the devotional you are looking for isn't available.)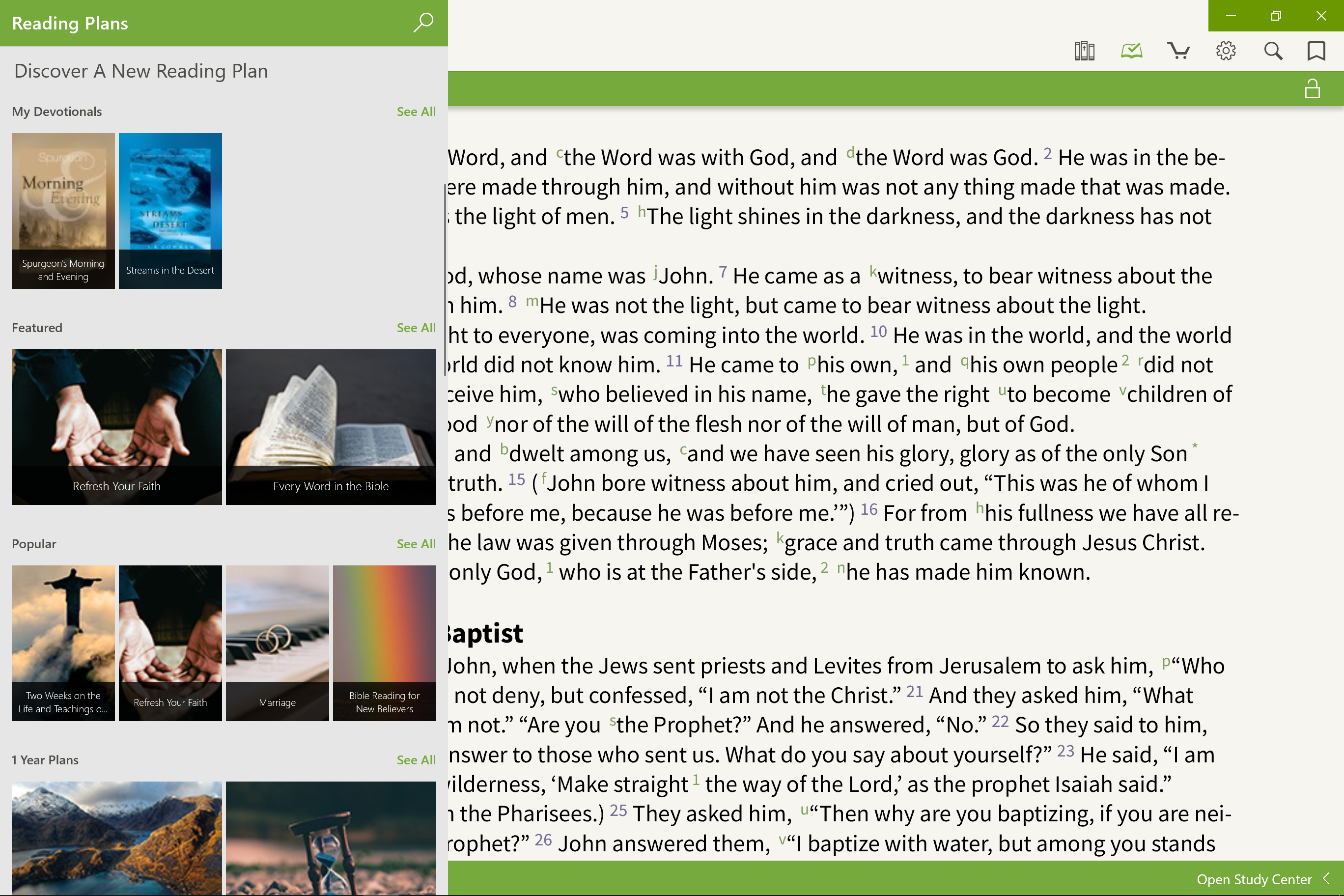 It is possible that some devotionals will not support this feature. You can see if they support this feature by checking the product features on www.OliveTree.com.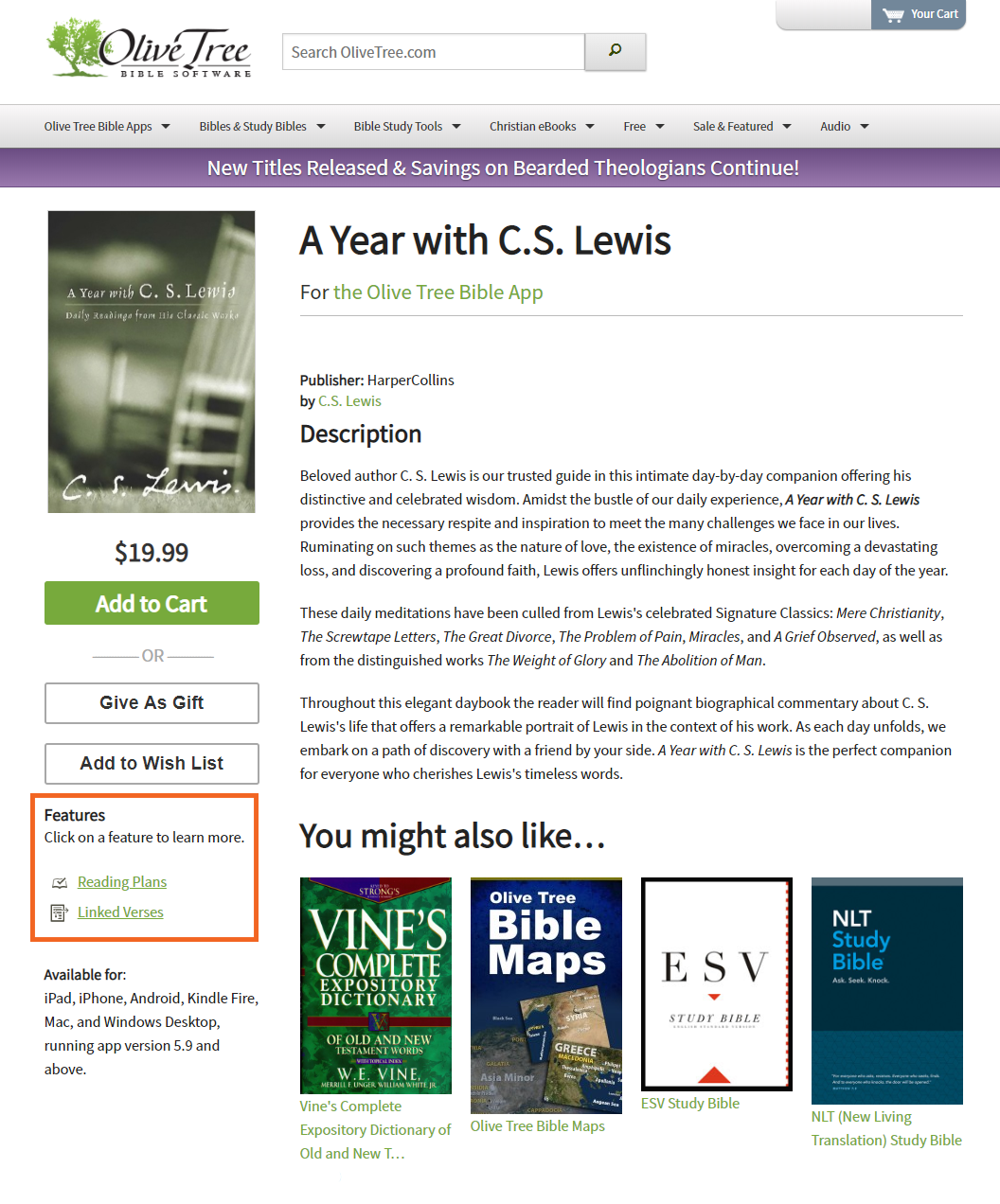 Accessing and Completing Assignments
Follow these steps to go to your reading assignment for the day and to complete an assignment:
Select the reading plan icon on the toolbar.

Locate the plan you'd like to read and Select 'Continue' to begin the current assignment. (Or 'View Schedule' for more information about the assignment.)

Once you have completed the assignment, select 'Next' to move on to the next assignment. When you come to the end of the day's final assignment select 'Complete Reading' to mark the reading complete or 'Next Reading' to continue to the next day's assignment.
Plan Options
While viewing a plan's details, additional options can be found in the upper right corner of the menu.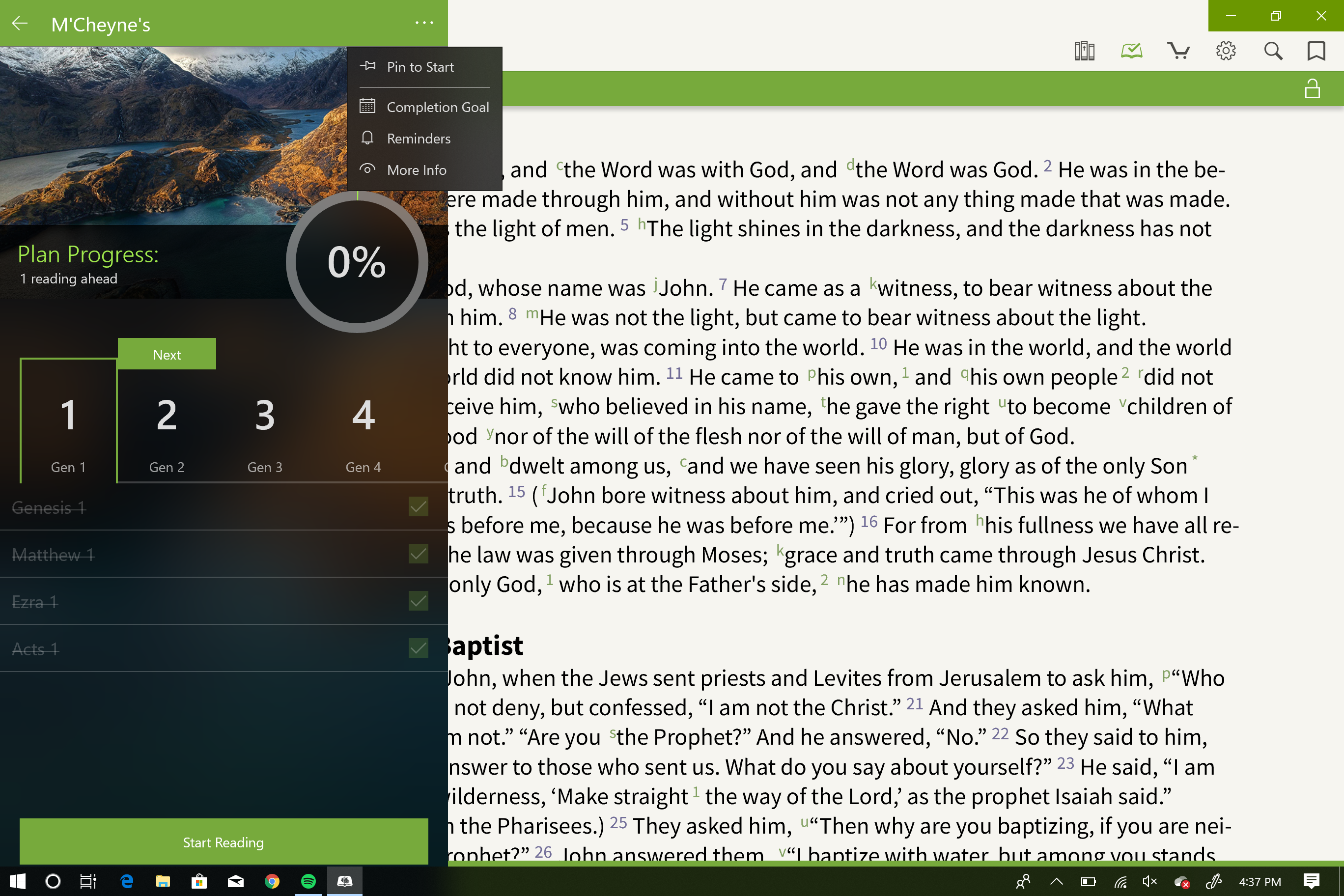 Pin to start
Completion goal
Reminders
More info
Delete a reading plan
In order to delete a reading plan from within your app, follow the steps below:
Select the reading plan icon on the toolbar.
Right click or tap and hold the plan you'd like to delete. 
Confirm you'd like to delete the plan by choosing 'Remove Plan'.