In this article, we'll talk about the difference between a concordance and a cross reference and how they can help you in your own Bible study.
Cross References
A cross reference is a verse that has a similar theme or topic as the verse that you are reading. In the Olive Tree Bible App, these are most easily found in the Resource Guide under Related Verses.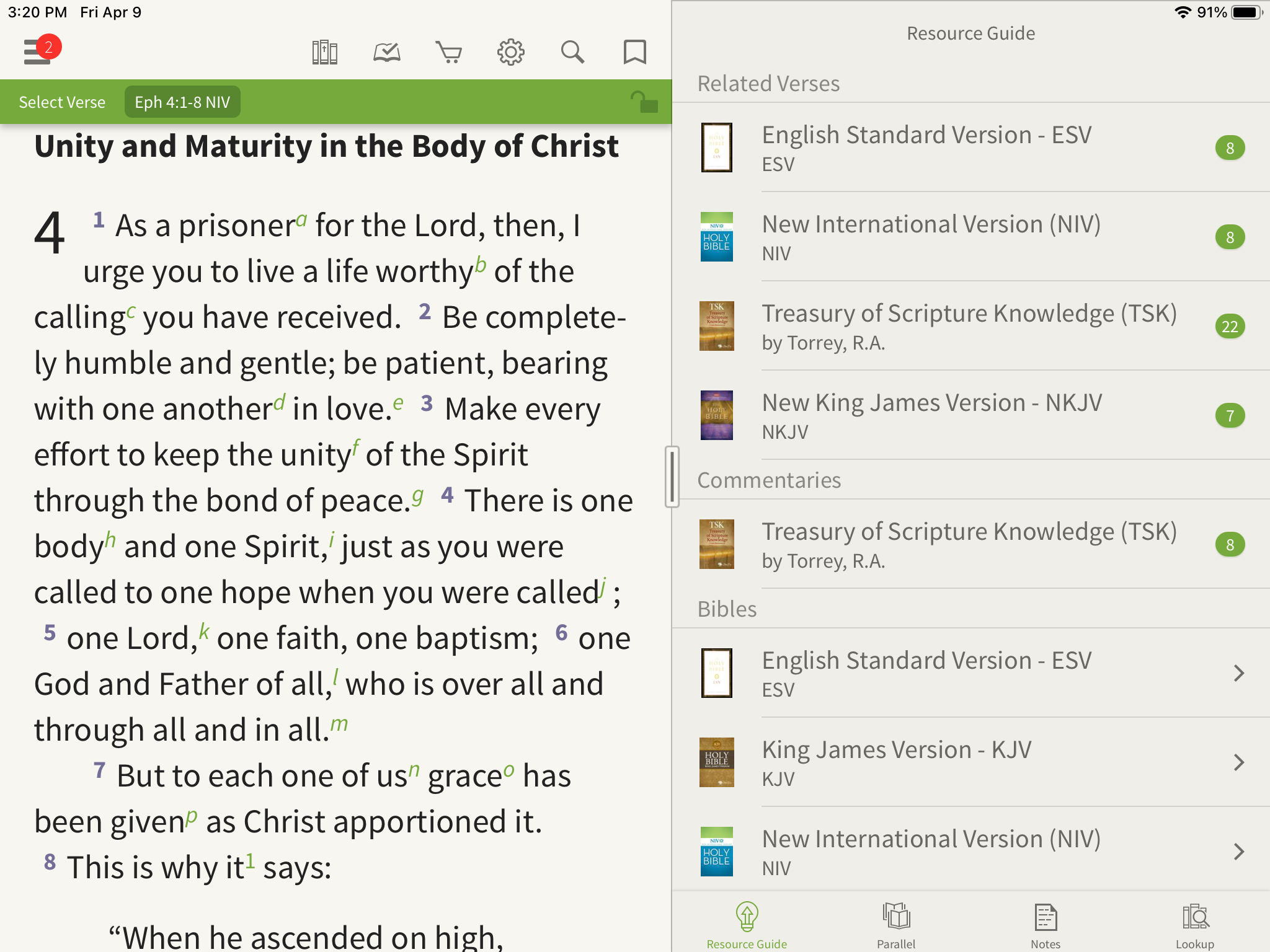 In the above screenshot, I'm reading Ephesians 4 in the New International Version. Under Related Verses, I see eight cross reference entries that are already a part of the NIV translation. I can tap the resource of my choice to bring up the specific cross references related to the text open in my main window.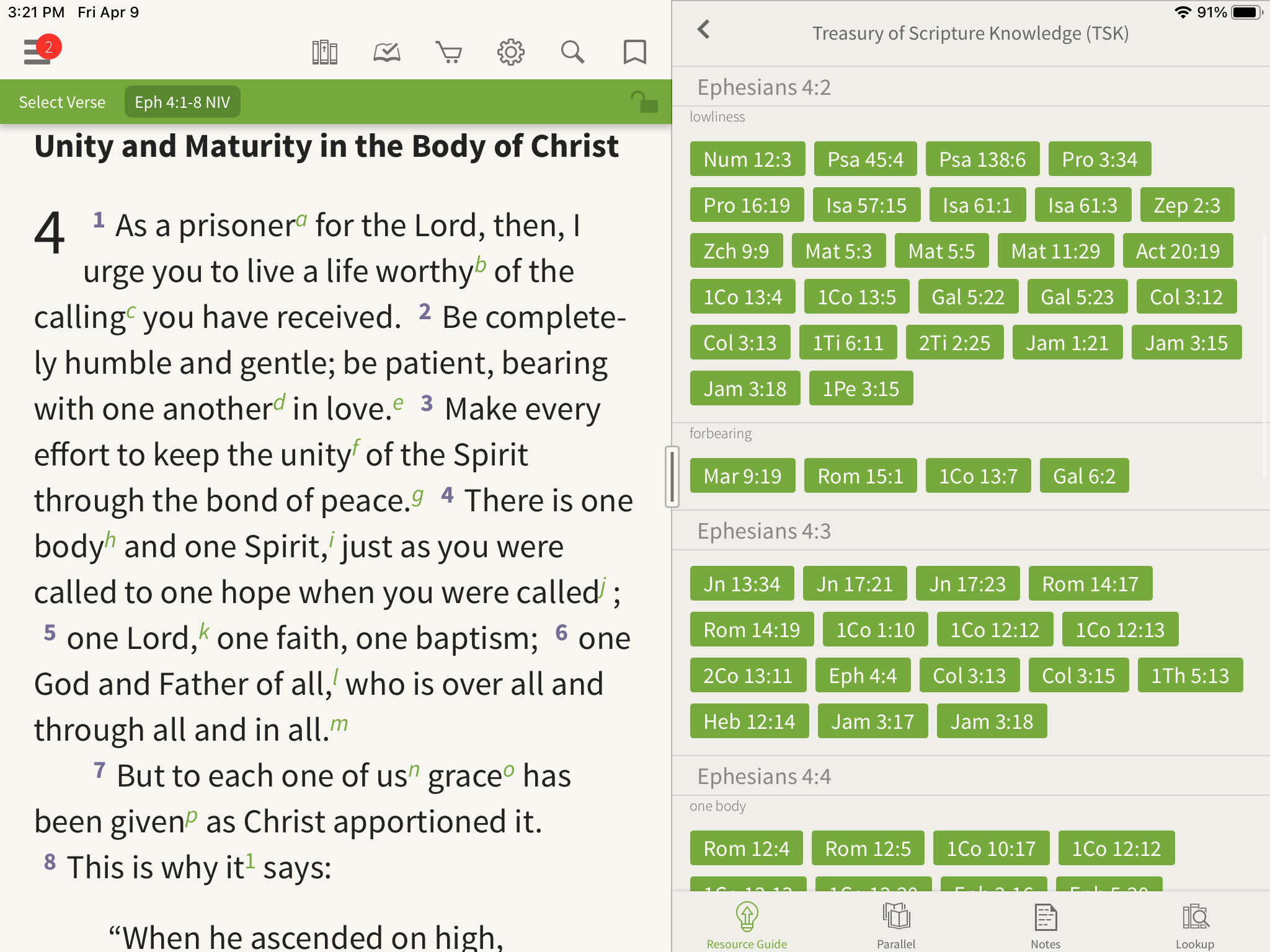 In the image above, I chose the Treasury of Scripture Knowledge and now see a list of topics and words sorted by verse. A great thing about the Olive Tree Bible App is that I can tap any of these verses for a quick look without having to leave my primary reading.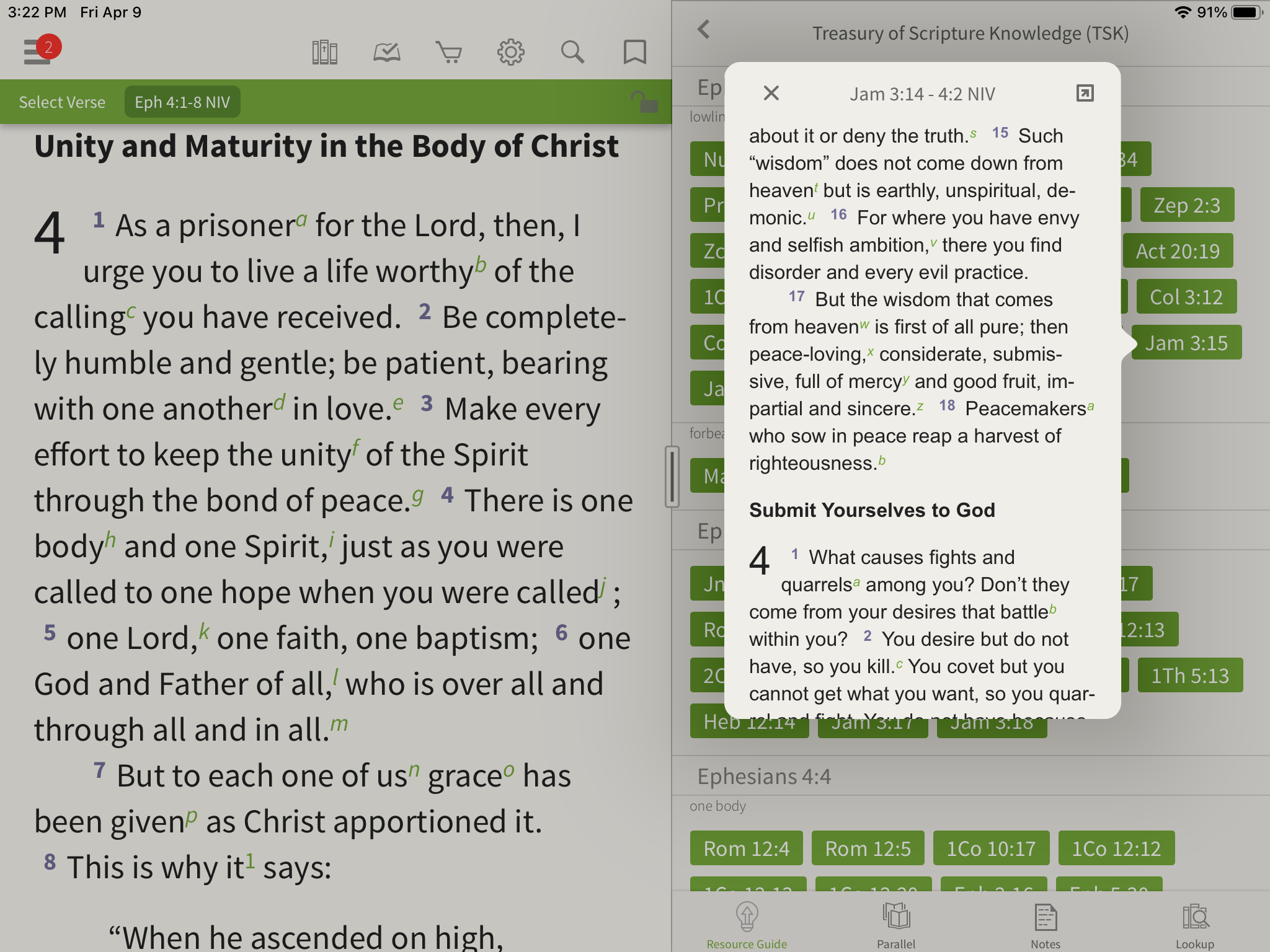 Cross references are a great tool when you are trying to study themes or topics found in all of Scripture. However, if you want to do a specific word study then you'll want to use a concordance.
Concordance
A concordance offers more precise lookups on specific words than a cross reference and shows you where those words appear throughout Scripture. Like cross references, many Bible translations include a brief concordance section with the text but in order to do comprehensive word study a dedicated resource is the way to go. In the Olive Tree Bible App, the easiest way to use a concordance is via the Lookup feature.
In this screenshot below, I've tapped on the word patient in Ephesians 4:2. I then tap on Lookup.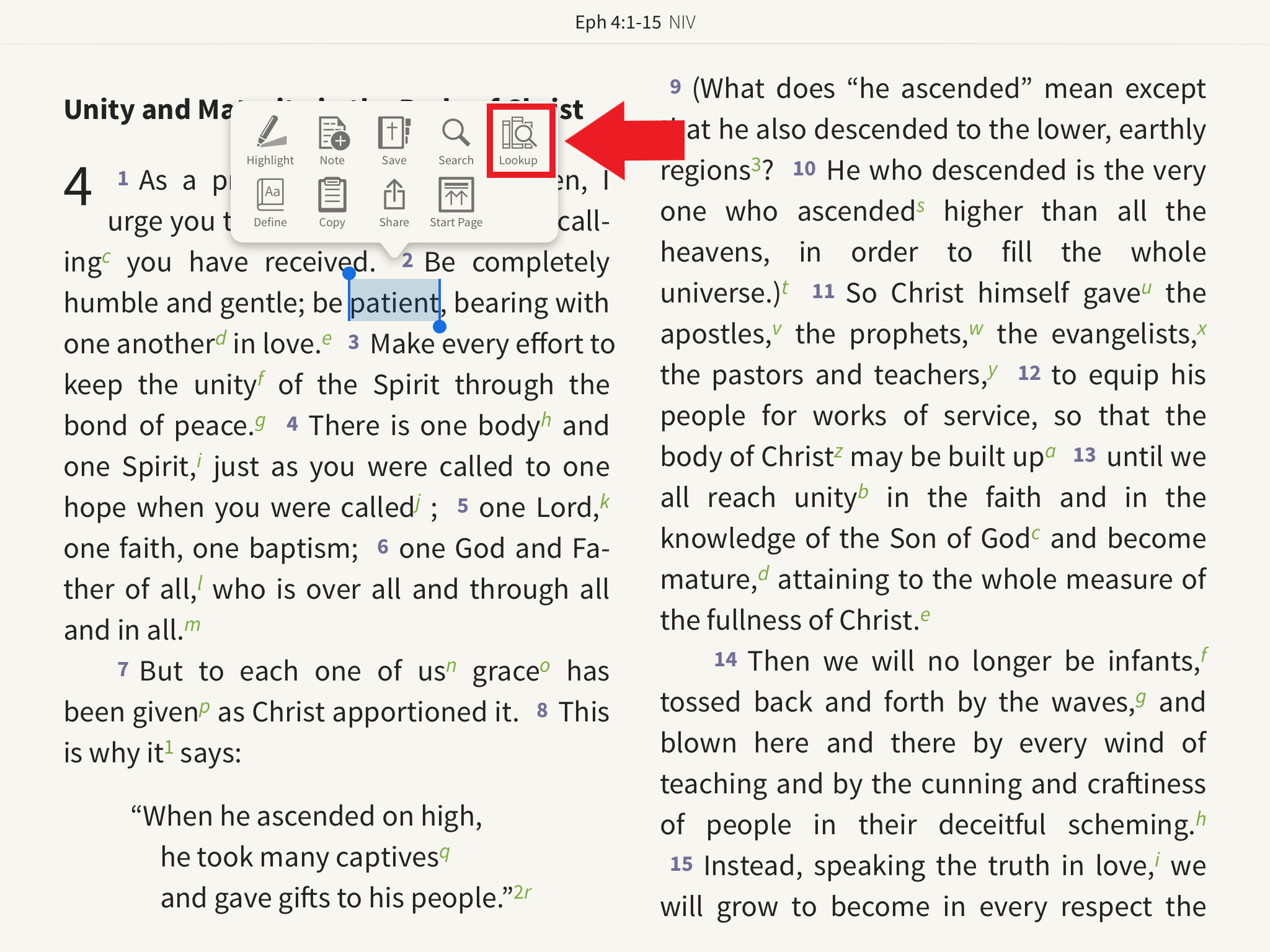 Then I'll select the Olive Tree NIV Concordance.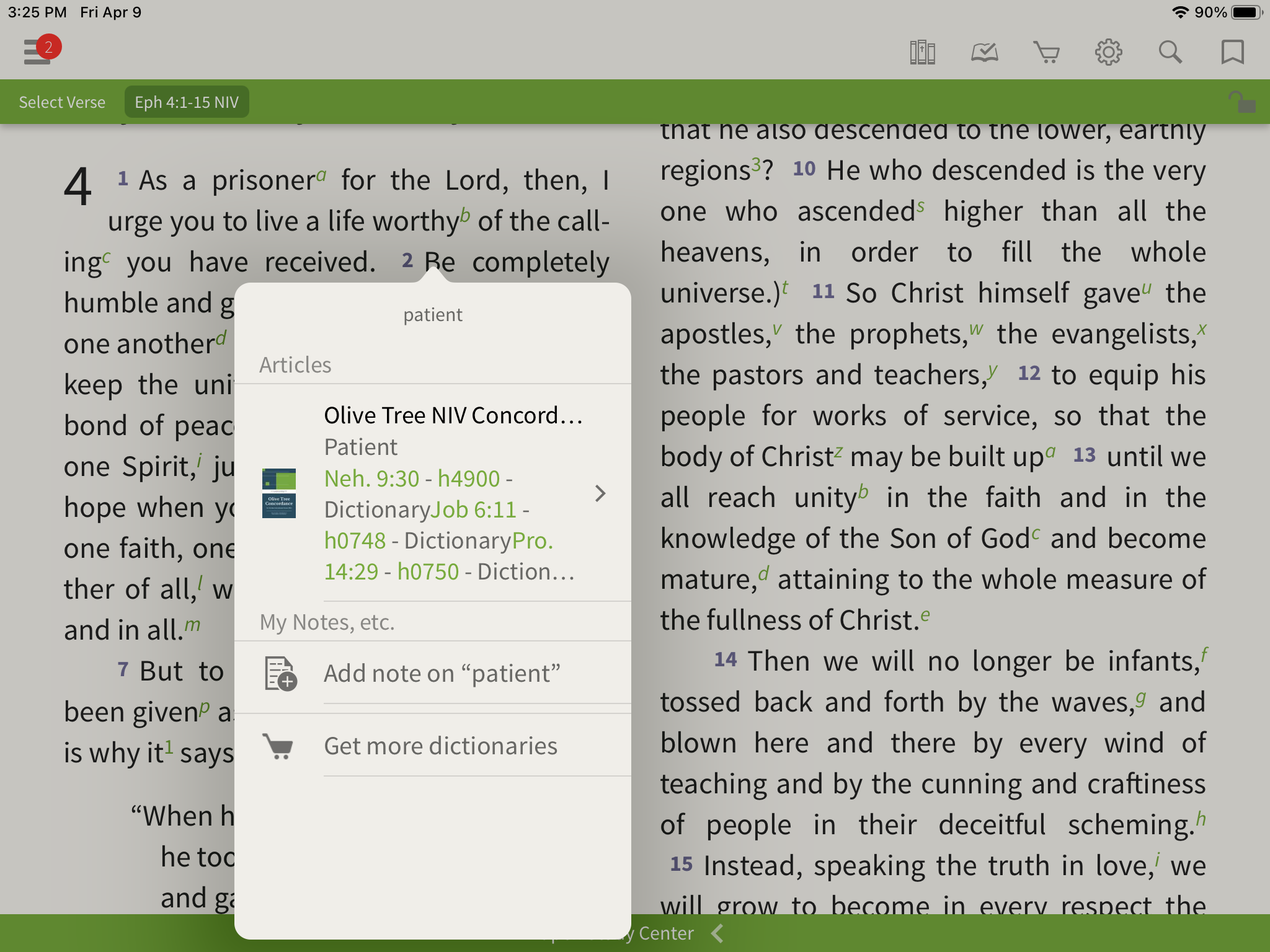 In the image below, you see that I get a list of where the word patient appears throughout the Bible. I can easily access those verses in the pop-up window for easy reading.
You'll notice that Olive Tree Concordances actually have three options.
The verse references are a list of where the English word patient shows up throughout the Bible.
The Strong's numbers are where the Hebrew and Greek words that are translated as patient appear throughout the text.
And the dictionary takes me to an explanation of the Hebrew or Greek word.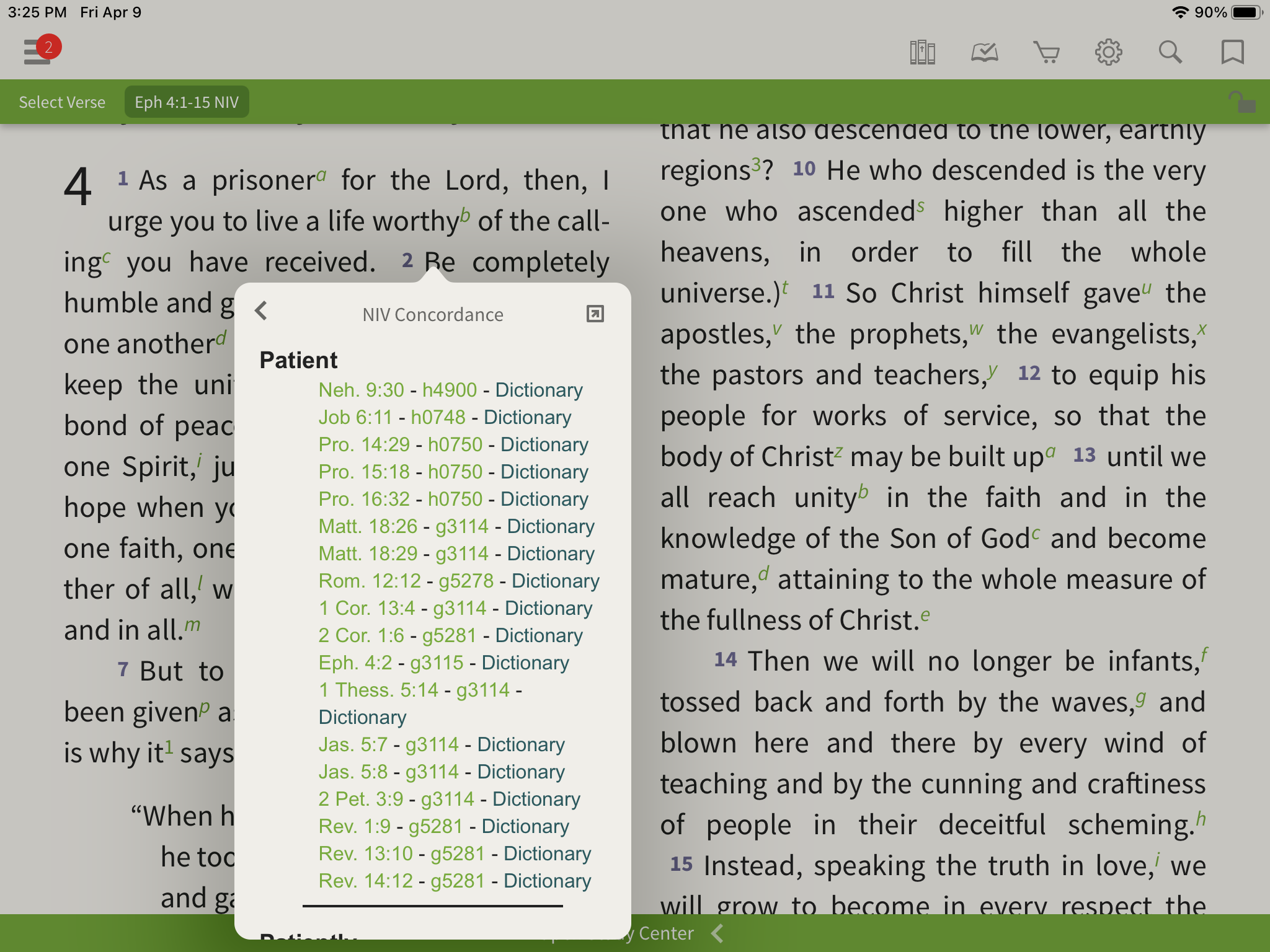 Recap
As you can see there are differences between a cross reference resource and a concordance. If you are looking for related themes and topics to the Scripture passage you are reading, a cross reference is a great tool. If you want to do specific word study across Greek, Hebrew, and English, then a concordance will be a tremendous help.
Click here to see what concordance and cross reference resources are available for the Olive Tree Bible App.