This guide should be used if you are experiencing problems with the Olive Tree Bible App on your Mac. Each problem is unique, so it's possible that some of these steps may not be relevant to your particular issue. Follow this guide and only take as many steps as needed to get your issue resolved.
If at any point you feel uncomfortable with the troubleshooting process, please feel free to contact our support team. Include a specific description of the issue you're having and one of our support members will contact you as quickly as possible.
Sync Your Annotations
Prior to troubleshooting, please sync your annotations. This will ensure that your notes, highlights, etc., are synced to your Olive Tree account on our servers. You will need an Olive Tree account to sync your annotations. Sign up for a free account here.
To sync, open the Study Center by clicking the icon in the upper right corner of the app.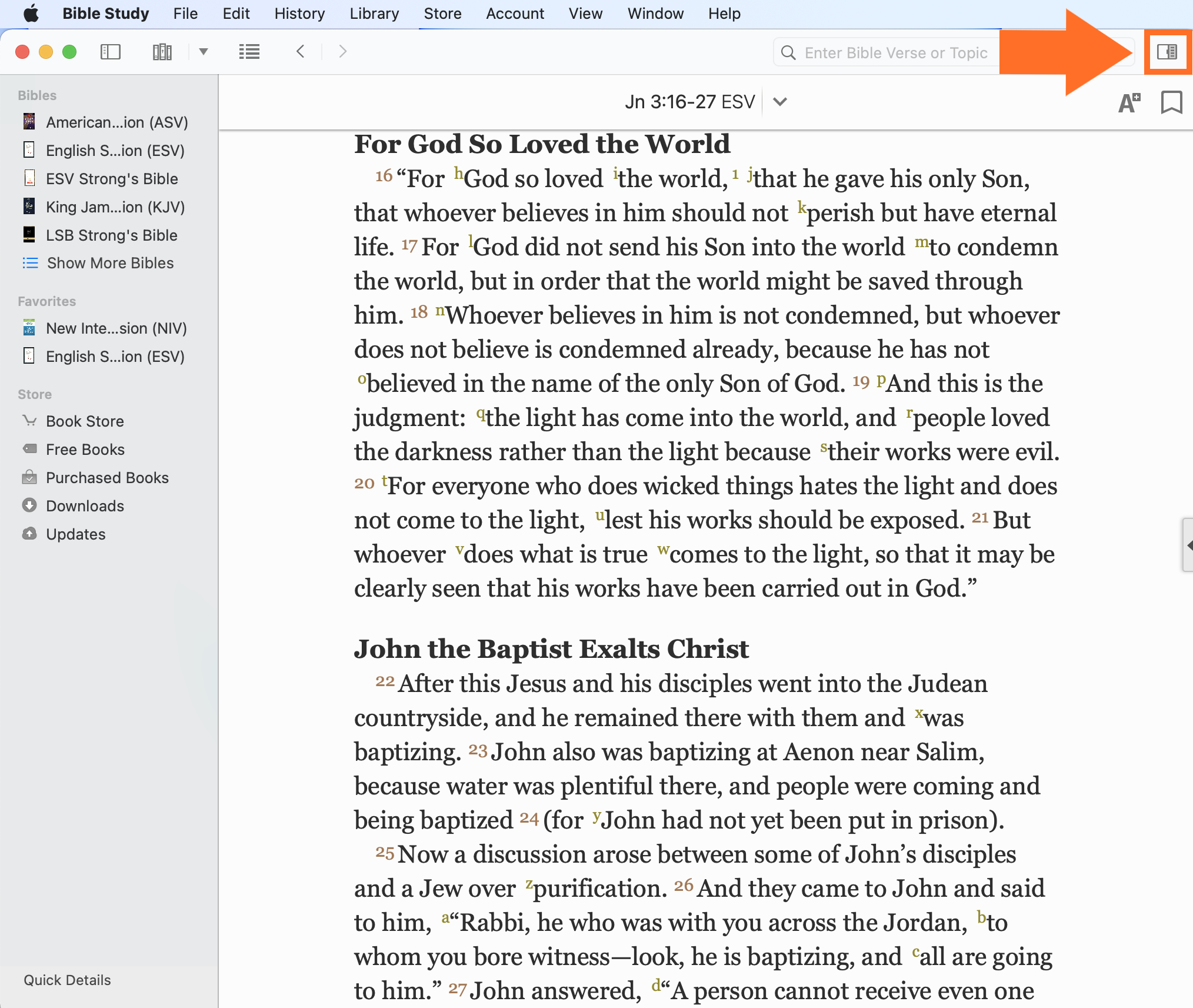 Select 'My Stuff', 'Sync' and then 'Sync Log' to ensure that your sync was successful. (If you are not signed in, you will be prompted to sign into your Olive Tree account.)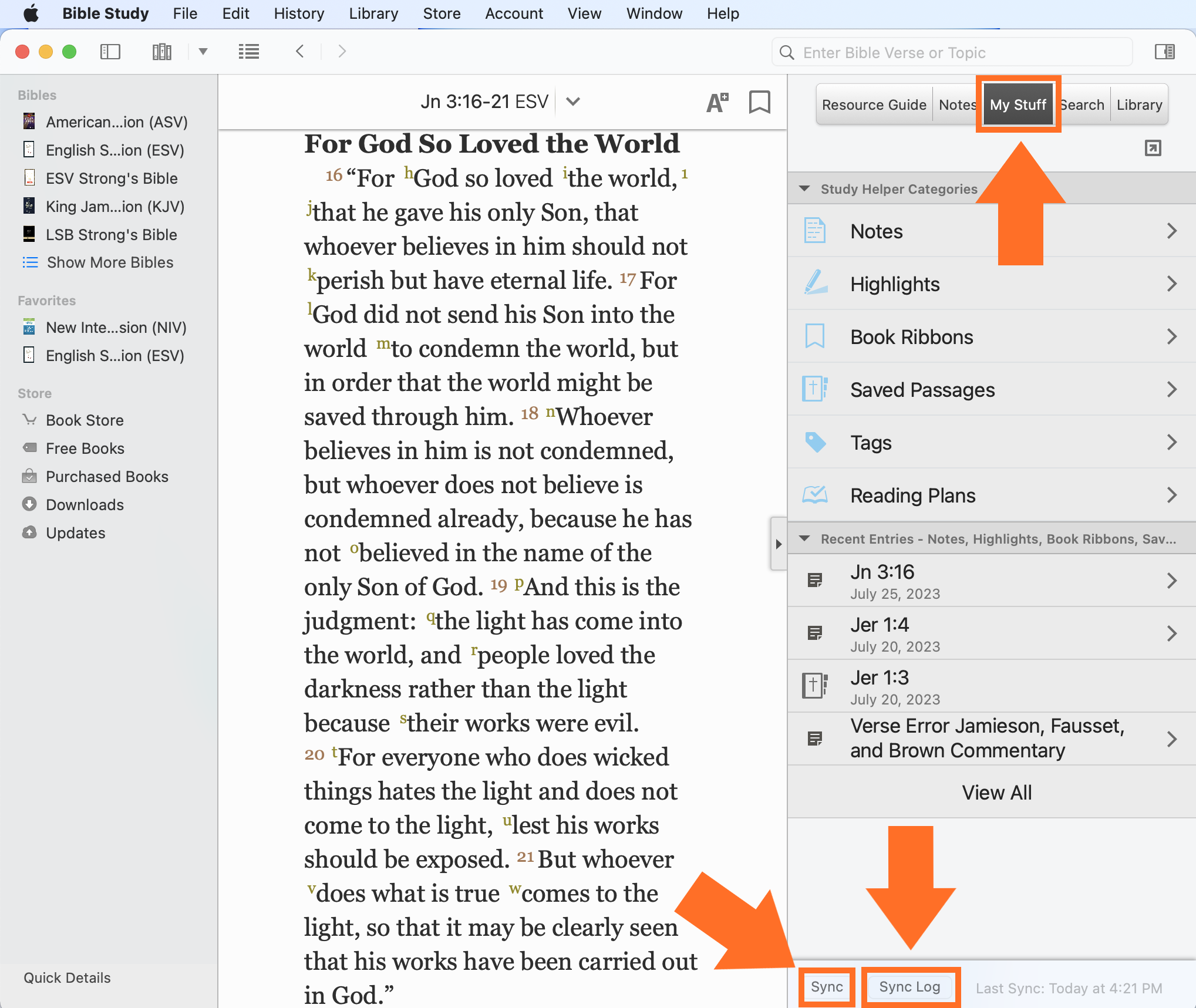 If you see any errors, please contact our support team before proceeding with the following steps.
Reboot Your Mac:
If your Mac hasn't been restarted in a while it may exhibit some odd behavior with running certain applications. Please restart your computer.
Reset Settings and Login to Your Olive Tree Account:
If restarting your computer does not solve the issue, please try resetting settings by following the steps below:
Download the BibleReader diagnostic tool at this address: https://www.olivetree.com/download/mac/BibleReaderDiag.zip
Once it finishes downloading, double-click on the file to extract it and then open the extracted file called 'BibleReaderDiag'.
When you open the BibleReaderDiag app, a small window should open with several options. Click on 'Reset Settings.' This will restart your Olive Tree app and revert it to its default settings.
Open the application again to see if the problem is resolved. If not, continue with the steps below.
Please note, this will log you out of your account, so I would recommend logging back in. Select 'Account' from the top toolbar, then 'Login' to re-enter your username and password.
Check for App Updates:
It may be possible that the problem you are encountering was fixed in an update to the program. You can check if there is a newer version by opening your Mac App Store and selecting the 'Updates' tab. The app will be listed if there is an update available.
Redownload Your Title:
Depending on your issue, you may just need to re-download the resource title (e.g. NASB, HCSB) with which you are having problems. To do so:
Select the Library icon in the upper left corner of the app:

Secondary click on the title you would like to remove and select 'Offload'.
Next, download your resource again by following the steps below:
While still in the Library, select the title you wish to download.
Select 'Download' in the bottom right-hand corner of the Library display.
Contact Our Support Team:
It is possible that your app will require further troubleshooting steps than what is listed above. Please contact our support team so that they can assist you with the issue you are experiencing.
We DO NOT recommend reinstalling the app without being told to do so by our support staff. This can lead to permanent loss of your annotations.