On both our website, OliveTree.com, and within the app, you can add books and Bibles to your Wish List! When you do this, you can easily find the titles later to purchase as well as share the list with others. Within this article, we'll go over the Wish List features.
On the Website
When using our website to view a product, you will find 'Add to Wish List' as shown here: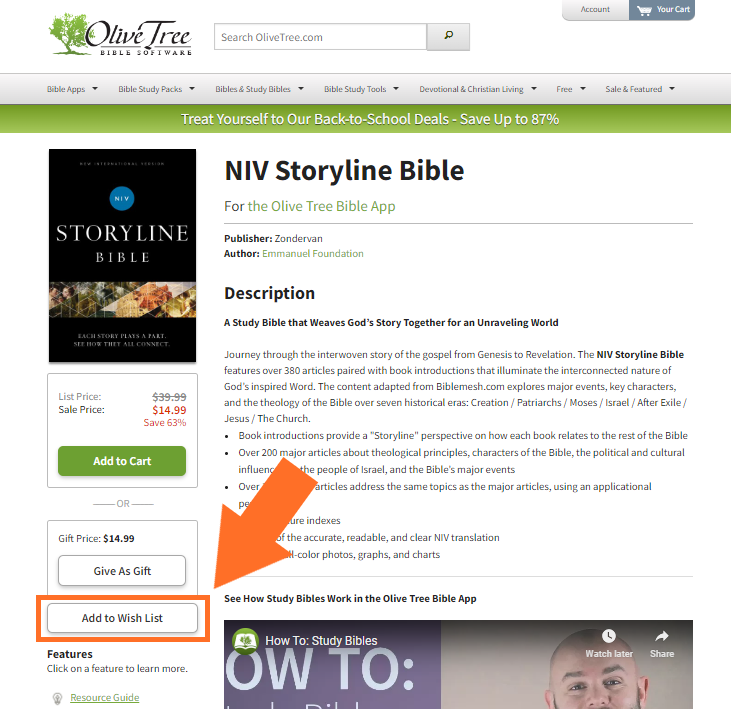 If you are not logged into your Olive Tree account yet, you will be prompted to do so. You will then be taken to your 'My Wish List' page: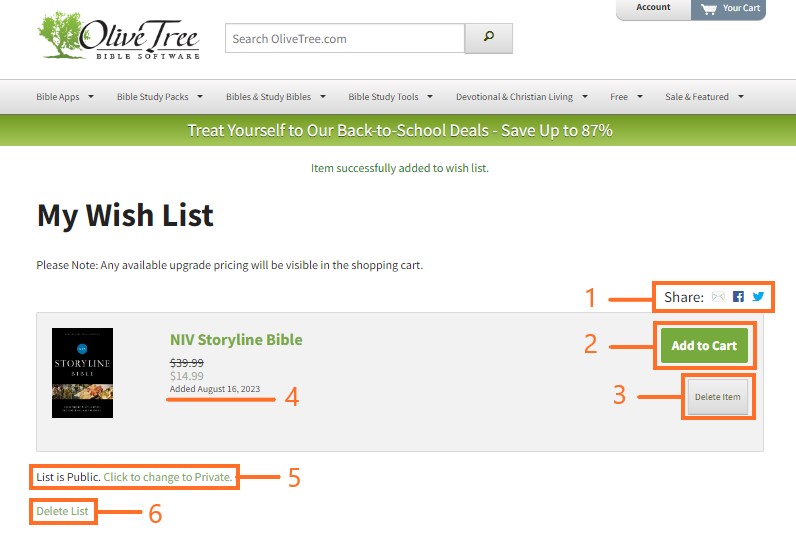 Share: Share your Wish List via email, Facebook or X (formerly Twitter).
Add to Cart: If you are ready to purchase the item, click here to add the resource to your shopping cart.
Delete Item: If you no longer wish to have this resource on your Wish List, click 'Delete'.

Note: At this time, it is only possible to delete Wish List items from the website. This is not yet available within the app.

Date: Here you see the date you added the resource to your Wish List.
Public/Private: To share the Wish List with others, be sure this is set to Public.
Delete List: If you decide to delete your entire Wish List, click here.
To access your Wish List anytime on the website, select 'Account' and then 'My Wish List':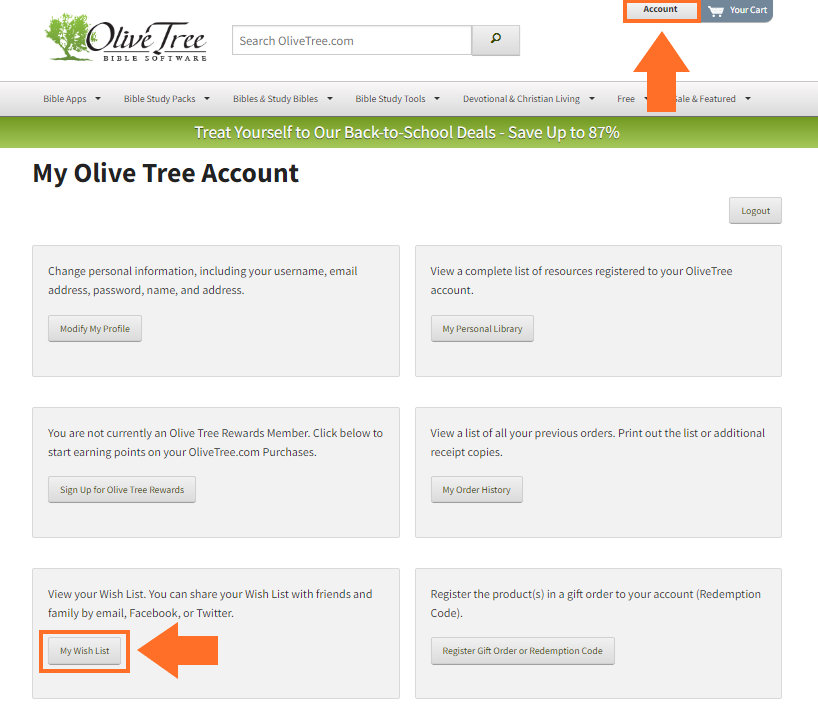 Within the App
When using the Olive Tree Bible App, tap the Store (shopping cart icon):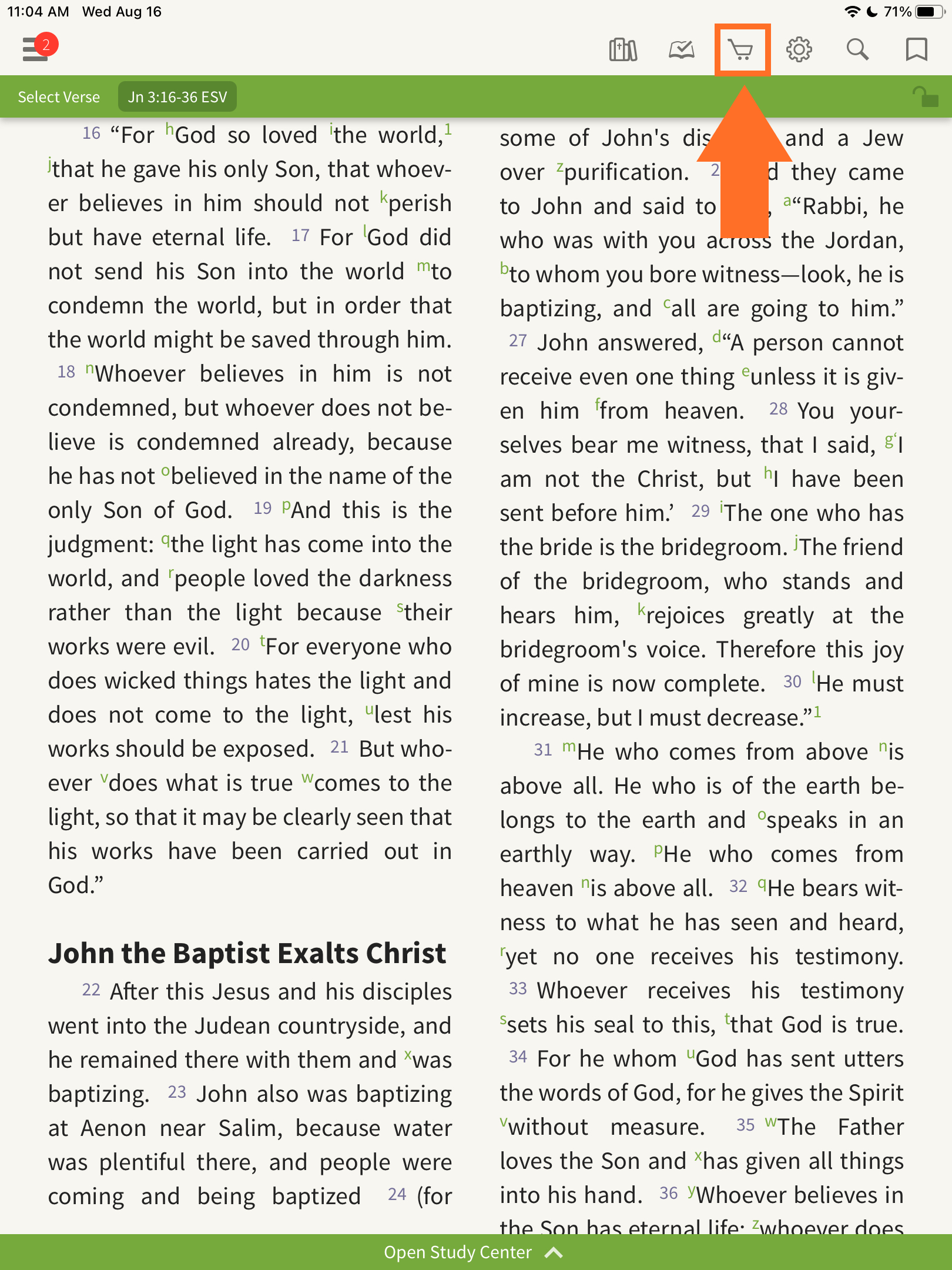 In the bottom toolbar, you will see 'Wishlist'. Tap here to open the Wish List within the app.
Note: You will see a red badge number when one or more items on your Wish List is on sale! This badge number will disappear after viewing the Wish List.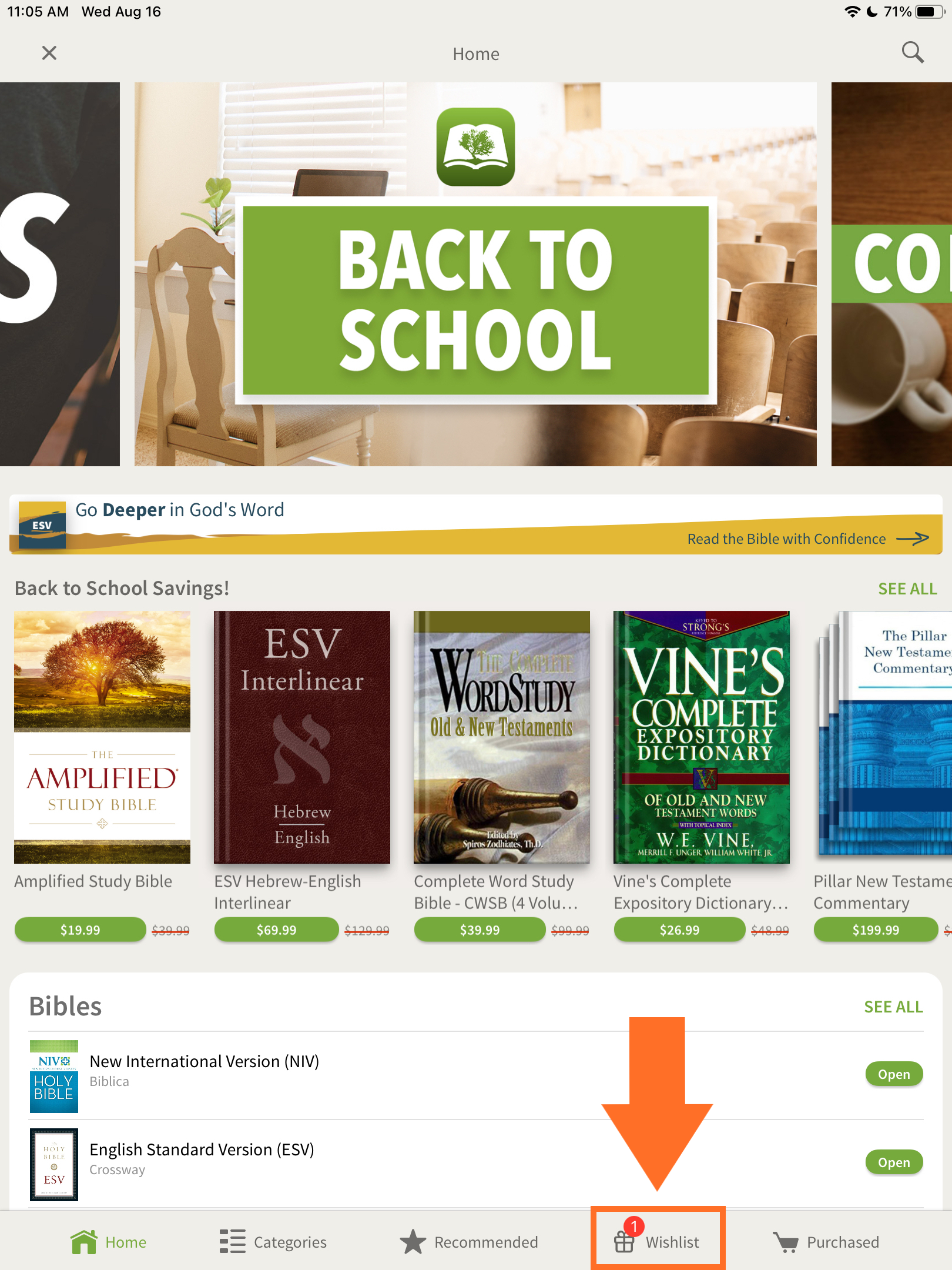 Here you see your Wish List items, including current in-app pricing.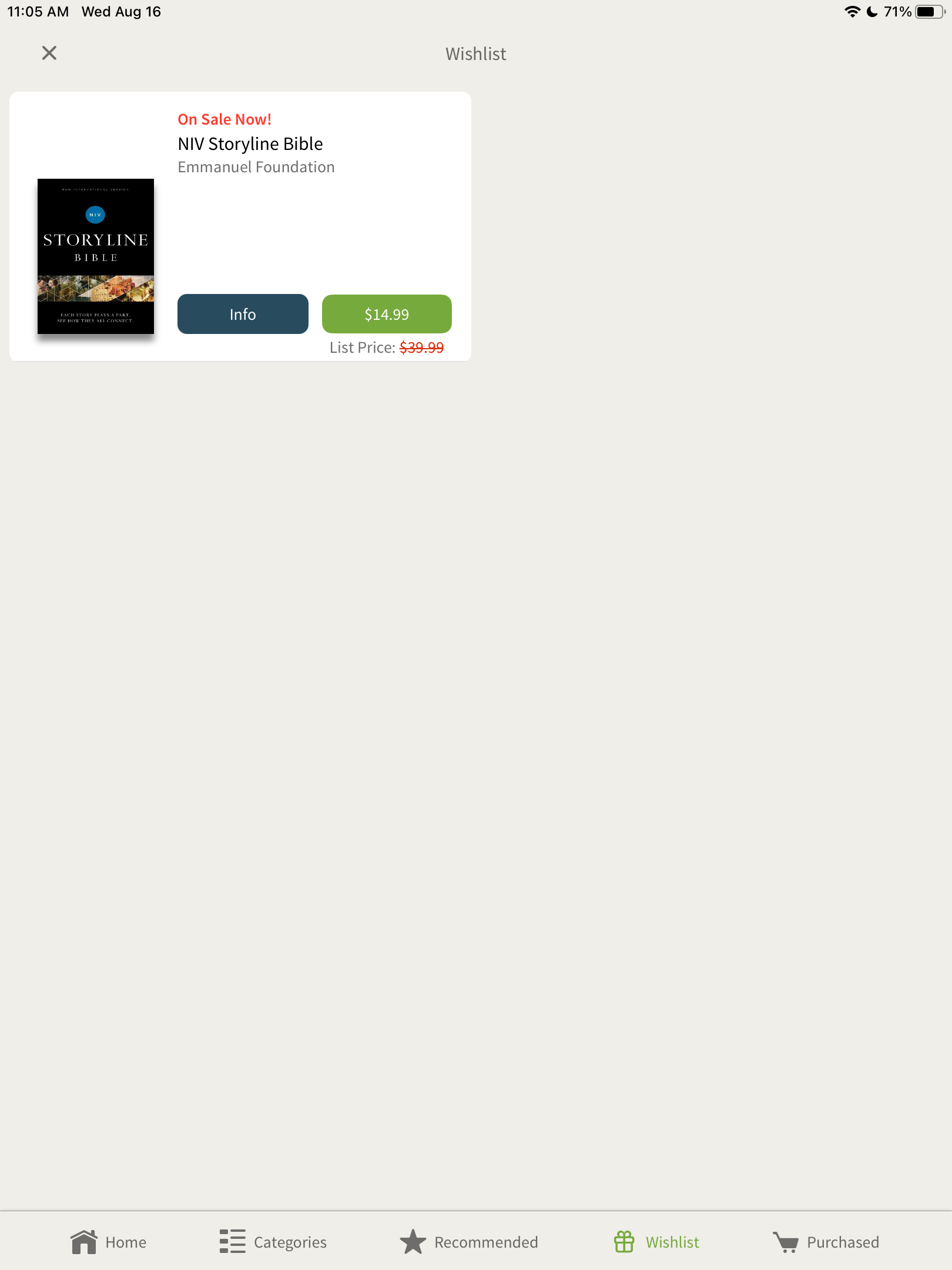 When viewing a desired product within the in-app Store, tap 'Add to Wishlist'.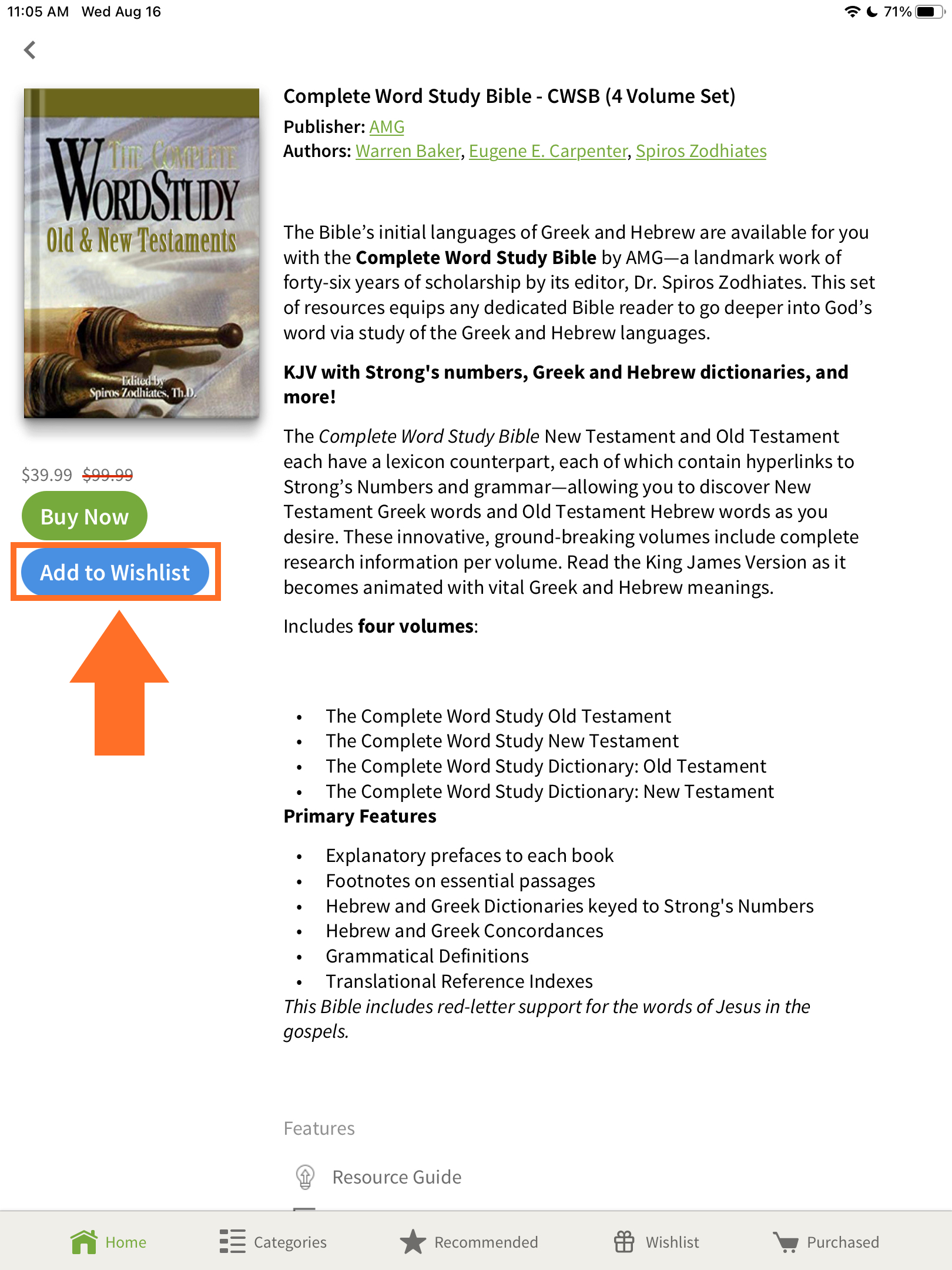 If this is successful, you will see that this button changes to 'On Wishlist'.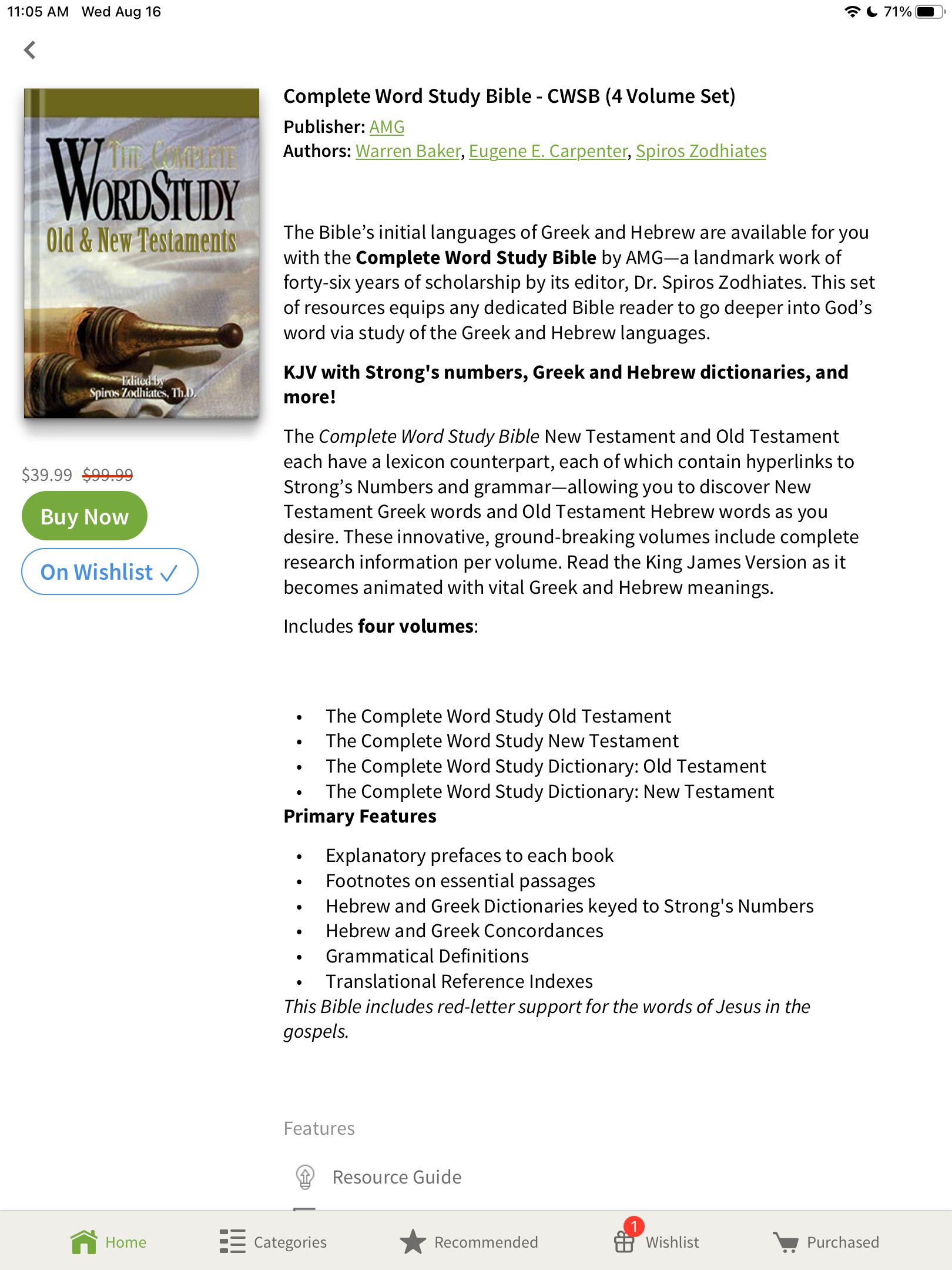 Note: We used the iPad app for the above examples, but these steps will be similar within the Olive Tree Bible App on our other supported devices.
Additional Wish List Tips
Due to in-app pricing limits, higher priced resources will not be available for in-app purchase.
For the best pricing, as well as upgrade pricing (adding volumes to an existing commentary set, etc.), we recommend ordering on our website, OliveTree.com.
We hope that this introduction to using the Wish List on our website and within the Olive Tree Bible App has been helpful for you. If you have any more questions, please submit a request to our Customer Support team here. They are happy to help!