Reading plans are a great way to read through Scripture with a guided set of readings each day. The Olive Tree Bible App offers many reading plan options. You can read through the whole Bible in a year, choose a plan that focuses on a specific section of the Bible, or choose a themed reading plan or devotional. This article will show you how to access and start a reading plan, how to set up a reminder and choose a preferred Bible translation, and more.
Accessing Reading Plans
The reading plan icon is on the top toolbar. Selecting this icon provides easy access to your reading plans.

Start a Reading Plan
Follow these steps to start a reading plan:
Select the reading plan icon. Here you can browse the available reading plans. Your reading plans will appear at the top once started.

Locate and choose the reading plan you would like to use. Select 'Start Reading' to create the plan.

First, you will be prompted to choose a preferred translation. This is the "Recently Opened Bible" by default, but you can choose any downloaded Bible text or audio Bible.
Next, You will be asked if you want to set a goal. Choose "No, I would rather take my time." to skip this step and begin reading, or "Yes, help me set a goal to complete this reading plan." to see the options to choose a goal. Once you have chosen your goal, tap continue.

You can then add reminders. You can add multiple reminders through out the day to read multiple assignments, or make sure you don't forget. Tap "+Add Reminder" and choose the days and time you would like to receive a reminder notification.

Tap continue to begin reading the first assignment.
Devotional Reading Plans
We also offer devotional reading plans, which allow you to read supported devotionals in our reading plan infrastructure. When you download a devotional that supports this feature, a 'My Devotionals' option will appear at the top of the list of available reading plans, just below your current plans. (You may need to restart the app to refresh the page if the devotional you are looking for isn't available.)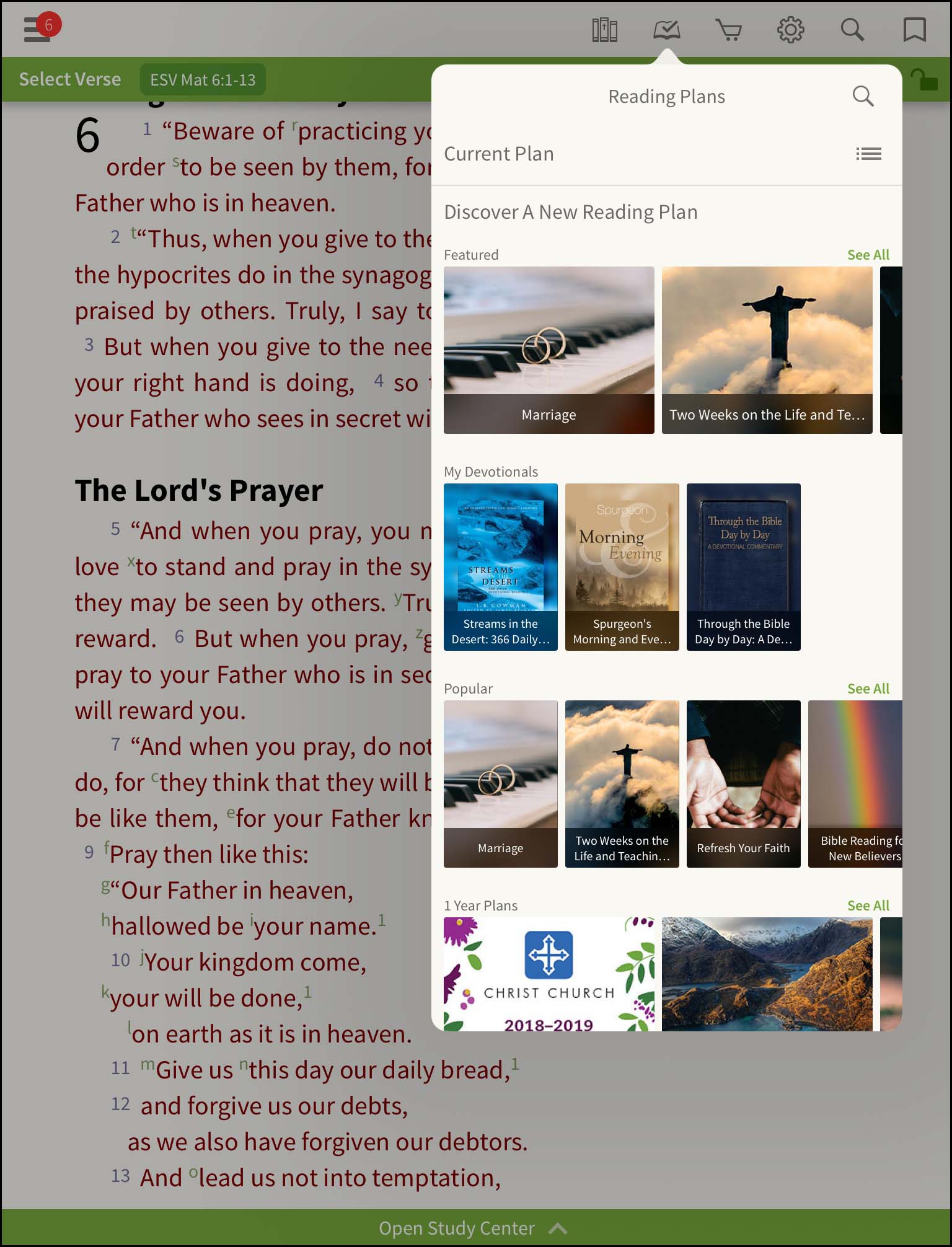 It is possible that some devotionals will not support this feature. You can see if they support this feature by checking the product features on www.OliveTree.com.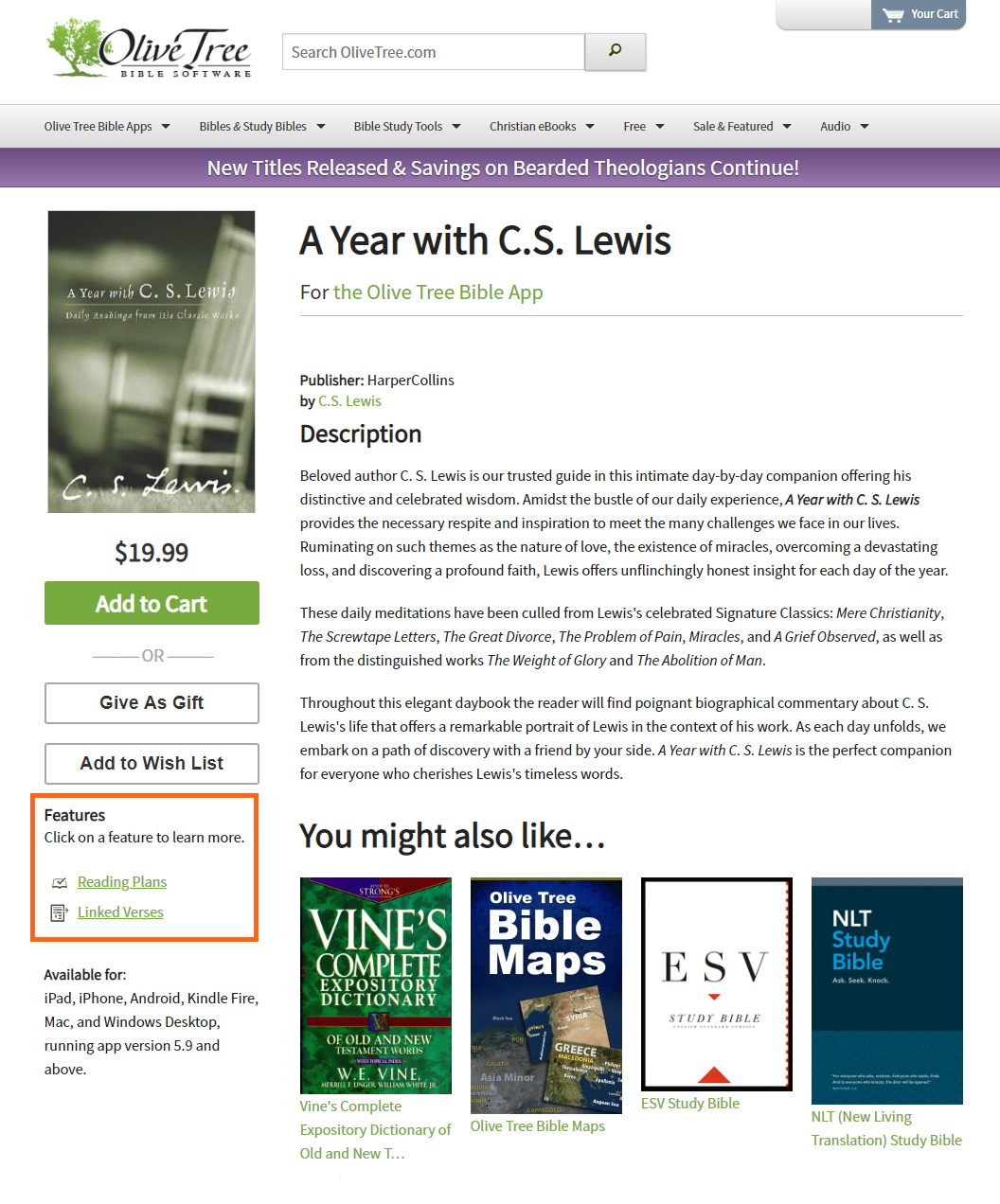 Accessing and Completing Assignments
Follow these steps to go to your reading assignment for the day and to complete an assignment:
Select the reading plan icon on the toolbar.

Locate the plan you'd like to read and Select 'Continue' to begin the current assignment. (Or 'View Schedule' for more information about the assignment.)

Plan Options
We do offer some options to customize your reading plan, as well as ways to see information related to your plan or progress. In this section we'll go over those. To start, select the reading plan icon on the toolbar.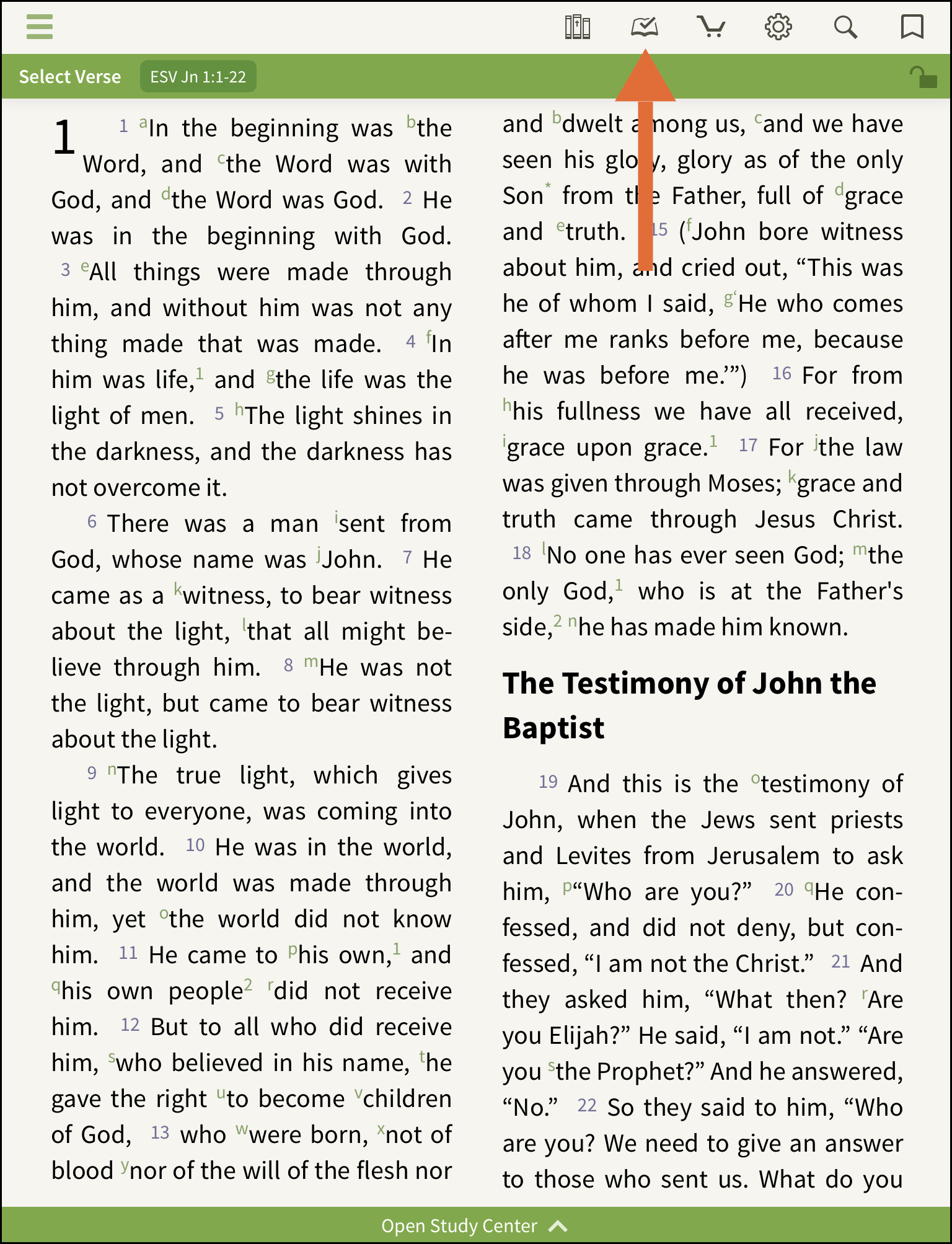 Tap View Schedule.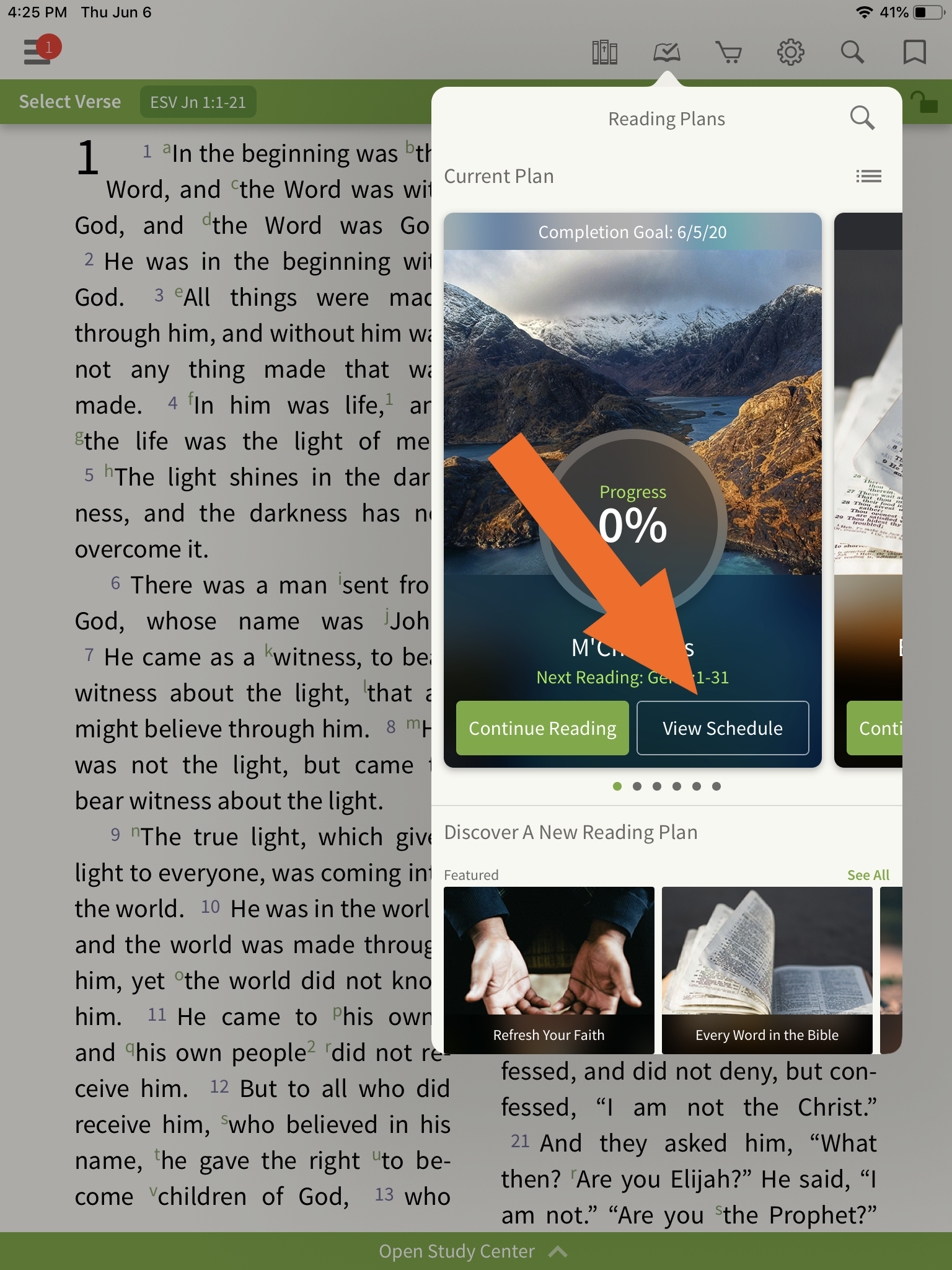 There are two icons in the upper right corner, providing information and options to customize your reading plan experience.


Reminders:


Tapping "+ Add Reminder" allows you to set up a notification reminder. This can be set for certain days at a particular time. Select a day to receive a reminder on that day. To add additional reminders tap "+ Add Reminder" again.

More info:

Title:
This is the title of the reading plan. You can edit this to a title of your choosing by tapping the pen icon to the right of the title.
Published By:
This is the name of the publisher of the reading plan. This cannot be changed.
Description:
This is a summary of plan, usually providing a description of what portion of the Bible will be read and how the readings are laid out.
Date Started:
The starting date is determined by the date you create the reading plan. This cannot be changed.
Projected End Date:
This gives you the date on which you will have finished the plan; the date may change if you complete more than one assignment a day.
Last Date Read:
The Last Date Read will tell you the last time an assigned reading was completed.
Preferred Translation:
Change the translation you prefer to use for this plan. You can choose either text or audio Bibles for your preferred translation.
Completion Goal:
This will let you set a Completion Goal and the date will be shown here once a goal is set. Once set the app will show how many readings need to be completed each day to complete your plan by your goal. Please note the date set as your goal will also be listed as your Projected End Date.
Delete a Reading Plan
Follow these steps to delete a reading plan from within your app:
Select the reading plan icon on the toolbar.

Tap View Schedule for the plan you wish to delete.

Tap the 'i' in the upper right corner.

Tap the Trash can.

Confirm you'd like to delete the plan by choosing 'Remove'.
We hope this article has been helpful for you. If you have any further questions about the reading plan feature in the iOS app, please submit a ticket to our Support team. We are happy to help you!