We recently released our 7.0 update for our Android apps. This update includes a design refresh that will make information easy to access. However, we do under stand that these changes may cause some confusion to our users. We are happy to provide a quick overview of this update.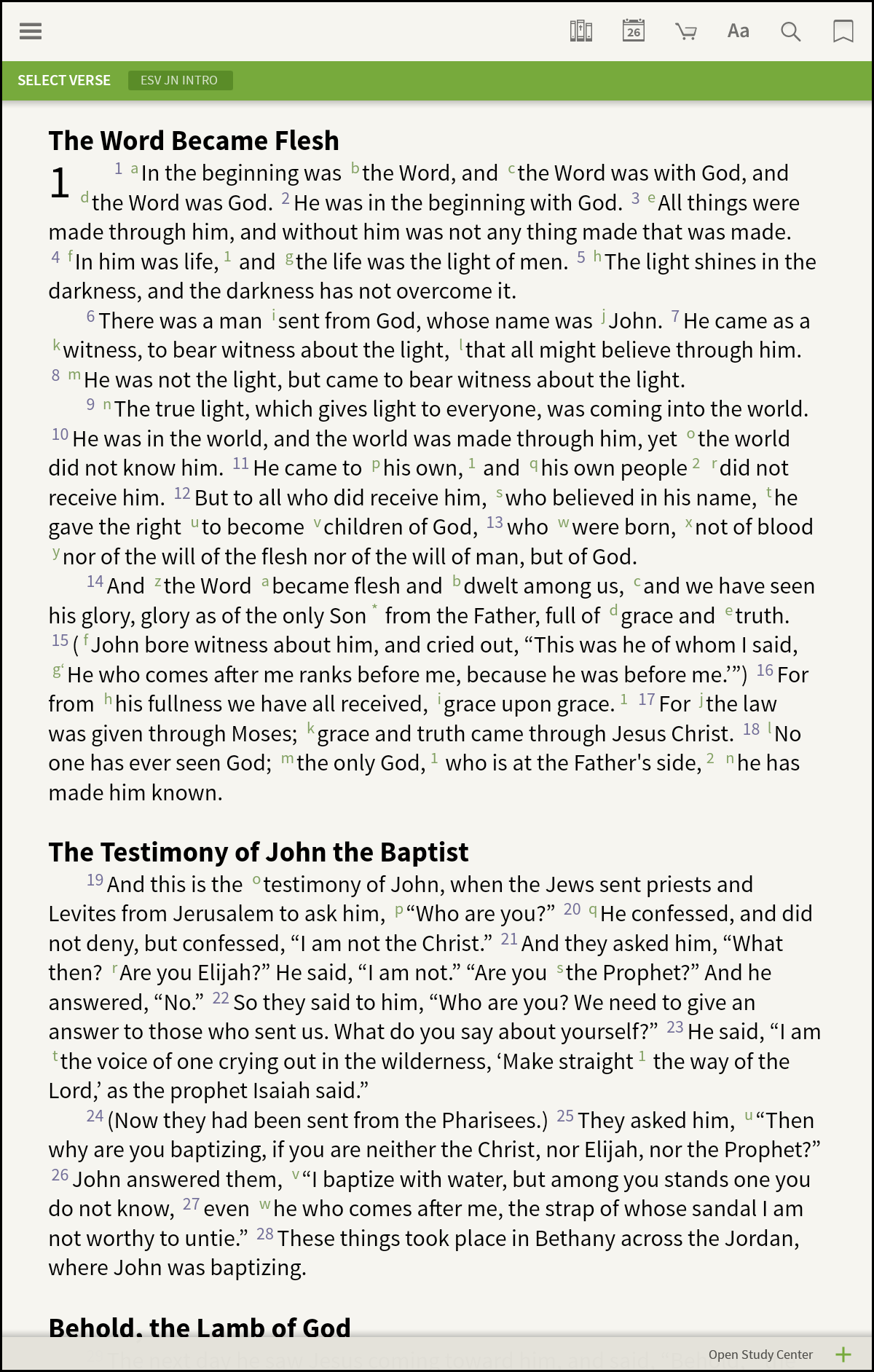 Main Toolbar Icons
First, lets look at the toolbar along the top of the screen. This is where you can find most of the features you are used to using with in our app. Tapping the text will hide this toolbar tap again to bring it back up. 




Main Menu - This is where you will locate many of the features within our app. Access the Store, Messages, Reading History, Personalizations (My Stuff), Sync, Settings, and App Help through this Menu. 

​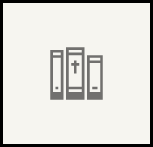 ​
Library - Access and download your Resources. Select a resource to view it in the main window. 
​
​​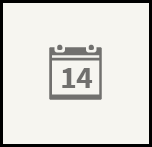 ​
Reading Plans -  Direct Access to your reading plans. Download new plans from the Featured or Categories tabs and easily access your current reading plans in the My Plans tab. 

​

​
Store - Access the Store to purchase additional resources, check for sales, or download your resources from the Account tab. 

​​

​​
Quick Settings - Tap here to quickly change the text size in the main window, switch color Themes, change scrolling, change Fonts, or access advanced settings. 

​

​
Search - Tap this icon to search the resource in the Main Window for a word or Phrase.

​

​
Book Ribbon - ​​Tap this icon to create or remove a book ribbon. This is a helpful way to save your place for access later. 
Navigation
Along the bottom of the main toolbar is a green bar with your current resource and location. Tap this bar to Access the Navigation Menu. You can also access this menu by tapping the verse reference at the top of the screen while the toolbar is dismissed.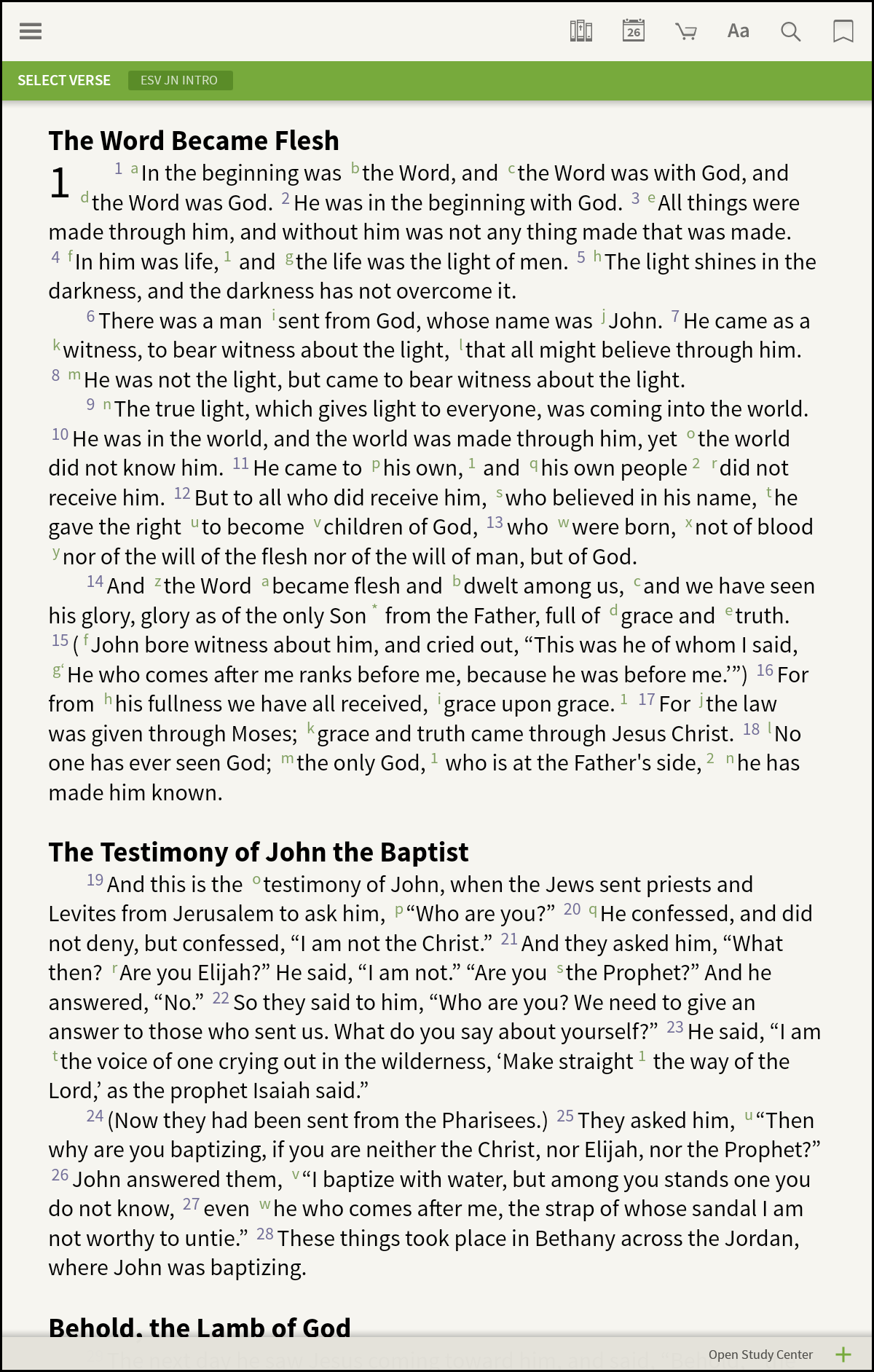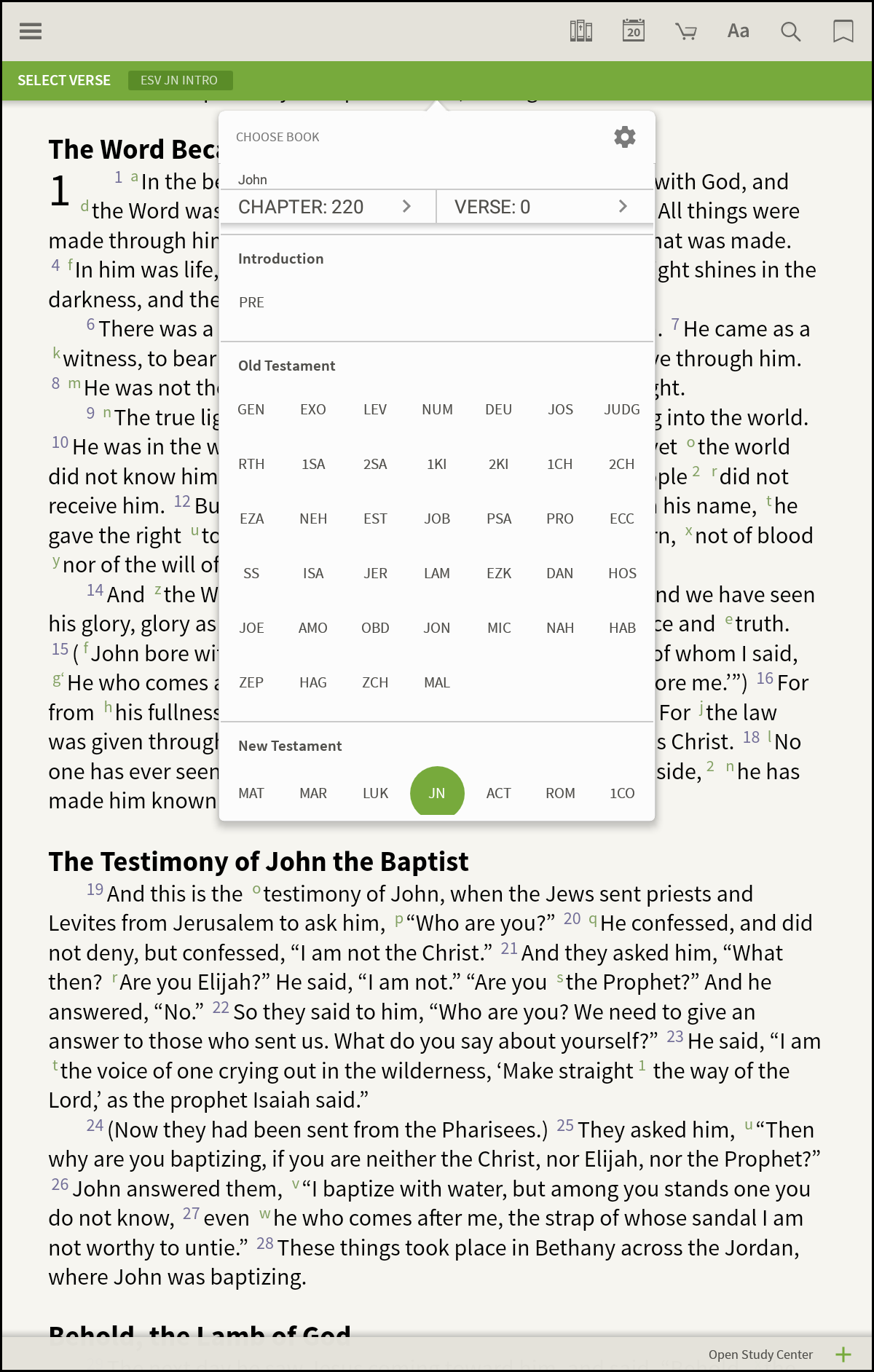 Split Window
Tap the 'Open Study Center' + to open the Split Window. Here you will be able to open resources through the Library and Resource guide to view with the resource in the Main Window. Tap 'Study Tools' to switch tools in the Split Window.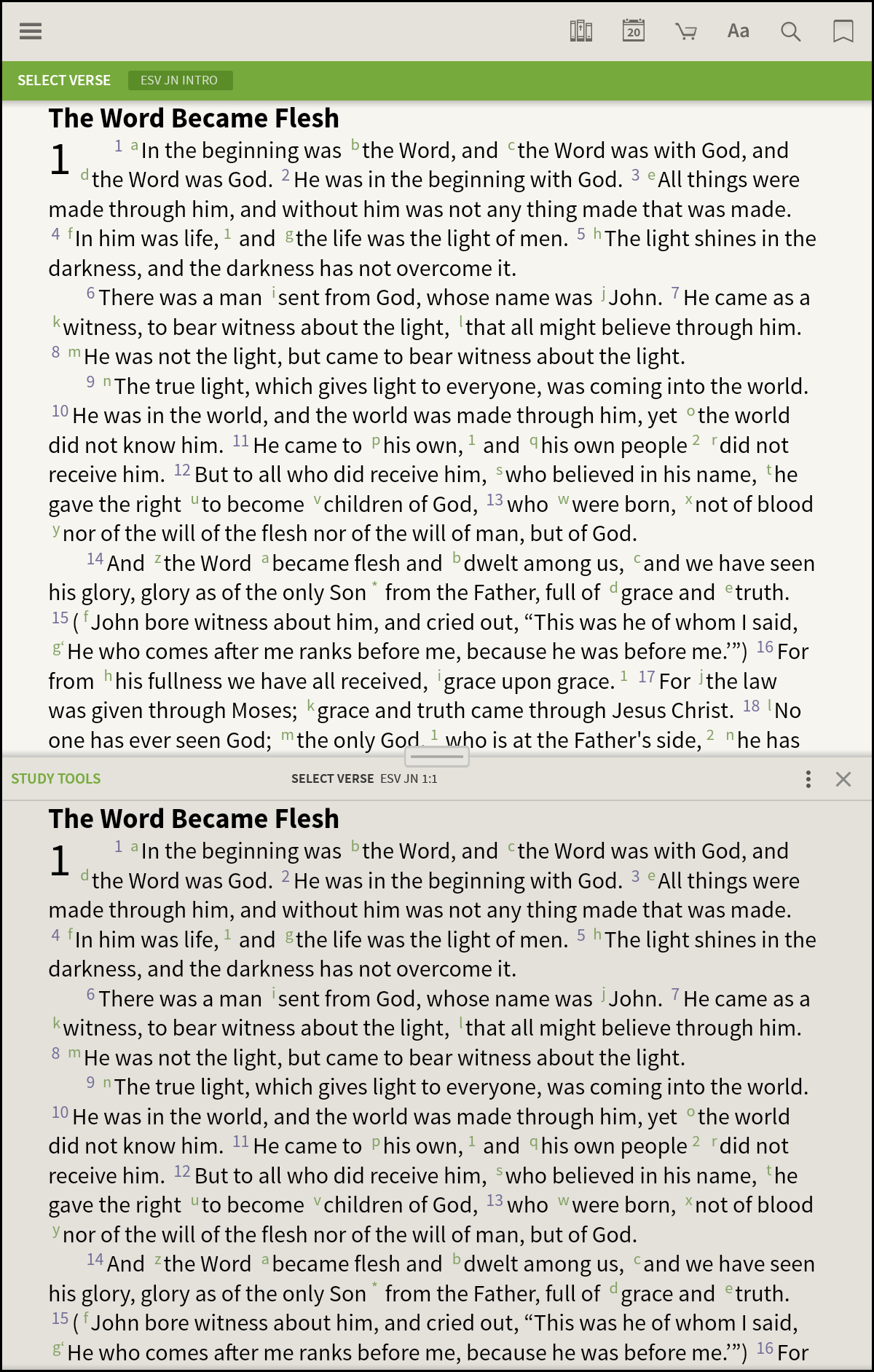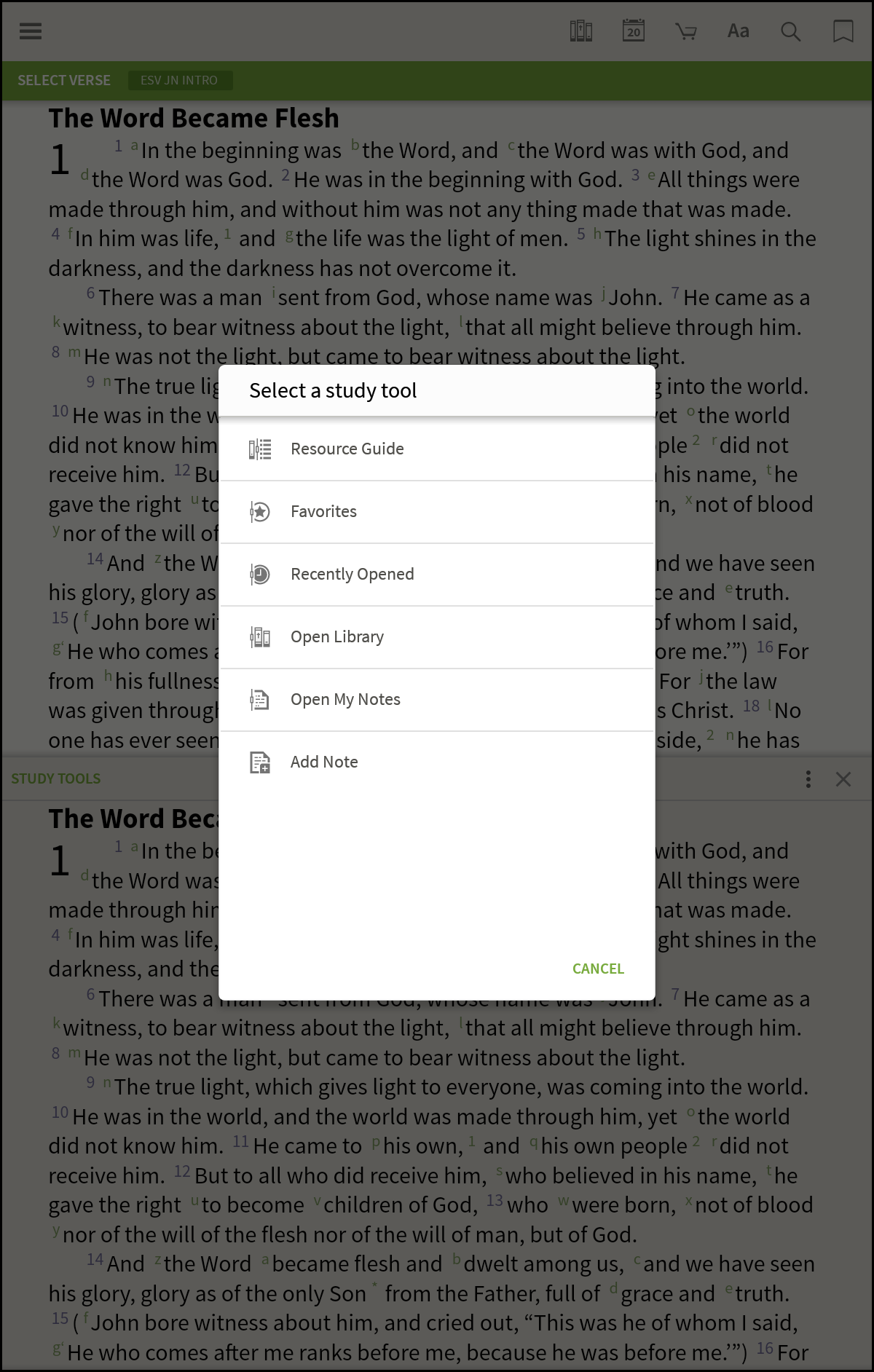 If you have additional questions on any of these features we suggest checking out the rest of the ANDROID TABLET - OLIVE TREE BIBLE 7.0 help articles. Our support team would also be happy to answer any questions you may have.