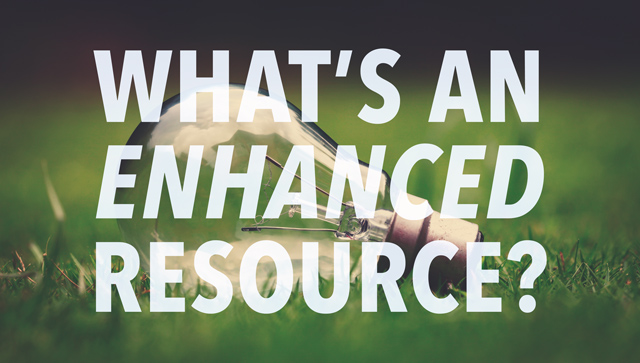 An Enhanced Resource is a title that we have enriched so that it's more useful within the Olive Tree Bible App. Instead of our resources simply being eBooks that you only scroll and read, we have made the content discoverable by search and the Resource Guide, hyperlinked verses, activated cross references, and more.
Digital resources have their perks!
Truth is, most of our resources are enhanced in some way now. This is great for you… but only if you know how they are enhanced! So, first let's look at where to find which enhancements a product has. Then, we will go through the different enhancements and how they work.
IS THIS PRODUCT ENHANCED?
Here is a screenshot of our website: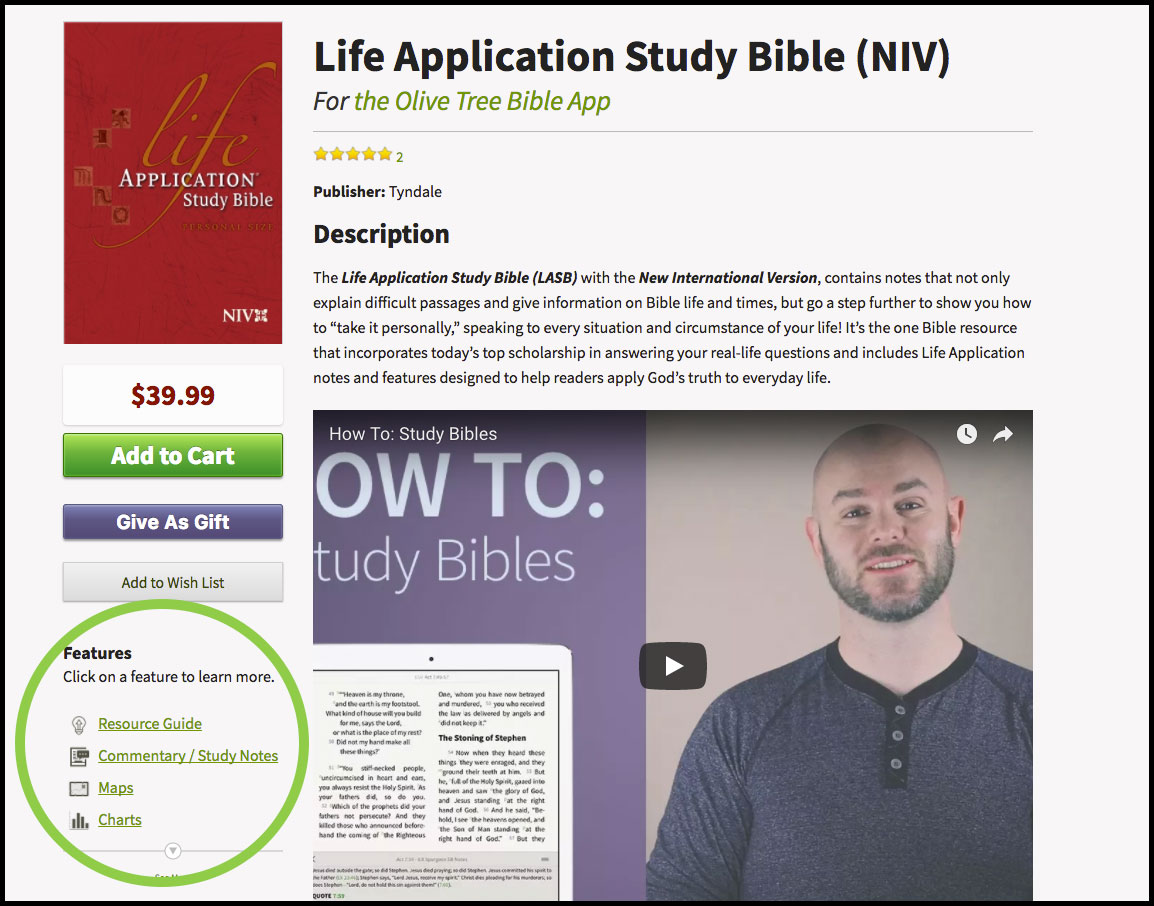 Inside the green circle, you can see a list of features (enhancements) that are inside this resource. If you tap the arrow, you will be able to see the full list.
Not sure what the feature means? No problem. Tap on the name of the feature and a description will appear.
These descriptions are also available in the store while you are inside the app.
13 DIFFERENT ENHANCEMENTS
1) STRONG'S NUMBERS
Gain the insight of studying the Bible in its original language without knowing Greek or Hebrew. Simply tap a linked word and read the original definition in a pop-up window. You can also build your understanding by searching for other uses of the word in the Bible and looking up related articles. We have a detailed help article on how to use Strong's tagged Bibles here.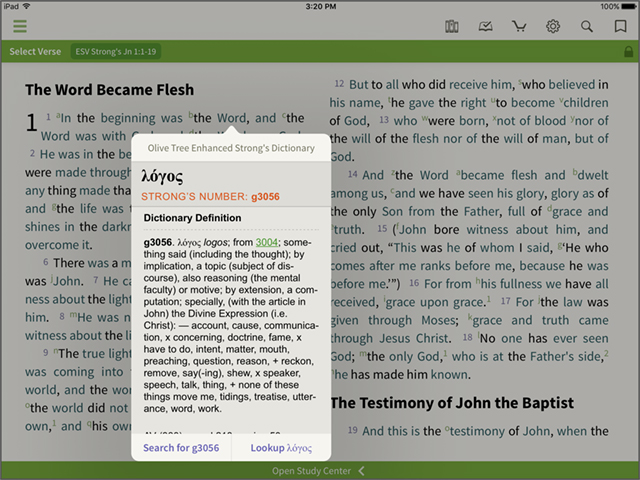 2) PARSINGS
Tap on a word and access its parsing instantaneously. A pop-up window will display a dictionary definition, a link to more information, a gloss, and parsings. For more advanced study, you can search on the word's morphology as well.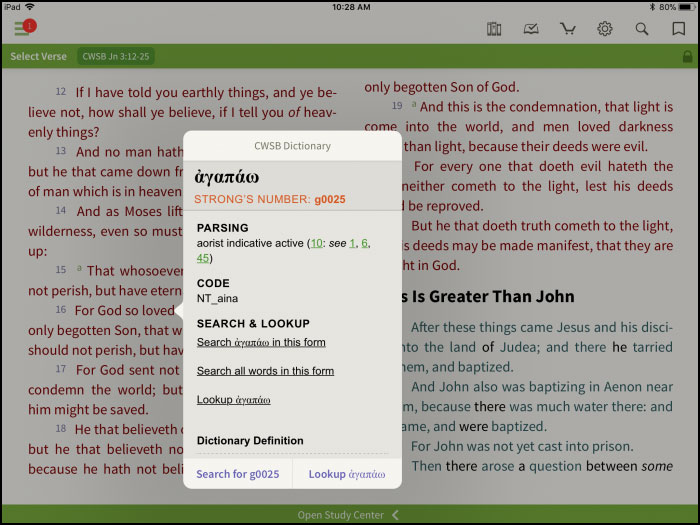 3) COMMENTARY / STUDY NOTES
Gain reliable knowledge on any passage of the Bible, exactly when you need it. The Resource Guide will let you know when information in this title is relevant to anything you're reading in the main window. It will also conveniently track along with you as you read through the Bible.
The number inside the purple circle lets you know how many related articles a resource has on the passage you are reading.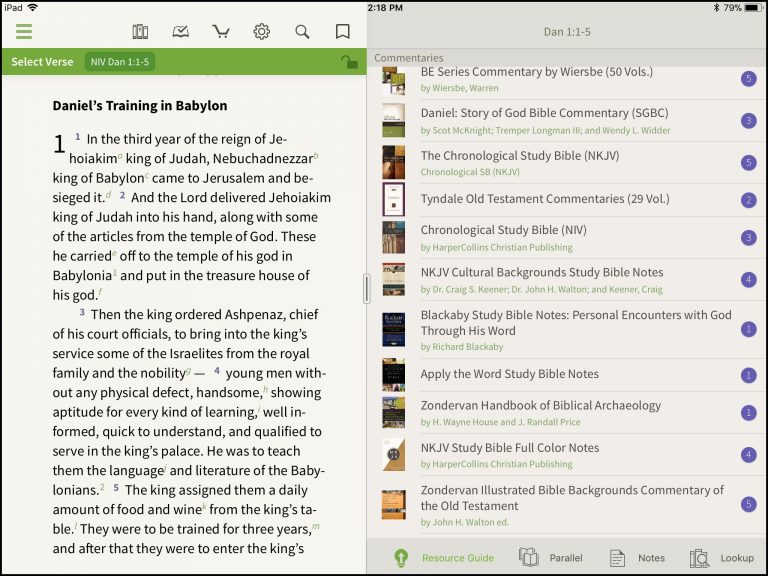 4) MAPS
Wondering where that ancient Israelite city is located that you just read about? Check out the maps the Resource Guide found for you. The Resource Guide pulls in maps from all the resources you own. You can also zoom in on the map, make it full screen, or both.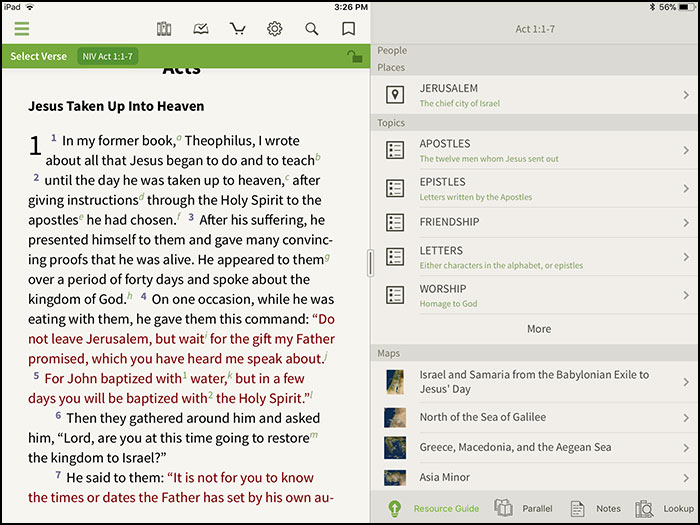 5) CROSS REFERENCES
Quickly see all the verses relevant to the current verse you're reading. Tap on the cross reference and a pop-up window will appear. You can quickly navigate to the corresponding verse—without ever leaving the passage you're reading.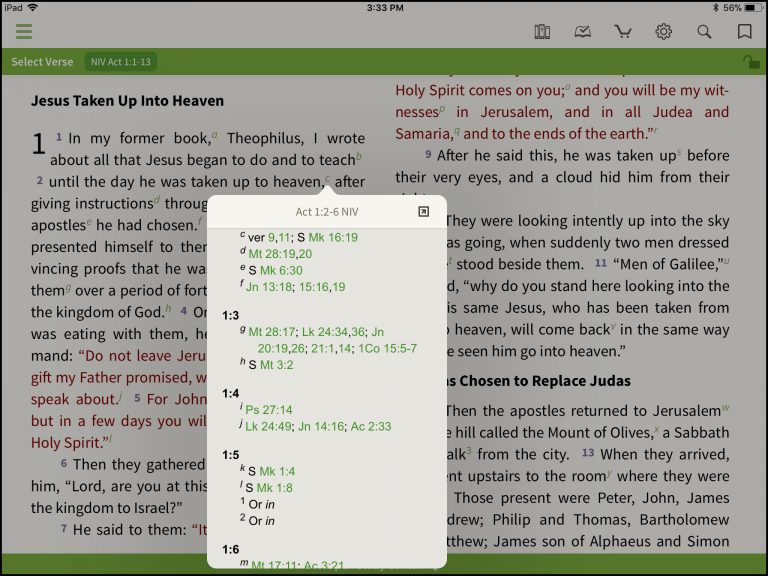 6) DICTIONARY / ARTICLES
This is so much more than a traditional dictionary. While you're reading the Bible and other titles, the Resource Guide will pull up related articles in dictionaries you own. You can even select words you want clarity on, tap "Look Up", and access any relatable information in a convenient pop-up window.
In this example, we saw that the Resource Guide suggested we see if there were any articles in our library on "Apostles." This is what it found!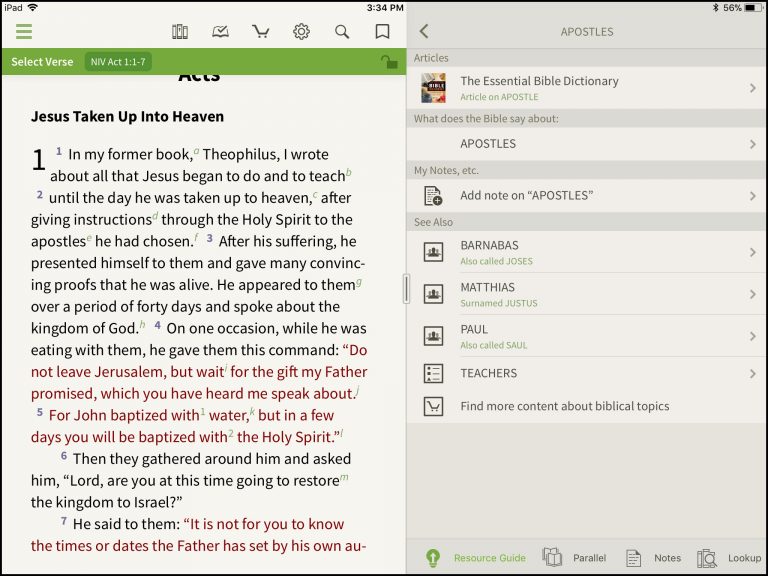 7) READING PLANS
Not sure what to read during your devotional time each day? Stay committed to growing spiritually with daily readings, personalized reminders, and a calendar to track your progress.
When you see this feature on a product, it is most likely a devotional book. Instead of leaving this file as an eBook, we've adapted it to work like our other reading plans.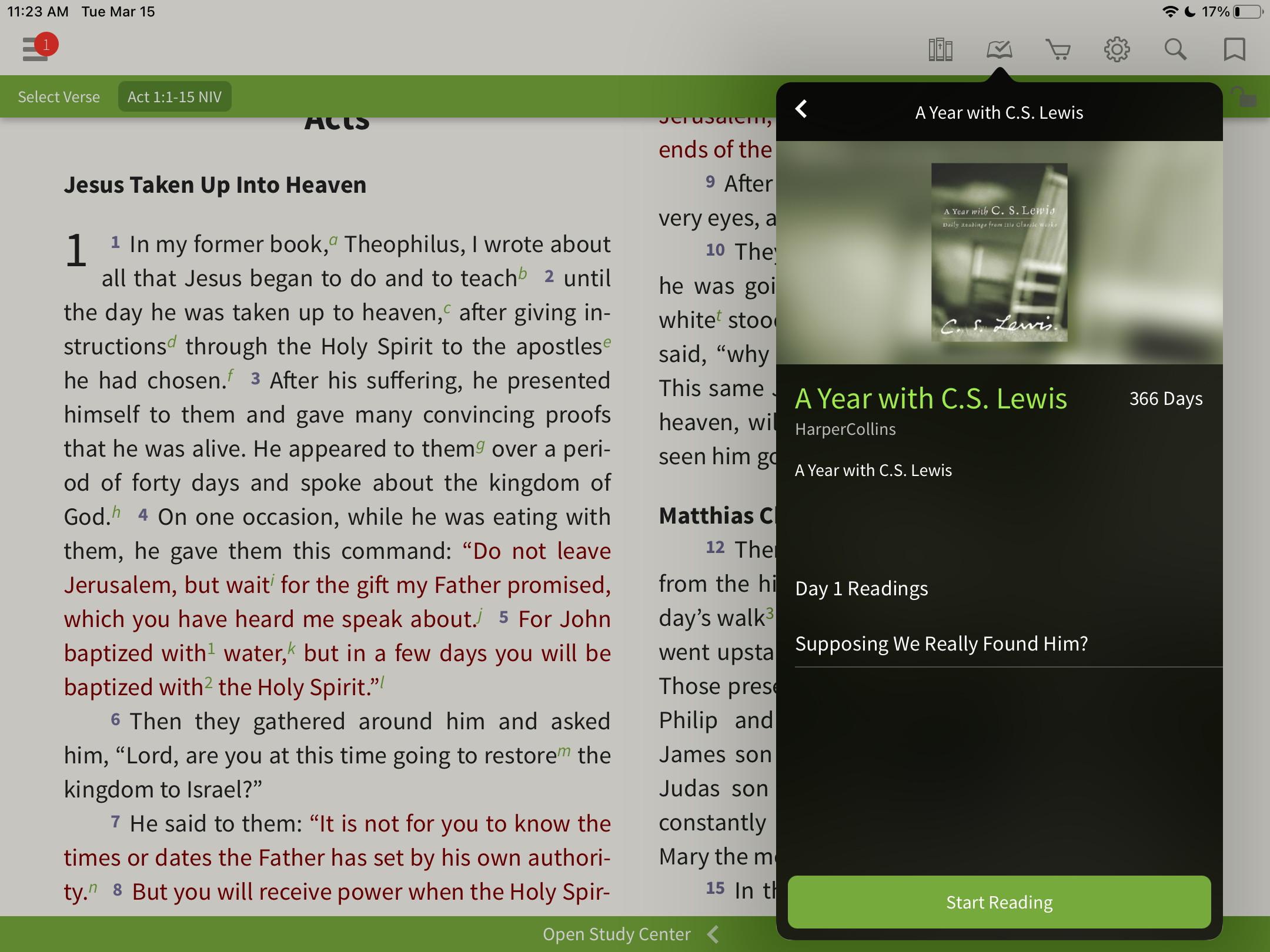 8) CHARTS
Learn more with information displayed in visually appealing ways. Not sure what charts you have? The Resource Guide will automatically pull up charts from any relevant sources while you're studying.
This screenshot was taken directly after tapping on a chart that the Resource Guide pulled up.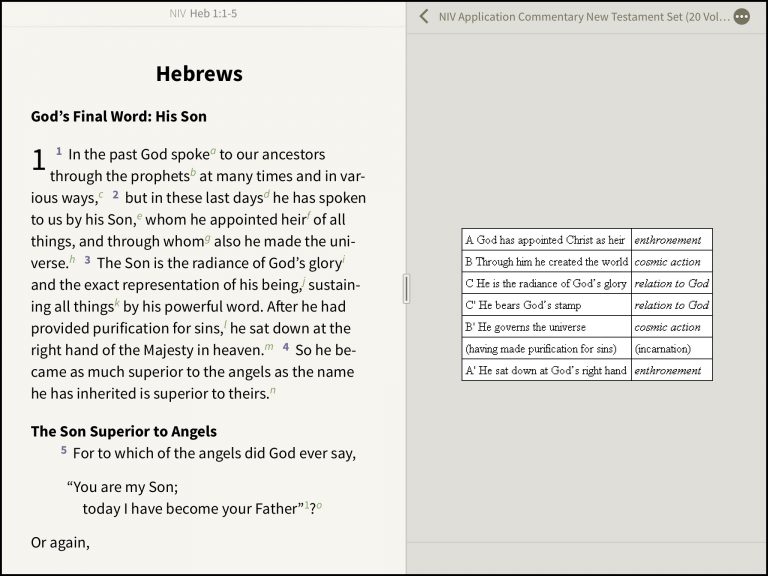 9) OUTLINES
Get a feel for how books of the Bible are laid out and how your commentaries are structured. You can also access these from the Resource Guide when it's applicable to the passage you're reading.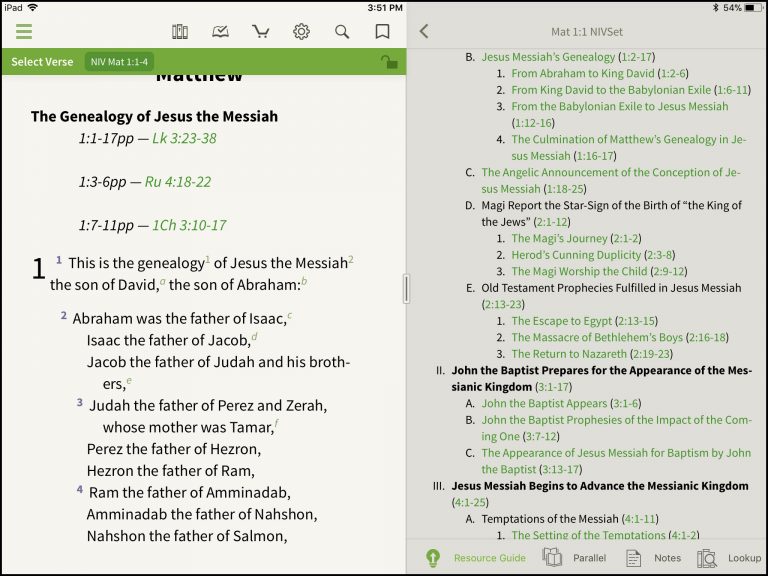 10) INTRODUCTIONS
Quickly find information about a book of the Bible, its author, date, audience, purpose, and other topics worth keeping in mind. If you have an introduction to the book of the Bible you're currently reading, the Resource Guide will make it easily accessible for you.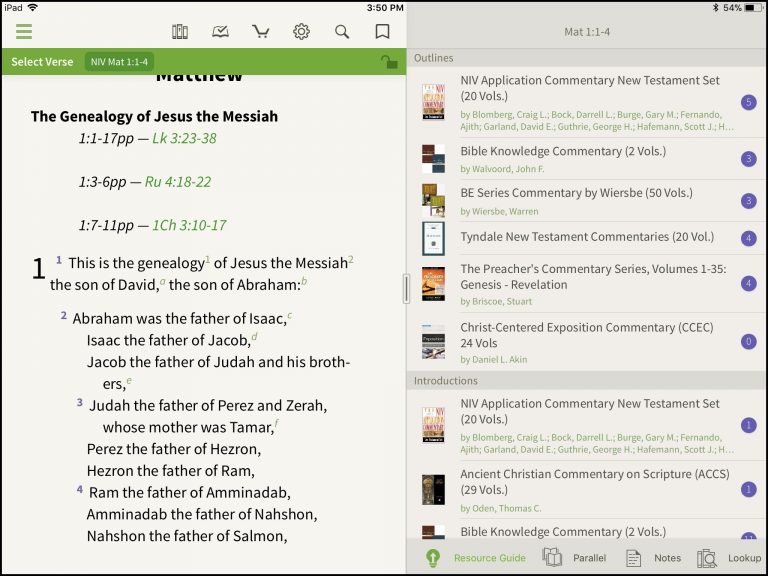 11) SERMONS
Read sermons prepared by famous pastors. If you're reading a passage of Scripture that a sermon addresses, it will appear in the Resource Guide for quick access.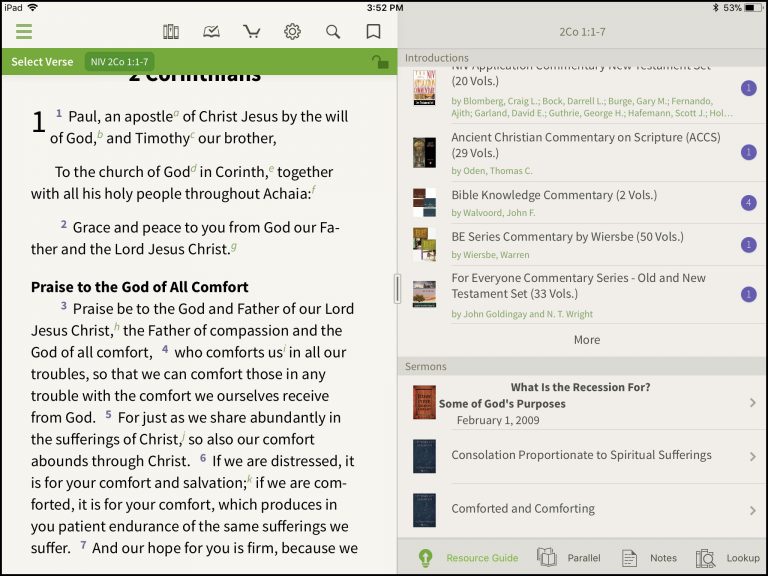 12) TAGGED IMAGES
Reading about a place or thing but don't know what it looks like? If this book has an image of what you're looking for, the Resource Guide will let you know. Just glance under "Image," and tap to see the photo enlarged.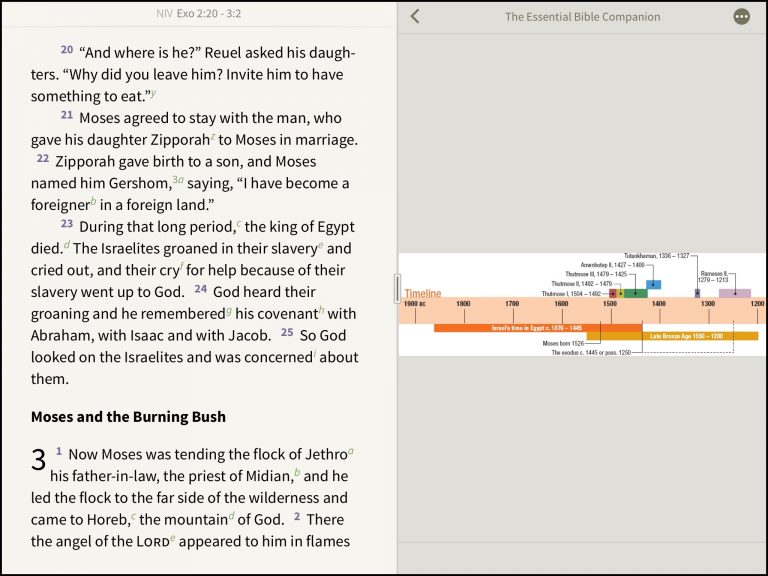 13) LINKED VERSES
Did your resource mention a passage of Scripture, but you can't remember what the verse says? No fear! Tap the linked verse and a pop-up window will appear, giving you quick and easy access to the verse in context.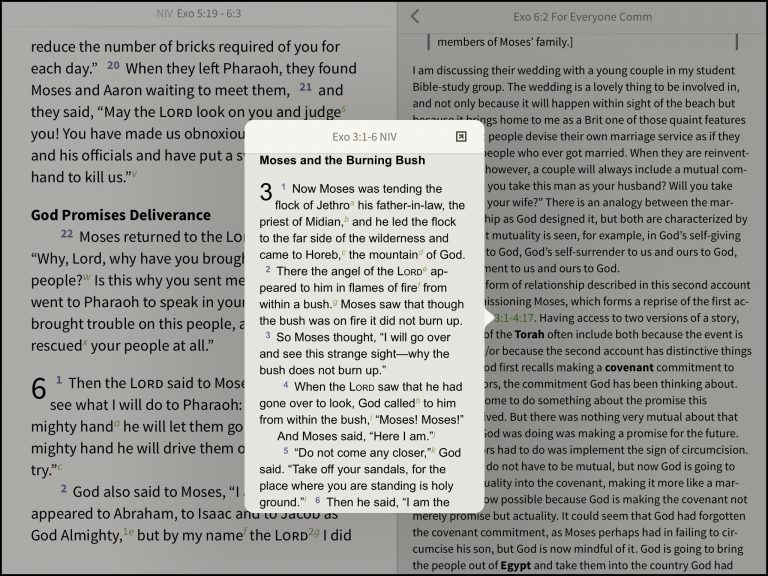 SEE OUR TOP ENHANCED RESOURCES
If you are wondering which enhanced resources could be helpful for you, we've pulled together a list of our top-sellers! Visit our website to see the list and check out which enhancements each resource has.